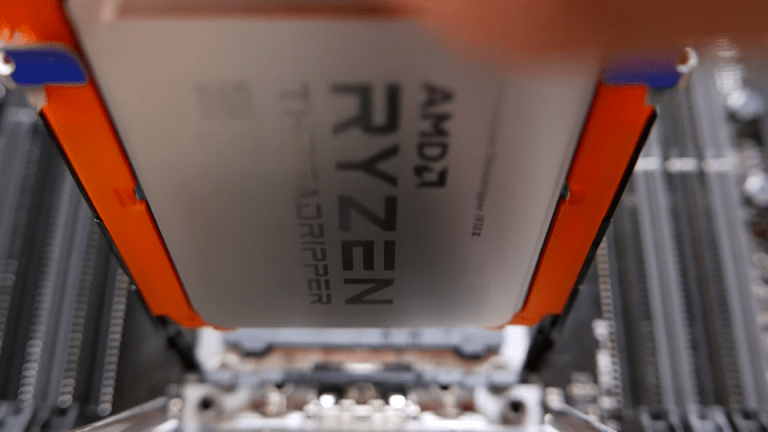 AMD's Newest Desktop Processors Measure Up Well Against Intel
Thanks to moderate performance gains and aggressive pricing, AMD's second-gen Ryzen desktop CPUs look competitive.
After AMD (AMD) - Get Advanced Micro Devices Inc. Reportshook up the PC market in a big way last year with its Ryzen CPU launches, Intel (INTC) - Get Intel Corporation Reporthas been countering by gradually rolling out 8th-gen Core CPUs that deliver sizable performance gains relative to comparable 7th-gen chips.
Now, AMD is returning fire by launching second-gen Ryzen CPUs that improve on the performance of last year's parts and are priced fairly aggressively. Together with the launch of a pair of cheaper processors in February and the second-half launch of new high-end CPUs, they should leave AMD on solid competitive footing in the coming months, at least in the desktop market.
On Thursday, AMD launched 4 second-gen Ryzen desktop CPUs. The two most powerful chips in the lineup, the Ryzen 7 2700X and 2700, each contain 8 cores and can run 16 simultaneous threads, and are priced at $329 and $299, respectively. Two less-powerful chips, the Ryzen 5 2600X and 2600, each contain 6 cores and support 12 threads, and are priced at $229 and $199, respectively.
"If last year was a revolution, this is sort of an evolution," said Kevin Lensing, the GM of AMD's Client Business Unit, in a talk with TheStreet. "But we touched a lot of things. From the product silicon to the firmware...to the features to actually tweaking the platform too."
On the surface, the products are just modestly cheaper than comparable 8th-gen Intel CPUs. The 2700X's closest rival, Intel's Core i7-8700K, can be found for $350 on Newegg.com; the 2600X's closest rival, Intel's Core i5-8600K, sells for $250. But whereas Intel's "K" CPUs don't ship with cooling fans/heatsinks -- users need to buy one separately, or splurge on a liquid cooling system -- AMD's new Ryzen CPUs are bundled with quality coolers (about a $30 to $40 value).
In terms of performance, reviews show second-gen Ryzen CPUs making good on AMD's promise that they'll deliver solid (though not massive) gains relative to comparable first-gen Ryzen CPUs. The 2700X and 2600X often post 10%-plus performance gains relative to AMD's Ryzen 7 1700X and Ryzen 5 1600X, respectively, with the 2700X also outperforming the Ryzen 7 1800X (the most powerful Ryzen chip when it launched in March 2017).
The gains have much to do with AMD's use of a 12-nanometer (nm) manufacturing process for its latest Ryzen chips, rather than the 14nm process used for their predecessors; this enables higher CPU clock speeds. They also benefit from (among other things) tweaks to AMD's Zen CPU core architecture that improve memory and cache latency, and a revamped version of AMD's Precision Boost algorithm (Precision Boost 2) for raising clock speeds for demanding workloads. Precision Boost 2 doesn't automatically drop clock speeds to a much lower level when more than two threads are engaged.
The use of Precision Boost 2 has the biggest impact on what Lensing calls "mid-threaded applications" such as gaming and productivity app multitasking. "Those sort of average workloads that use maybe not all the threads in the machine, but maybe a few of them, will see a huge benefit," he claimed.
When pitted against comparable 8th-gen Intel chips such as the 8700K and 8600K, the benchmark story is more complicated, but generally doesn't look bad. Intel CPUs often have an edge in workloads relying on just a single process thread, but AMD's CPUs, thanks to extra CPU cores and/or support for more simultaneous threads, generally have an edge with multi-threaded workloads. Intel's chips maintain a slight gaming performance lead, particularly for games played at lower resolutions, but AMD is much closer than it was when the first Ryzen CPUs were launched 13 months ago.
Lensing noted that AMD built a team in 2017 that works with major game developers to optimize games for its CPUs before they're published, and asserted the gaming benchmarks for the newest Ryzen chips reveal the fruits of those efforts. "Maybe in the first generation AMD had a little work to do on the gaming side to catch up...now we're pretty close to calling it equivalent," he declared.
On the whole, the benchmarks suggest the second-gen Ryzen chips have a pretty strong value proposition -- particularly for users who are content to rely on the bundled coolers. It's worth noting here that AMD's pricing is easily more aggressive than it was when it first launched Ryzen. Whereas the 2700X lists for $329, the 1800X and 1700X, neither of which have bundled coolers, respectively listed for $499 and $399 at launch time. Thus while AMD's latest chip launches look pretty competitive, there appears to be a margin cost attached.
AMD plans to follow up on the launches by rolling out second-gen/12nm versions of its top-to-the-line Ryzen Threadripper CPUs -- they cater to enthusiast and workstation users, feature between 8 and 16 cores and measure up well against comparably-priced Intel Core i9 CPUs -- during the second half of 2017. And it's just a couple months removed from launching a pair of decent low-cost, 14nm, desktop processors: The $169 Ryzen 5 2400G and the $99 Ryzen 3 2200G. Both contain integrated GPUs based on AMD's Vega architecture that run circles around the integrated GPUs baked into comparably-priced Intel processors.
AMD's 2018 PC CPU roadmap
But on the notebook side of things, AMD is staying tight-lipped about whether it plans to roll out 12nm successors for its Ryzen Mobile processor line, which for now only features 4 chips aimed at ultrabooks and 2-in-1 systems (versions of the chips meant for business notebooks are due this quarter). Or whether it plans to hold off on refreshing Ryzen Mobile until it can launch chips containing its next-gen Zen 2 CPU cores.
AMD has said that the first Zen 2 chips -- they'll rely on an advanced 7nm process -- will sample by year's end ahead of 2019 launches. The company also suggests it will make new Ryzen Mobile product announcements this year, but has declined to give details. Notably, Lensing says the current Ryzen Mobile line will serve as AMD's "2018 consumer notebook product family," and predicts it will see large back-to-school season volumes thanks to new notebook launches from major PC OEMs.
Intel, meanwhile, is just three weeks removed from unveiling the first 8th-gen notebook processors based on its newer Coffee Lake architecture, after previously launching 8th-gen notebook chips based on its older Kaby Lake architecture. The Kaby Lake offerings include products that pair an Intel CPU with an AMD GPU. While Ryzen Mobile has an edge in integrated graphics performance relative to comparable Intel processors featuring the chip giant's own integrated GPUs, Intel generally maintains an edge in CPU performance and battery life.
But while notebook questions linger, it's hard to complain about the progress AMD has made in the desktop and workstation CPU markets since March 2017. That progress, together with growing GPU sales, led AMD's Computing & Graphics (C&G) segment to post a 60% annual sales growth in Q4. Ahead of AMD's April 25 Q1 earnings report, the Q1 analyst consensus is for 56% C&G sales growth.
And though that kind of growth can't be expected to continue forever, AMD does look well-positioned to add to its desktop share gains during the next couple of quarters in the wake of its February and April Ryzen launches.