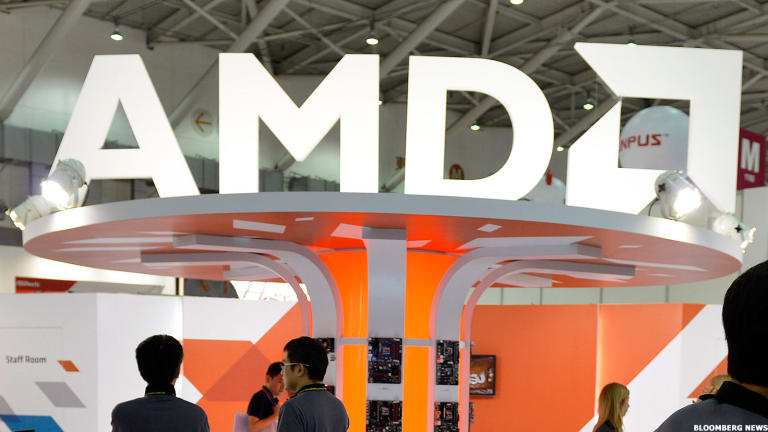 AMD Shares Jump 11% Following U.S.-China Trade Truce
The chipmaker rose 11% on Monday following the White House's declaration of a 90-day moratorium on raising tariffs on Chinese goods. For AMD, it was the biggest single-day percentage gain since Sept. 4.
A trade truce between the U.S. sent stocks higher on Monday, and one of the biggest gainers among tech stocks was chipmaker AMD (AMD) - Get Report .
In the first trading day since President Trump proclaimed a 90-day pause in the simmering trade war between the U.S. and China, AMD shares jumped 11% as markets rose overall. Over the weekend, the White House issued a statement saying that the U.S. will hold off on raising tariffs on Chinese goods for at least 90 days as the two sides work towards a more permanent resolution of the trade, technology transfer and intellectual property issues that have corroded relations.
U.S.-China trade tensions have been a significant drag on the chip sector in recent months as tariffs could increase costs for many chipmakers. The SOX index that tracks semiconductor stocks down 9.5% since the beginning of October. The most recent round of U.S. tariffs on Chinese goods went into effect at the end of September, and the 10% tariffs had been due to rise to 25% in January 2019 prior to the agreement between President Trump and Chinese president Xi Jinping, which was reached at the G-20 Summit in Argentina.
Some feel that AMD's stock could be overvalued at current levels.
AMD, and chip stocks in general, are often interpreted as an important signal for the performance of the tech sector, as noted by TheStreet's Jonas Elmerraji last week: "Lots of eyes are on AMD right now, and for good reason. This $20 billion chipmaker has been one of the best performers in the S&P 500 in recent years, and it's been a bellwether for investors' confidence in the tech sector," he wrote.
The last time AMD saw a percentage gain greater than Monday's was three months ago, when it rose 11.48% on September 4. On Monday, shares of Nvidia (NVDA) - Get Report , Intel (INTC) - Get Report  and Micron (MU) - Get Report also rose 4.04%, 1.66% and 3.81% respectively.