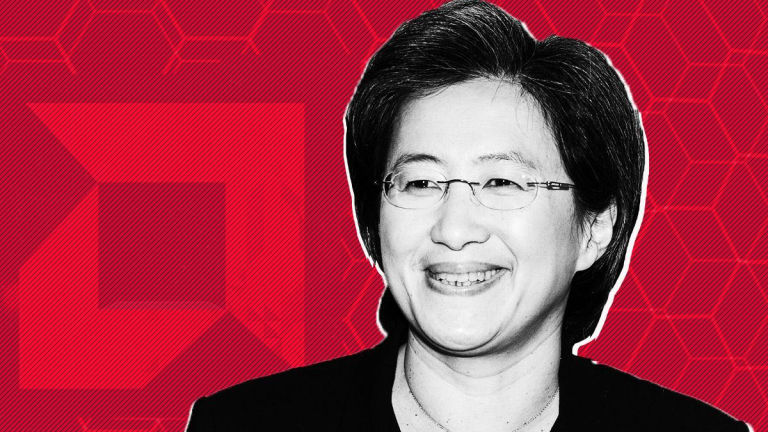 AMD CEO Su Upbeat About 2019 and Blockchain, Despite Short-Term 'Noise'
Su said she believes in AMD's product momentum for 2019 and blockchain's long-term potential, despite an implosion in the market for crypto that has suppressed GPU sales.
In the wake of a fourth-quarter earnings report that was warmly received by investors fearing the worst, AMD (AMD) CEO Lisa was upbeat in a conversation with the TheStreet on Tuesday evening. 
AMD shares were surging on Wednesday, up 19.95% at $23.09, after the company Tuesday evening offered an outlook for revenue growth this year that was about in line to even a little higher than the Street was expecting. The results came in the wake of rival chipmaker Nvidia (NVDA) pre-announcing much weaker-than-expected results for its January quarter because of lower demand for its gaming and datacenter products.
"We're very pleased with the full-year 2018 results," Su said on Tuesday after the results were released. "If you look at the overall revenue growth and profit story, it shows significant progress from 2017."
Revenue for the full year rose by 23% from 2017's level, to $6.48 billion, and, perhaps more telling, gross profit margin surged by five percentage points to 39% for the year.
There is some "noise in the system," Su conceded, by which she was referring to an overhang of inventory of graphics processing units, or GPUs. Because of an initial surge in interest in crypto-currencies and blockchain applications last year, for which people generally buy GPUs to do the computing, distributors and retailers built up inventory during the earlier part of the year to meet demand. But then crypto prices and trading imploded, leaving way too many parts on hand. That depressed sales of GPUs for both AMD and Nvidia.
"There is a lot of noise in the system, there are concerns about macro, and in our case there is some excess inventory on the graphics side," said Su, referring to the GPUs. "But if you take a step back and look at what we have been doing, we are very focused on products and product momentum." 
The December-quarter results were a bit light, coming in at $1.42 billion in revenue versus the $1.45 billion consensus. But AMD managed to meet the $0.08 average estimate with its adjusted EPS. 
For the current quarter, AMD is looking at $1.2 billion to $1.3 billion in revenue, substantially below the $1.47 billion estimate. Most of the reason for that is the overhang of the GPU inventories, which Su indicated will last into Q2. But the outlook for the full year is for "high-single-digit" revenue growth, which meets or exceeds the current consensus for about 6% revenue growth. 
Su is adept at turning the focus back to AMD's achievements and away from the negatives of the passing moment. Asked whether it would be better for everyone if blockchain technology and crypto-currencies simply went away, Su replied, "I wouldn't say that."
"Markets can be volatile, and from that standpoint, the crypto focus introduced a bit of noise into our system. But, hey, I believe blockchain is an important capability going forward, and if you go back and look at our financial analyst day presentation in 2017, if you look at the long-term goals that we laid out then, that's still the same."   
Su's defense of blockchain is in striking contrast to the remarks of Nvidia CEO Jensen Huang, who during a press conference at the Consumer Electronics Trade Show earlier in the month quipped that it would be better for all if crypto currencies just went away. 
In her prepared remarks, as well as in speaking with TheStreet, Su focused on "product momentum," which looks very good at the moment for the company's two main foci -- PC processors and the Ryzen CPU brand in particular, and its Epyc server chips. 
Ryzen sales somewhat offset the GPU shortfall. The company got much higher prices, on average, for its PC processors as Ryzen became roughly 80% of its revenue from PCs. Shipments of the Epyc server chip more than doubled from the prior quarter's level, as AMD found multiple customers in cloud computing data centers. That's particularly significant, given that a slowdown in the buying by large cloud operators has apparently hurt some chip sales. AMD's relatively small position in cloud data centers may have helped it avoid that fate because it had more to gain and less to lose.
When asked what gives her confidence in the revenue outlook for the year, Su replied, "It really is about where we see the products and where we see that ramp happening. Our two largest areas of focus are Rome [the second generation of the Epyc server part] and Ryzen. We look at the work that the OEMs are doing with both, and the workload capabilities that we have, and we feel really good about our ability to ramp market share on the server and the PC side. Now, those are obviously very competitive markets, but we are coming from a point of share being under-represented, having a relatively small position right now."
Su also said that the current destabilization in the GPU market nevertheless affords an opportunity to AMD to take share from Nvidia.  "Yes, I think so," she replied when asked if AMD could take share. "Gamers still want GPUs that bring more performance at affordable prices, and so as we introduce our next-gen products, we can gain share there. And on the data center side, it is very workload-specific and we will continue to focus on those areas, those workloads where we do well." 
Tiernan Ray neither owns nor trades shares of any of the stocks mentioned in this article.