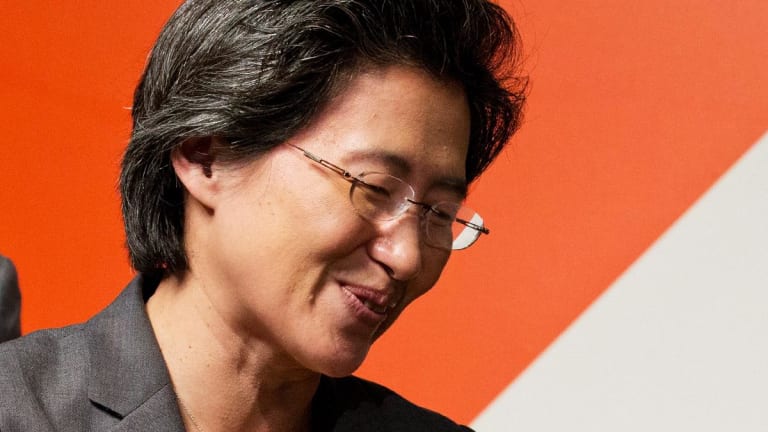 AMD CEO Lisa Su Discusses New Server CPUs, Google and Her Future Plans
During a talk with TheStreet, Lisa Su forecast strong near-term demand for AMD's new Rome server CPUs among cloud and high-performance computing clients. She also indicated that she has no plans to leave AMD anytime soon.
Wall Street has given a resounding thumbs-up to AMD's (AMD) - Get Advanced Micro Devices Inc. Report Wednesday launch event for its second-generation Epyc server CPUs.
The CPU and GPU developer's shares rose 16% on Thursday as favorable reactions poured in for the performance and pricing data it shared for its second-gen Epyc CPUs, code named Rome. Markets are also pleased with the strong support voiced for the CPUs by both major server makers such as HP Enterprise (HPE) - Get Hewlett Packard Enterprise Company Report  and Lenovo and cloud giants such as Microsoft  (MSFT) - Get Microsoft Corporation Report and Alphabet/Google (GOOGL) - Get Alphabet Inc. Report .
On Thursday, I was able to talk with AMD CEO Lisa Su (previously interviewed in November, after an event where Rome was previewed) about her company's expectations for Rome, as well as about its broader data center strategy and a few other things. Here's the first part of a two-part recap of notable remarks made by Su during the interview.
Update: The second half of the interview recap can be found here.
Where Rome Will Initially See the Most Adoption
When asked about how much of AMD's Rome revenue will come in the near-term from cloud providers -- typically faster to adopt new technologies -- relative to traditional enterprises, Su forecast that cloud providers -- both the proverbial Super 7 U.S. and Chinese cloud giants and smaller players -- will indeed be one of the biggest market segments for Rome through the end of the year. However, she also forecast high-performance computing (HPC) systems -- they handle demanding workloads in fields such as AI, simulation, modeling and forecasting and can benefit considerably from some of Rome's key performance advantages -- will be a major end-market in the near-term.
AMD has many HPC-related design wins for Rome with server OEMs, Su noted, and HPC system buyers "tend to ramp faster" since the buyers are highly technical. At the same time, she indicated Rome's ramp for traditional enterprise workloads -- an area where Intel  (INTC) - Get Intel Corporation Report has remained quite dominant -- will take a little longer, given that Fortune 1000 CIOs tend to take more time to evaluate new platforms.
Expected Market Share Gains
AMD has previously said that it believes it achieved a mid-single digit server CPU share by the end of 2018, and that it's aiming to have a double-digit share within 4-to-6 quarters of achieving a mid-single digit share. Su said AMD still feels good about that target, while adding the company still has a lot of work to do to achieve it.
And in response to a question about whether AMD could obtain (for example) a 15% market share in certain segments, Su suggested the cloud and HPC markets are ones in which AMD's server CPU share could be particularly strong in the near-term.
"10% share is not a destination, it's a point in time. And there are segments where we think our market share will be substantially higher than that," she said. "We certainly think with HPC our value proposition is very, very strong. We see that with ... all of the HPC providers."
Cloud Engagements with Google and Others
During AMD's Rome launch event, Google disclosed that it has already begun using Rome-powered servers to handle a variety of internal workloads. That announcement made waves -- both because Google is one of the world's biggest server CPU buyers and because it's known to be a very demanding customer.
"Google is just a marquee environment for tough, tough, data center problems, and so to be able to be a part of that is a real honor for us," Su said. She added that she's also "very excited" about landing Twitter (TWTR) - Get Twitter Inc. Report as a client. The microblogging platform announced on Wednesday that it will start internally deploying Rome later this year, and raved about the CPU core densities and power efficiency of Rome-powered servers.
AMD's event also saw Amazon.com (AMZN) - Get Amazon.com Inc. Report , Microsoft and Google -- the public cloud infrastructure market's big-3 -- all indicate that they plan to launch Rome-powered cloud computing instances for their clients; Amazon and Microsoft already support AMD's first-gen Epyc server CPUs (code named Naples), but Google doesn't. For its part, Microsoft announced several Rome-powered computing instances are now available for its Azure cloud platform in public preview.
Those cloud providers and server OEMs that have supported Epyc via Naples are "doubling down" on their support via Rome, Su asserted. Last week, during AMD's Q2 earnings call, she claimed Rome has seen more than four times as many pre-launch engagements with enterprise and cloud partners as what Naples had two years ago.
Alphabet, Microsoft and Amazon.com are holdings in Jim Cramer's Action Alerts PLUS member club. Want to be alerted before Jim Cramer buys or sells GOOGL, MSFT or AMZN? Learn more now.
Rome's Impact on ASPs
Though Rome -- judging by the performance data shared by AMD and various partners -- compares very well in terms of price/performance for many workloads relative to both Naples and Intel's recently-launched, Cascade Lake Xeon CPUs, Su expects AMD's Epyc average selling prices (ASPs) to rise due to what Rome can deliver for more demanding customers.
"Because the technology capability is going up, we do expect ASPs to increase as we go from Naples to Rome...and that should reflect in our forward-looking financials," she said. While Naples featured launch-time prices ranging from $400 to $4,000 for CPUs featuring between 8 and 32 cores, Rome features launch prices ranging from $450 to $6,950 for CPUs featuring between 8 and 64 cores, along with various improvements outside of core count increases. Notably, cloud and HPC server deployments often involve the use of more powerful CPUs.
Chinese Sales
On AMD's Q2 call, Su mentioned that uncertainty related to tariffs, trade tensions and the U.S. Entities List -- it includes Huawei and AMD's THATIC Chinese server CPU JV, among others -- is weighing on AMD's sales a bit. Nonetheless, she expressed confidence that Rome will see a strong reception among Chinese server CPU buyers -- a group that includes both major server OEMs as well as cloud giants such as Alibaba, Tencent and Baidu.
"Certainly we're all very cognizant" of U.S./China trade tensions, Su said, while observing that several AMD clients are on the Entities List. "That being said, there's a broad market in China...I think Rome is extraordinarily competitive."
Potential M&A
Though AMD has avoided making large acquisitions in recent years -- it has stuck to smaller deals focused on acquiring skills -- the company's improved stock price and earnings profile now make it easier for it to pull off a larger acquisition if it wishes. When asked about AMD's willingness to make a larger deal to strengthen its data center position, Su didn't rule out the possibility.
"It is definitely something we look at," Su said about M&A. "As the balance sheet strengthens, as the revenue grows, as we have more capability, we'll certainly look at M&A as a way to accelerate the business."
Breaking Out Server CPU and GPU Sales
For now, AMD's server CPU sales are recorded within its Enterprise, Embedded and Semi-Custom segment, which also covers (among other things) its sizable game console processor business. And its server GPU sales are recorded within its Computing and Graphics segment, which also covers PC/workstation CPU and GPU sales.
"We believe our segment reporting is ... the best way to do it right now for the company," Su insisted when asked whether AMD is open to changing up its reporting. She added that she considers her company to still be "very, very early in the adoption cycle" for its server CPUs and GPUs.
At the same time, Su indicated AMD will keep evaluating its reporting going forward, and will "give additional color to try and help the investment community." On its Q2 call, AMD said its server CPU and GPU sales both grew strongly on an annual basis in Q2, albeit without sharing revenue figures.
Staying Put at AMD
Earlier this week, Su strongly denied a report stating that she's considering leaving AMD to take a senior position at IBM. Likewise, during our talk, Su indicated that she has no plans to leave the company she has been running since 2014.
"I can say for sure, I'm staying at AMD," Su said. "One of the things that's really important to me is that we're still in the early innings of the AMD story, if you take a look at how long it takes for a tech company to really complete a full cycle ... Although I've been CEO for 5 years, we're just at the cusp of some incredibly competitive products. And I'd like to see us become one of the premier growth franchises in tech. That means growing market share in servers, in PCs, in continuing to deepen our partnerships. So yeah, I have a lot to do."
Microsoft, Alphabet and Amazon are holdings in Jim Cramer'sAction Alerts PLUS Charitable Trust Portfolio. Want to be alerted before Cramer buys or sells these stocks? Learn more now.