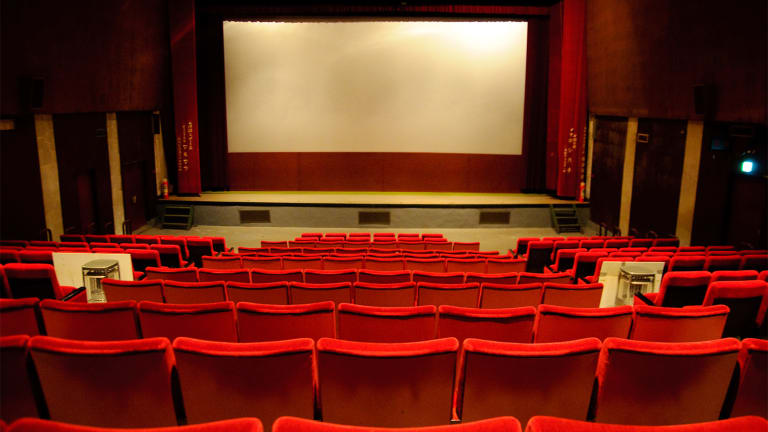 NEW YORK (TheStreet) -- Movie theater chains are hearing it from everyone.
Not only is the U.S. Department of Justice investigatingRegal Entertainment (RGC) , AMCEntertainment (AMC) - Get AMC Entertainment Holdings, Inc. Class A Report, and Cinemark Theatres (CNK) - Get Cinemark Holdings, Inc. ReportbutHollywood's largest studios are demanding changes in how box office office sales are split.
While theaters have long relied the Hollywood studios for enticing films, if the studios try to squeeze theaters on box office sales, they ran the risk of losing top billing or wide distribution. But as more movie watchers turn to Netflix (NFLX) - Get Netflix, Inc. (NFLX) Report, Time Warner's (TWX) HBO NOW and Hulu, among other options, film studios are seeking better terms from the theater chains.  
This complex relationship is further muddled by a federal probe into a long-running complaint from smaller, independent movie theater operators that the chains and the studios have fostered an anti-competitive environment that warrants judicial remedies.
At the heart of the DOJ's investigation is a distribution practice called "clearances," which give theater chains exclusive rights to show certain movies for a certain length of time. The investigation is looking into whether clearances prevent smaller theaters from showing highly anticipated movies concurrently with the likes of Regal, AMC and Cinemark.
Court fights over clearances have happened before but the practice has remained intact, at least for now, said Doug Stone, president of Box Office Analyst.
"Clearances have pretty much always been part of the industry," Stone said. This old, dated practice though, Stone also said, doesn't make much sense especially now with the movie industry facing competition from on demand and streaming video services.
This is yet another complication in the battle for the audience's money. just after a powerhouse studio tried to take a deeper cut of movie revenue by shaking up terms and payment rules for theater operators. "Disney is pushing very hard; there's a public fight in Europe over what the terms are," Stone said.
Before Disney (DIS) - Get Walt Disney Company Report released Avengers: Age of Ultron, the company notified theater operators that it wanted to change the price for splitting the box office with theaters, which would have required theater operators to make up the difference. Disney also wanted to stop matinee ticket pricing one hour early at theaters, but pulled back on that plan.
The amount of clout Disney can throw around, thanks to hits such as Avengers and other Marvel superhero franchise movies, gives it outsized weight in negotiations. Film rental rates theaters in North America pay to show movies, Stone said, are based on the aggregate gross.
And those fees are not miniscule. For example Regal, according its latest quarterly report, spent $234.3 million on film rental and advertising costs for the quarter ended March 31. In fiscal 2014, Regal, spent about $1.05 billion on film rental and ad costs, and that represented 52.4 percent of its revenue from annual ticket sales, which has been about average for the company for years.
But those rental fees exceed Regal's other expenses, such as $111.1 million in concession costs in 2014 and $423.4 million on rent for theaters.
All told, Regal generated $105.6 million in net income on total revenue of nearly $3 billion in 2014, which included concession sales of $829.6 million.
Theaters are relying more and more on concessions to grow revenue, Stone said, because the cost of goods has remained comparatively low. But even that is being eyed by studios as a reason to squeeze theaters. "Studios have never been able to participate in [concessions]," he said. "They're thinking, maybe they can raise their film rental rates a little to get some of that concession take in a backwards kind of way."