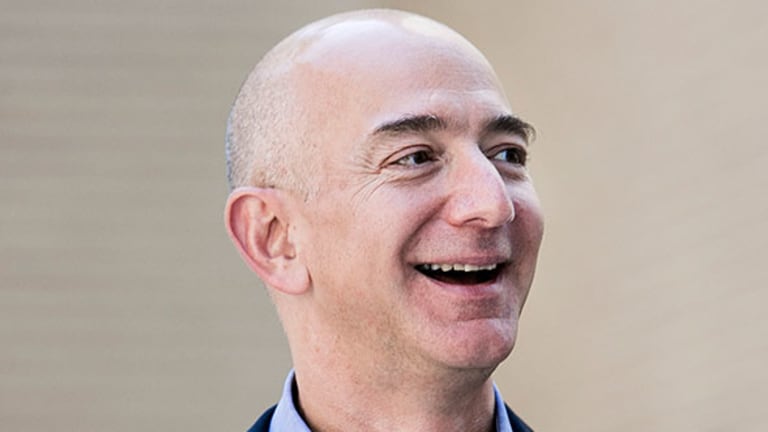 Amazon's Secrets of Success Don't Include Coddling Workers
As its peers give employees perk after perk, Amazon dares to be different with a notoriously intense office culture. But that doesn't hurt the company's success.
NEW YORK ( TheStreet) -- Ask any Googler about life at Google (GOOG) - Get Free Report and he or she will likely tell you about the free meals, scooters, napping pods, the bus to and from work, the in-house masseuse, fitness classes -- the list is almost endless.
Like many technology companies, especially newer startups, Google is known for its employee perks and attentive work culture; employees barely have to leave the office for anything, which probably benefits both the company and the employee since productivity is likely boosted.
Seattle-based Amazon (AMZN) - Get Free Report takes a different approach.
At Amazon, employees must pay for their snacks in a vending machine, said one new employee, who asked not to be named. They have to provide their own lunches, except for the occasional sandwich served at big meetings. And there's certainly no masseuse. Employees work in an environment that's typical of most corporate offices lined with desks and chairs.
Amazon has never made Glassdoor's Best Places to Work list while Google took the top spot for 2015. Facebook (FB) - Get Free Report, LinkedIn (LNKD)  and Apple (AAPL) - Get Free Report also made the top 50. On GlassDoor, current and former employees often cite Amazon's "terrible perks" and the fact that it's "not employee centric" and "super frugal." A brand specialist in Amazon's Seattle office commented that there are "no parties, happy hours, or meals like other tech companies."
Amazon counters that it's raison d'être is saving customers as much money as possible; the company prefers not to  devote too much expense to its 154,000 employees. As it says on Amazon's website, frugality is one of the company's top leadership principles: "We try not to spend money on things that don't matter to customers." Savings, the company argues, are best funneled back to the company.
There's also a different tone from Amazon that emphasizes competition with a "sink or swim" Darwinian environment, says Nancy Rothbard, a professor at Wharton School of the University of Pennsylvania who specializes in organizational behavior. As Amazon CEO Jeff Bezos once told Forbes, "Our culture is friendly and intense, but if push comes to shove, we'll settle for intense."
Bezos is known for forwarding customer complaint emails to relevant Amazon employees along with a question mark, noted author Brad Stone in The Everything Store. The employee then has to rush to figure out an explanation and solution for the complaint in just a few hours and report back to Bezos.
"If an employee does not have the right answers or tries to bluff, or takes credit for someone else's work, or exhibits a whiff of internal politics, uncertainty, or frailty in the heat of battle-a blood vessel in Bezos's forehead bulges and his filter falls away," Stone wrote.
An employee told Stone that once after an engineer's presentation Bezos said, "Why are you wasting my life?" And comments like those aren't rare, according to Stone.
"The people who do well at Amazon are often those who thrive in an adversarial atmosphere with almost constant friction," Stone wrote.
This intense environment can lead to less collaboration between departments. For instance, the app store engineering team didn't know that Amazon was planning to sell a tablet when they first launched an app store, a former Amazon engineer said. The tablet was disclosed internally at a later time, making it clear why the app store was launched to begin with. Amazon declined to comment.
None of this frugality toward employees seems to hurt the company's business. Amazon continues to see its shares soar, with the stock up almost 23% since the beginning of this year. Reporting almost $89 billion in global annual sales, Amazon is the top online retailer in the world, according to Internet Retailer. 
So how does Amazon attract quality talent that could be pampered elsewhere? 
At a Business Insider conference in December, Bezos joked about the flaws in picking a job based on who has the best massages. He then moved on to name what he views as Amazon's employee perks: an urban campus in a vibrant scene near local food carts and the ability to bring dogs into the office, to name two.
"I think we have great amenities for employees," he said. "They're just not the same as what some other companies do. I don't claim our way is the right way, I just claim it's ours."
Bezos himself also walks the talk, providing inspiration for employees to follow.
"Amazon is really known for being this frugal company from the top down," Rothbard says. "It's not like Jeff Bezos is getting all these perks that the others aren't. He has a very frugal office. It's not just the people at the bottom."
Bezos was paid $1.68 million in 2013 (he made the same in 2012), according to the proxy, and has a net worth of $34.7 billion.
On top of that, the sense that the company is innovative and changing the world might be attractive to some employees. Amazon is rolling out new initiatives every day, whether it's a button that lets consumers reorder essentials like laundry detergent or the capability to hire local fix-it people to do something like install a new TV, the company is constantly trying to innovate and push boundaries.
"They have an opportunity to be a part of something that is changing the world," Piper Jaffray analyst Gene Munster says about Amazon employees. "That in itself is a motivation for a lot of people."
Then there's the stock. Full-time Amazon employees receive stock as a part of their compensation, and assuming shares continue to rise, this is a decent incentive for employees, Munster says. According to PayScale Human Capital, Amazon isn't that far behind Google in terms of tenure, with the average employee having been at Amazon 0.93 years compared to Google's 1.15 years.
"The one that's more employee-friendly is probably more sustainable over a decade," Munster says. "Amazon's been a wildly successful company and probably one of the top five most successful tech companies." He added that the company "could probably be even more successful if they would have had a more employee-friendly culture."