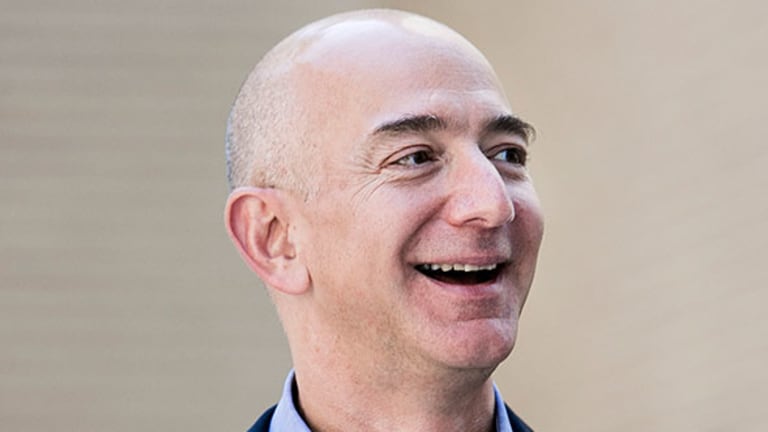 Amazon's Prime Day Won't Be Nearly as Big as Singles Day for Alibaba
Though the e-commerce giant is hyping its inaugural Prime Day as a sales event on par with Black Friday, analysts aren't buying it.
NEW YORK (TheStreet) -- Amazon (AMZN) is betting heavy on its upcoming Prime Day, promoting it heavily via TV advertisements and a barrage on social media in an effort to boost sales, and going so far as to say the event will be on par with Black Friday.
Here's the thing though: Despite Amazon's hype, analysts and investors aren't convinced that Prime Day is going to be that big a deal.
It will be a "modest success," says Channing Smith, managing director of Capital Advisors, who is a longtime holder of the stock. "The timing from a calendar perspective being in the doldrums of the summer months, and the lack of awareness of the event from a marketing perspective, are going to be headwinds," Smith said.
Starting at midnight PDT July 15, Prime members will have access to deals as often as every 10 minutes. And for non-Prime members, they can sign up for a one-month trial just in time for Prime Day to reap all the benefits too.
Some are comparing what Amazon is hoping to achieve with Prime Day to what Alibaba (BABA) accomplished with Singles Day. That "holiday" was created by some students at Nanjing University in the 1990s as a Chinese anti-Valentine's Day of sorts. Alibaba took advantage of its popularity and turned it into a huge marketing event with tons of sales. Now, two decades later, Singles Day has become a wild success for Alibaba. Consider that $9.3 billion of orders were placed on Alibaba on Singles Day in 2014, up from $5.8 billion on Singles Day in 2013.
Unfortunately for Amazon, though, Prime Day is unlikely to turn into the U.S. equivalent of Singles Day.
That's not to say that Prime Day won't be successful in other ways. It can certainly be a driver of Prime signups, and Prime members have been proved to be much more valuable for Amazon than non-Prime members.
The thing with Prime, which costs $99 a year, is that it reels in valuable consumers and turns them into loyal Amazon shoppers. Once they're hooked on free shipping, they're likely to spend more on the site and veer away from other retailers that offer similar products, but charge for shipping.
ITG analyst Steve Weinstein estimated that Prime members spend $1,000 more a year on average than non-Prime members on the site, and Millward Brown estimates Prime members have almost five times the conversion rate of non-Prime members.
Amazon has never publicly disclosed exactly how many Prime members it has, but it has confirmed publicly it has more than 20 million members across the globe. The Consumer Intelligence Research Partners estimates there are 41 million U.S. Prime members.
"Prime Day has the potential to create a new annual or periodic shopping 'holiday' for Prime members, while also driving additional Prime memberships," Baird analyst Colin Sebastian wrote in a research note on Wednesday.
Getting an enormous sales boost, though? Probably unlikely.
"This is the first Prime Day and consumers are not privy to what it may or may not entail," said Kevin Kelly, CIO and managing partner of Recon Capital Partners. "It would be hard to believe it could come even close to 'Black Friday' or even 'Cyber Monday' sales figures given that it is for Prime Members only and will include 'Lightning Deals.' The consumer may have 'deal' atrophy as well from sales always being barraged with sales over every little event." Amazon is owned as part of the Recon Capital NASDAQ 100 Covered Call ETF (QYLD) .
Around $50.9 billion was spent in the U.S. over the four-day weekend surrounding Black Friday in 2014, according to the National Retail Federation. Another $2.05 billion was spent online in the U.S. on Cyber Monday in 2014, according to comScore.
Kelly doesn't think Prime Day will even come close to the success of Singles Day. "Singles Day for Alibaba is a cultural event for a nation -- and also celebrates a person's relationship status. Amazon Prime Day is all about Amazon," he said.
Asked to comment for this article, an Amazon spokesperson said: "To be clear, we are offering more deals than [sic] Black Friday exclusively for Prime members. Members can shop at amazon.com/primeday on July 15. We have not shared any projections."
The best-case scenario for Amazon's Prime Day is that it will drive up Prime membership numbers to satisfy Wall Street.
"We applaud the company for creating an event to drive Amazon Prime membership as these members exhibit much higher purchasing volume and conversions than non-Prime members which have an outsized impact on the revenue and earnings growth for the company over the last couple of years," Smith said. "We are excited about the event but Capital Advisors does not believe this single event will impact the valuation of the stock."