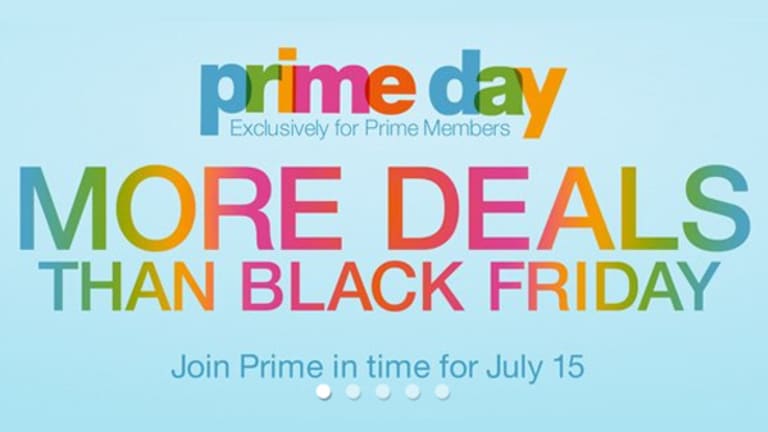 Amazon's Prime Day Was a Success, According to the Company
Amazon released some 'record-breaking' numbers from its one-day sale.
NEW YORK (TheStreet) -- Amazon's (AMZN) - Get Amazon.com, Inc. Report "Black Friday in July" holiday Prime Day seems to have been a huge success, despite the criticism you may have seen on social media.
According to Amazon, it sold more units on Prime Day than Black Friday 2014. Global orders on July 15 increased 266% over the same day last year and 18% more than Black Friday 2014.
On Prime Day, 34.4 million items were sold on Amazon in Prime-eligible countries, translating to 398 items ordered per second.
A lot of those orders were big ticket items -- hundreds of thousands of Amazon devices were sold on Prime Day, making it Amazon's largest device sales day ever.
On top of that, Amazon signed up a bunch of new Prime members, more than any other day in Amazon's history. Granted they could have just been signing up for a free month's trial only to cancel after Prime Day, but even if a small portion of those signups stay with Prime, it is a huge win for Amazon, knowing how valuable Prime members are for the company.
Prime members spend $1,000 more a year on average compared to non-Prime members, according to ITG analyst Steve Weinstein, and research firm Millward Brown estimates Prime members have almost five times the conversion rate of non-Prime members.
Amazon wasn't the only winner on Prime Day -- it's third party merchants saw huge spikes in business as well. Sellers on Amazon that use Fulfillment by Amazon (FBA) grew orders nearly 300% on Prime Day.
E-commerce service provider ChannelAdvisor found that U.S. third-party merchants on Amazon (even those that don't use FBA) saw 93% growth on Prime Day compared to July 16 in 2014 (to align with the same day of the week). Sellers in the EU saw 53% year-over-year growth on Prime Day.
"In the first time trying this event, Amazon has created a summer shopping holiday as big as Black Friday," ChannelAdvisor Executive Chairman Scot Wingo said. "Amazon has exceeded our expectations for Prime Day."
"Thank you to the hundreds of thousands of new members who signed up on Prime Day, and our tens of millions of existing members for making our first ever Prime Day a huge success," said Greg Greeley, vice president, Amazon Prime. "Going into this, we weren't sure whether Prime Day would be a one-time thing or if it would become an annual event. After yesterday's results, we'll definitely be doing this again."
Here are some of the other exciting stats from Prime Day:
• Members ordered tens of thousands of Fire TV Sticks in one hour, making it the fastest-selling deal on an Amazon device ever
• Fire tablet sales on Amazon exceeded sales on Black Friday last year
• Members ordered thousands of e-readers and thousands of Echos in just 15 minutes
• 56,000 Lord of the Rings: The Motion Picture Trilogy sets
• 47,000 Televisions sold, which was 1300% year-over-year growth
• 51,000 Bose Headphones, compared to 8 the previous Wednesday
• 28,000 Rubbermaid 42-Piece Easy Find Lid Food Storage Sets, compared to 428 the previous Wednesday
• 24,000 Instant Pot 7-in-1 Programmable Pressure Cookers, compared to 182 the previous Wednesday
• 14,000 iRobot Roomba 595 Pet Vacuum Cleaning Robots, compared to 1 the previous Wednesday
• 12,000 Fifty Shades of Grey Unrated Edition on Blu-ray, compared to 121 the previous Wednesday
• 10,000 Meguiar's X2020 Supreme Shine Microfiber Towels, compared to 244 the previous Wednesday