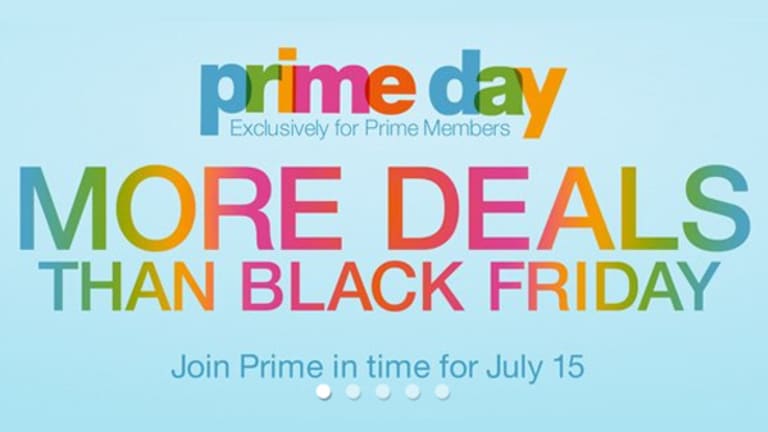 Amazon's Prime Day Could Actually Make a Difference For Earnings
While Amazon's margins may suffer a bit from the discounts, the made-up holiday can only help boost prime membership numbers, which will help Amazon in the long run.
Updated from 3:08 p.m. to include statement from Amazon in the fifth paragraph.
NEW YORK (TheStreet) -- Amazon's (AMZN) - Get Amazon.com, Inc. Report "Black Friday in July" holiday Prime Day is just about halfway through, but it's already getting some mixed reactions.
A lot of consumers are underwhelmed with the deals Amazon is offering, finding that many of the discounts are for obscure products or items with little demand. Some are calling the day simply an excuse for Amazon to get rid of some surplus stock.
Early numbers from e-commerce service provider ChannelAdvisor show that the reaction on social media may not be directly correlated to today's actual sales on Amazon. As of noon today, Amazon U.S. sales from third-party vendors were growing around 80% today as opposed to the average of 20%, according to ChannelAdvisor. "This is a significant jump that we are already seeing mid-day," ChannelAdvisor Executive Chairman Scot Wingo said.
And Amazon has released some early numbers that seem to be positive. "Prime Day peak order rates have already surpassed 2014 Black Friday," said Greg Greeley, Vice President Amazon Prime in a statement. "Prime members have already bought tens of thousands of Fire TV Sticks, 35,000 Lord of the Rings Blu-Ray sets, 28,000 Rubbermaid sets, and 4,000 Echo devices in 15 minutes. The Kate Spade purse was gone in less than a minute. We also sold 1,200 of the $999 TVs in less than 10 minutes. And there are thousands more deals coming."
Here's the thing -- even if Amazon doesn't make too much direct profit off the day, it will ultimately gain down the line in the form of Prime membership numbers.
At the end of the day, Amazon is looking to get as many Prime subscribers as possible, and Prime Day is just another way to promote the program and convince people to sign up. So even if consumers didn't end up purchasing anything today, if they signed up for Prime to check it out, that is a huge win for Amazon. Sure, they could sign up for a free 30-day trial and then cancel, but even if only a minority sticks with the membership it still benefits Amazon.
Prime members spend $1,000 more a year on average compared to non-Prime members, according to ITG analyst Steve Weinstein, and research firm Millward Brown estimates Prime members have almost five times the conversion rate of non-Prime members.
While Amazon has yet to share any concrete numbers on Prime, it has disclosed that the number of Prime members grew 53% year-over-year in the fourth quarter of 2014. The Consumer Intelligence Research Partners estimates that Amazon has 44 million Prime members in the U.S. as of July 14.
"Prime Day will serve as a way to entice non-members to sign up for Prime in order to get access to the Day's deals," Citi analyst Mark May wrote in a research note Wednesday morning. "Given the robust purchasing behavior of these shoppers, Prime Day's success in achieving member sign ups could have ramifications for both the 3Q15 and full-year guides." May has a "buy" rating and $460 price target for Amazon.
Wall Street estimates for Amazon's third-quarter are $23.8 billion in revenue with losses of 60 cents per share, according to Thomson Reuters. For the full year, they expect $103.2 billion in revenue with earnings of 47 cents per share. Amazon is expected to report second-quarter earnings on July 23.
In a survey of 400 consumers, market research firm AYTM found that the 76% of respondents which had not already signed up for Prime, 19% were either somewhat likely, likely, or very likely to sign up for Prime in order to get access to Prime Day deals. Citi extrapolated on those numbers to conclude that "Prime Day could hypothetically increase the U.S. Prime membership by 9%."
"Of course, some of these new members may not renew after their 30 day free trial period, but even if half churn this could still represent meaningful growth to Amazon's important Prime offering," May said.