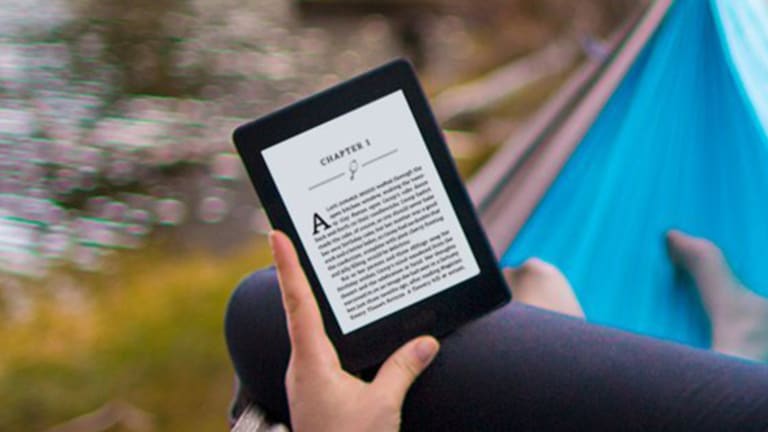 Amazon's New Kindle Paperwhite Is Even Better Than Before
Amazon's tiny, third-generation e-book reader improves screen resolution and battery life.
Amazon's tiny, third-generation e-book reader improves screen resolution and battery life.
NEW YORK (TheStreet) -- Amazon (AMZN) - Get Report is unquestionably the world leader is quality, portable e-book readers and it's Kindle Paperwhite is the company's stand-out device. Not content with peddling the previous model the new 2015 edition improves nearly everything - from screen resolution and readable fonts to battery life and more.
If you're familiar with older Kindle models you'll be surprised at just how small and compact this device is in person. Paperwhite is pretty easy to hold with one hand. While it does feel slightly heavier than it looks, it's not too heavy.
Get the Amazon Kindle Paperwhite here.
The improved screen is Paperwhite's main selling point.
The 6-inch, black and white touchscreen display (16-level gray scale) now has 300 dots per inch to make it even easier to read. The screen also has built-in smart back lighting which knows the difference between bright sunlight and dark indoor settings. Amazon also employs what it calls "optimized font technology" featuring the new, very readable "Bookerly" font. It's not officially a tablet but does include a pretty good "Experimental Browser" which allows for some very basic surfing while you're connected to the Web.
In addition to the improved screen Paperwhite's other big selling point is its battery life.
Because that gray-scale screen only sips small amounts of power, the Paperwhite's battery lasts weeks, not hours, on a single charge. Amazon estimates you'll get as much as 5-to-6 weeks of use from a single charging session. We're up to 3+ weeks so far and the battery meter has barely budged.
Paperwhite comes with a microUSB charging cable for connecting to a computer and A/C power adapter is sold separately for $20.
All Paperwhites connect to the outside world via Wi-Fi. All Amazon Kindle devices offer free connections to AT&T's (T) - Get Report network of hotspots nationwide, but Amazon also offers a 3G version of the Paperwhite which costs an additional $70.
Paperwhite's 1 GHz processor of unannounced origin is the same as was used in the 2013 model and has 4 GB of storage, which Amazon says is good for storing thousands of books. It may not seem like much until you realize that all of your purchased books are also backed up in Amazon's Cloud. Downloading books from the Amazon store takes less than 60 seconds each. You can share purchased books with other Kindle friends for as long as 14 days, In addition to what you buy Amazon also allows you to "borrow" books from local libraries.
Operating Paperwhite is simple to master. It's easy to learn how to do everything from the simple turning of pages to digging deep into the text while never losing your place. The device simulates page turns quite well and displays pages that are easy on your eyes in bright sunlight, partial shade as well as darkened bedrooms. There is a very tiny lag when turning from page to page but it's a very small price to pay for the unit's battery saving abilities. There are also a number of extras such as a built-in dictionary and a vocabulary building program. Overall, the e-book experience is top notch.
The Paperwhite starts at $119, but there are conditions that go along with that price. For $119, you can choose a Wi-Fi-only Paperwhite with what Amazon calls "Special Offers". They include "Sponsored Screensavers and special offers for Kindle books from Amazon directly on your device," which Amazon promises will appear only when you're not using Paperwhite for reading. If you don't want these, the Wi-Fi version of the Paperwhite costs $139.
Adding free 3G connectivity raises the price to $189 with the special offers and $209 without. For the record, if you choose to receive the special offers you can stop them with a one-time future payment. My older Kindle e-reader came with built-in 3G connectivity, but Wi-Fi networks available nearly everywhere, I'm not sure if I really need it.
Living in a long-time Kindle household I can assure you the newest Paperwhite is a huge improvement over previous models and is on its way to becoming one of my constantly used gadgets. At $119 the new Paperwhite is highly recommended.
Overall Score: 8.8/10
Get the Amazon Kindle Paperwhite here.
This article is commentary by an independent contributor. At the time of publication, the author held no positions in the stocks mentioned.