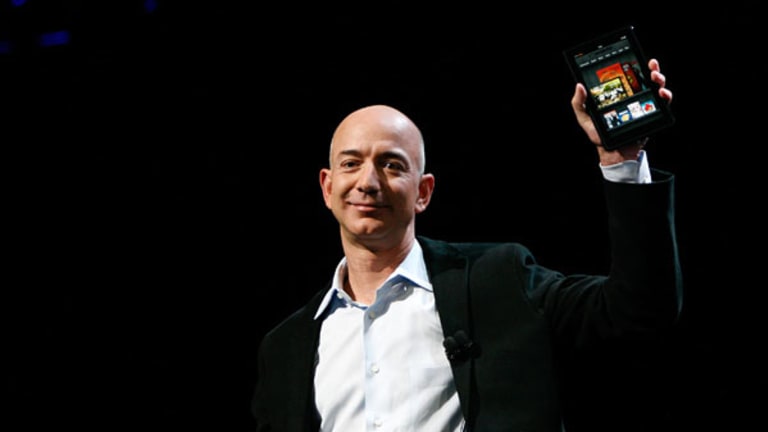 Amazon's European Weakness Could Hinder Results
Wall Street sees ongoing investment costs and weakness in Europe weighing on Amazon's second-quarter results.
Wall Street sees ongoing investment costs and weakness in Europe weighing on Amazon's second-quarter results.
NEW YORK (
) -- When
Amazon
(AMZN) - Get Report
reports its second-quarter earnings results after the markets close Thursday, Wall Street is bracing for in-line announcements from the e-commerce retail giant. However, weakness in Europe could be the wild card.
On average analysts are expecting Amazon to report second-quarter earnings of six cents a share on revenue of $15.74 billion after earning a penny a share on revenue of $12.83 billion a year ago, according to a poll of analysts by
Thomson Reuters.
Weakness in Europe, which is struggling to get out of a recession, could hinder results, however. Along with that, currency fluctuations, and costs tied to international expansion, digital media growth, the continued build out of Amazon Web Services, and fulfillment costs may weigh on overall earnings.
Results from
Google
(GOOG) - Get Report
and
eBay's
(EBAY) - Get Report
have shown that while the European retail market remained weak in the latest quarter, the overall consumer e-commerce trend in the U.S. continued to look healthy. Bank of America Merrill Lynch calculates that eBay's key U.S. e-commerce metrics accelerated in the second-quarter, with U.S. gross merchandise volume growth excluding vehicles up 16.4% versus 15.7% in the first quarter, and merchant services payment volumes up 25% compared with 21%. In the international markets, eBay indicated that e-commerce activity was weaker than expected in Europe and Korea.
"While we find it difficult to predict investment spending, we think investors will generally remain constructive on the high return on investment thesis if growth remains at a premium to the e-commerce sector," Justin Post and Paul Bieber, analysts at Bank of America Merrill Lynch wrote in a note earlier this week. "Comps get easier in the second half of 2013, and we think at some point Amazon could reaccelerate unit growth."
While Europe and spending may weigh on results, highlights in the quarter could be its core e-commerce business in June, which had a lackluster start to the quarter, and the extraordinary pace of growth at AWS. Goldman Sachs analysts said recently that AWS likely saw "extremely high levels of growth" in the latest quarter. Meanwhile Morningstar analyst R. J. Hottovy is expecting AWS to generate an average annual revenue growth of more than 30% over the next five years, after producing an estimated $1.6 billion in revenue during 2012. The company itself has expressed confidence that AWS could eventually grow to as large as its e-commerce business after averaging at the moment at less than 5% of its total revenue.
The company's Kindle business could aid results, as it continues to serve as a useful customer acquisition tool in the digital media market. Incorporating recent estimates from information technology firm
IDC
, Goldman Sachs forecasts that Kindle Fire and other Amazon e-reader devices contributed about $900 million to second quarter revenue. This does not including digital media sales, which the analysts say will likely have strengthened from a year ago as Kindle stores and the Kindle Fire Tablet were introduced to new markets including Europe, Japan and Brazil late last year.
Buyer loyalty programs, the company's mobile business, shipping fee increases, and its advertising revenue strategy are anticipated to have also been a contributor of strength in the quarter.
Goldman Sachs analysts note that the high end of Amazon's third-quarter guidance will likely match the consensus as improving e-commerce trends and easier comparisons take hold. However, the macro environment, increasingly stiffer competition, and the company's rate of investment in emerging businesses remain the primary risk factors.
Written by Andrea Tse in New York
>To contact the writer of this article, click here:
Andrea Tse
.>.