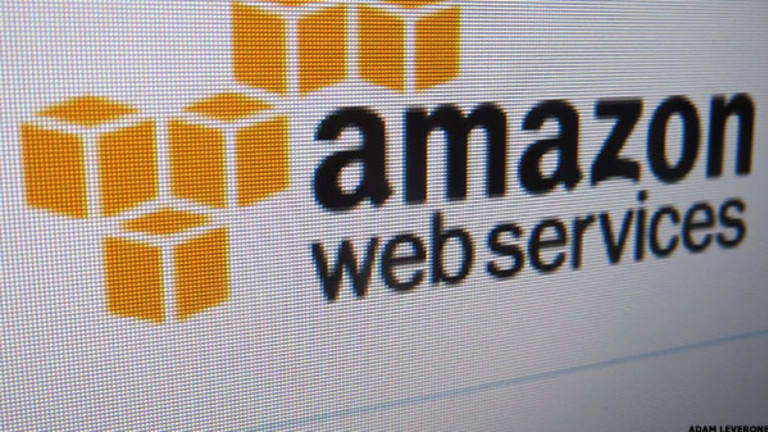 Amazon's Cloud Services Business Is Huge and Getting Bigger
A survey from Cowen and Co. shows just how successful Amazon Web Services is.
A survey from Cowen and Co. shows just how successful Amazon Web Services is.
NEW YORK (TheStreet) -- Amazon (AMZN) - Get Report is dominating the cloud-services market, according to a new survey from Cowen and Co.
Cowen surveyed more than 200 companies that use public cloud providers, and Amazon Web Services (AWS) was the top-rated service by all sorts of criteria. It came in first place in terms of share of budgets, average annual spending and expected spending growth, and was a close second to Microsoft's (MSFT) - Get Report Azure in terms of overall usage.
Respondents on average spent $124,000 last year on AWS, twice the amount of money as those that use Google's (GOOGL) - Get Report Cloud Platform and IBM's (IBM) - Get Report Soft Layer. And the average for AWS is expected to rise, according to Cowen, which estimates that spending on AWS by existing customers is expected to increase 43% in 2015 and 21% in 2016, while spending on cloud services from other vendors is expected to stay relatively flat.
One of the main reasons respondents gave for choosing AWS over other providers was AWS's reliability.
When Amazon first broke out numbers for AWS this past quarter, analysts were pleasantly surprised by the strength of the business. Amazon's stock rose 14% the day after the numbers were released.
AWS' net sales rose 49% to $1.57 billion in the first quarter. AWS margins remained steady at 16.9%, even though AWS has made numerous price cuts since the service was launched. According to Synergy Research Group, the service has 29% market share in cloud services, more than its four chief competitors combined.
Cowen predicts that AWS will be a $38 billion business by 2020. The firm raised its estimates for 2015 revenue to $7.1 billion, which would be up 52% year-over-year. Previously, the firm estimated 48% growth.
As a result, Cowen has raised its price target on Amazon's stock to $435 from $370. The stock was trading at $434.56, down $1.48, on Tuesday morning.