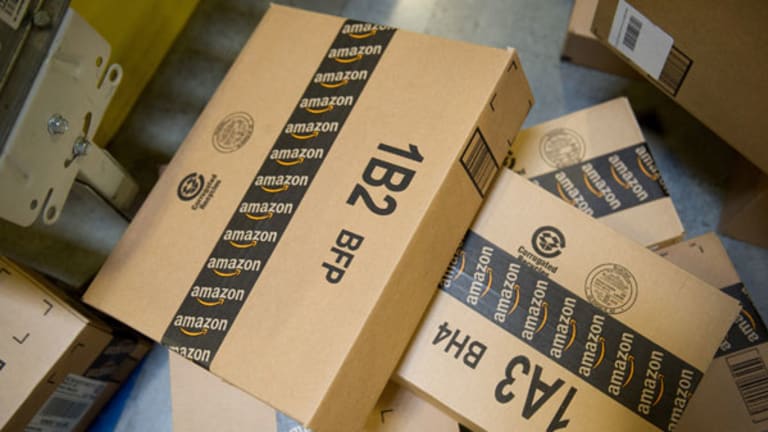 Amazon's Black Box
Amazon's earnings report proves that the less you give Wall Street, the better.
Amazon's earnings report proves that the less you give Wall Street, the better.
NEW YORK (
) --
Amazon's
(AMZN) - Get Report
report saw the Seattle-based retailer miss on both the top and bottom lines, as the company continues to invest in growth. Where that growth is coming from, though, is anyone's guess, since the company is a black box.
Amazon lost 2 cents a share on $15.7 billion in revenue during the quarter. Analysts polled by
Thomson Reuters
were looking for earnings of 5 cents a share on $15.73 billion in revenue. Third-quarter guidance was weak, with the company expecting sales between $15.45 billion and $17.15 billion. Amazon is forecasting an operating loss between $440 million and $65 million, compared to $28 million in third quarter 2012.
There's no doubt that Amazon continues to reinvest in a variety of different segments, continuously expanding into new areas. "We believe that an improving macro picture is helping stimulate consumer demand for Amazon's products, augmented by strong performance at AWS (Amazon Web Services)," wrote Cantor Fitzgerald analyst Youssef Squali in a research note, noting that "Amazon remains keen on expanding and innovating and as such, remains in investment mode (particular in technology and content,)," thus hurting operating margins in the short term.
However, it's hard to decipher where that reinvestment's going, since Amazon doesn't really break down revenue or give much additional detail on the earnings call. Last night, I tweeted that Amazon's earnings call could be summed up in 9 words.
Sure, Amazon gives you revenue broken down into Media, Electronics and other general merchandise, and Other (which includes AWS), but when asked for more clarity, or how Kindle Fire sales are going, there's a generic "They're going well, we're super happy, but there's not a lot more we can add" response from Amazon's management. Contrast that with
Apple
(AAPL) - Get Report
, which breaks down revenue by product line, and gives Wall Street as much detail, perhaps more, than it needs.
When asked for more clarity on third-party (3P) units and how that's affecting paid unit growth, Amazon just said that 3P was 40% of total units this quarter, and that the company was happy with it. Nevermind the fact that paid unit growth continued to slow, showing 29% year-over-year growth.
Specific details on the performance of initiatives such as Amazon Fresh, Amazon Prime and Amazon Web Services, some of the company's most ambitious projects, are never revealed, except to say that Amazon is pleased with them. When asked about how Fresh is doing, Amazon's Senior Vice President and CFO Thomas J. Szkutak said while the economics originally were tough, with the team doing a lot of experiments, he didn't have much to offer, other than to say that Amazon is pleased. "And it's very early there
in LA, we're still in the trial period, it's good customer experience and we like what we see so far, but it's very, very early," Szkutak said on the call. "And so, it's something that we'll continue to work on and both from a customer experience and from an economic standpoint. And there is not much more I can add to that right now, so you have to stay tuned and see where that ends up."
It's comments like that that drive me and so many others mad. Sometimes it feels like the CIA and the NSA give more disclosure than Amazon does, despite it being a PUBLIC company!
The Kindle ecosystem "seems" to be performing well, as UBS analyst Eric Sheridan noted the strength in North American Media revenue, with overall North American revenue growing 30% year over year. "This result highlights the growing importance of hardware/software ecosystems to media consumption (i.e. NA Media strength in 1H due to a larger Kindle install base)," Sheridan wrote in the report. However, no one really knows just how well the Kindle ecosystem is doing, because it's lumped in with everything else in Media.
Shares of Amazon are down around 1.6% as of the time of writing, but given the fact the majority of analysts continue to remain bullish (with Jefferies raising its price target to $350 following the call), it wouldn't be a shock to see Amazon eventually trade higher today, should the market cooperate.
I'm just not sure what it's based on, since the company gives you little if anything, to go by.
--
Written by Chris Ciaccia in New York
>Contact by
.