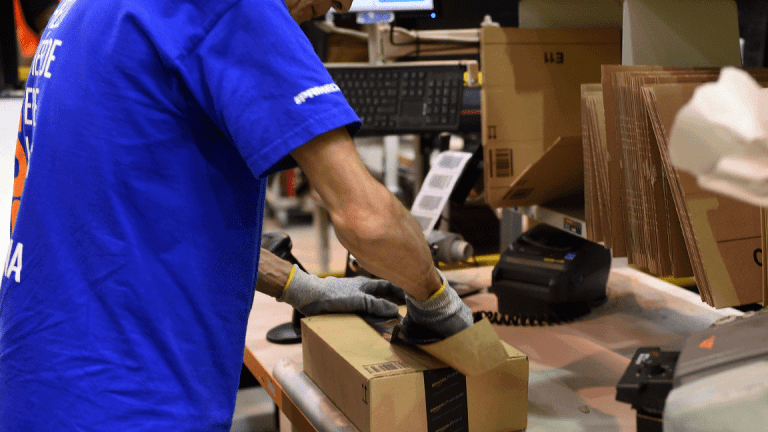 Amazon: Workers in Germany Strike; Retailer Targets Unprofitable Online Items
Workers at two Amazon distribution warehouses in Germany go on strike Monday.
Workers at two Amazon.com Inc. (AMZN) - Get Report distribution warehouses in Germany went on strike Monday to advocate for better work conditions and pay, according to Reuters.
German trade union Verdi called the strike to demand the retailer raise pay for warehouse workers in line with collective bargaining agreements in Germany and retail industry standards. Germany is Amazon's second-largest market after the U.S.
Amazon workers are striking in the cities of Leipzig and Werne, but a Verdi spokesman told Reuters it was possible workers might strike at other Amazon locations.
"We will see whether their promises to customers to deliver parcels punctually by Christmas Eve can be met," said Verdi's Thomas Schneider.
In morning trading on Monday, Amazon shares were down 3.3% to $1,538.69.
The latest strike comes less than two weeks before Christmas and could potentially affect Christmas deliveries in Germany. Less than a month ago, Amazon workers in Germany and Spain went on strike on Black Friday, the unofficial start of the holiday shopping season, but Amazon said there was no impact on customer orders.
Verdi has been organizing strikes at Amazon in Germany since 2013 as part of a long-running campaign for better work conditions and pay. Amazon said it rejects Verdi's demands because the company believes its warehouse workers should be paid in line with the logistics sector and not as retail staff. 
Amazon has been facing challenges on many fronts. It has been accused of providing bad work conditions and underpaying its warehouse employees. It's been accused of allowing fake reviews and its sellers have complained of unfair treatment.
Now the e-commerce giant is pushing sellers into changing the products it sells to avoid losing money. The Wall Street Journal reported the company has been eliminating unprofitable items and pressing manufacturers to change their packaging to better sell online.
The unprofitable items, known inside Amazon as CRaP for "Can't Realize a Profit," are heavier or bulkier items that are costly to ship, which reduces or eliminates profit margins for Amazon. Products like bottled water and snack foods are among those being targeted.
The Journal reported Amazon has already forced one seller to change its business model to sell on its platform. Bottled water from Coca-Cola Co.'s  (KO) - Get Report Smartwater used to have a $6.99 six-pack as the default order. But in August, after working with Coca-Cola to change how it ships and sells the water, Amazon changed the default item to a 24-pack for $37.20. That raised the price per bottle to $1.55 from $1.17 and Coca-Cola will start shipping directly to consumers, sparing Amazon the expense.
While the company is dealing with seller and worker issues, it also has been advancing into the healthcare space. CNBC reported Amazon was looking to expand into the healthcare diagnostics business too. Amazon was in talks this year to buy a venture-backed diagnostics start-up called Confer Health. Confer develops hardware for at-home tests starting with fertility and infections like strep throat. The talks didn't result in a deal.
According to CNBC, Amazon's move into the home health-testing space would potentially remake the entire health care supply chain. It could bring Amazon into competition with testing giants Quest Diagnostics Inc. and LabCorp, as well as retail health centers where the bulk of tests are performed today. If successful, it could save people trips to the doctor's office for simple things like checking to see whether they have the flu, and reduce the spread of communicable disease.
Amazon is a holding in Jim Cramer's Action Alerts PLUS member club. Want to be alerted before Jim Cramer buys or sells AMZN? Learn more now.