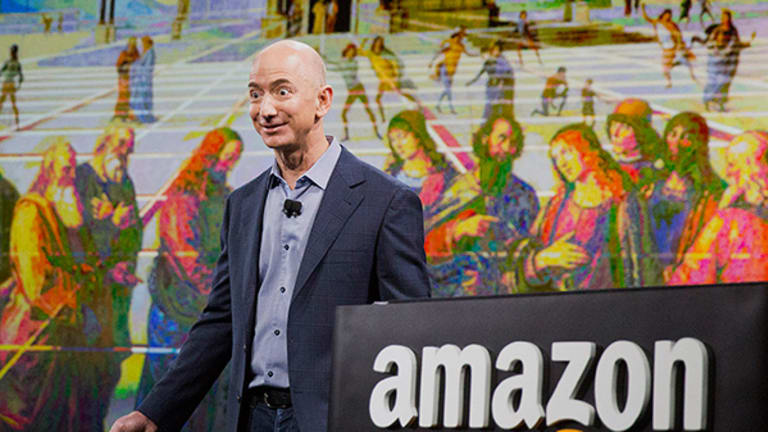 Amazon Under Attack by New Service From E-Book Upstart Oyster Books
A new retail e-book service from startup Oyster Books might be timed just right to challenge Amazon's Kindle.
NEW YORK (TheStreet) -- Oyster Books, a New York-based e-book subscription startup, is taking aim at Amazon (AMZN) - Get Amazon.com, Inc. Report.
The company is launching a new service today to allow its users to buy single e-books directly from it rather than read all they can for a flat monthly fee. Titles start at 99 cents and go up from there, although some are free. While Amazon's position in the e-book marketplace is incredibly strong, it's more vulnerable than it has been in years.
Prior to today, Oyster only offered a service for users to read as much as they wanted from a selection of one million e-books for $9.95 a month. The service included many titles from some of the largest publishers, including a limited selection from three of the top five -- Macmillan, CBS's (CBS) - Get CBS Corporation Class B Report Simon & Schuster and News Corp.'s (NWS) - Get News Corporation Class B Report HarperCollins.
Now the company is adding hundreds of thousands more for direct purchase from hundreds of publishers, including Penguin Random House and Hachette, the two from the so-called "big five" that have not yet made their e-books available via subscription. This fairly complete collection should satisfy the needs of most readers.
Amazon is by far the most dominant player in this business -- in the U.S. and abroad. It is thought to control more than two-thirds of e-book sales in the U.S. (but it's never been publicly disclosed) and 95% in the U.K., the second-largest market. It has relationships with thousands of publishers and hundreds of thousands of self-publishing authors and offers about 3.5 million e-book titles for sale, not to mention millions more in print.
While Amazon doesn't break out its book sales, its worldwide media sales in 2014 were about $22.6 billion, up from about $21.7 billion in 2013. E-book sales in the U.S. across all retailers in 2013, the last year that data were available, topped $3 billion, out of about $14.6 billion in total U.S. book publishing sales.
With Amazon being the leader in e-books, it has a giant target on its back. Of late, Amazon has gotten so far ahead that the target may appear incredibly small -- and the arrows traditionally used to attack it flimsy. That may be changing.
The five aforementioned publishers sell a majority of the books most people want to read. Until recently, many of them were signed to agreements with Amazon, Barnes & Noble (BKS) - Get Barnes & Noble, Inc. Report and others that allowed the retailers to set e-book prices. Today, four of the five are on the "agency pricing" system, meaning that they set their own prices and that prices across retailers are usually the same.
This is hugely important for a new player like Oyster, which can now focus on competing with Amazon on the quality of its service and not on price. From 2012 to 2014, when many books from the largest publishers were being priced by retailers like Amazon, Barnes & Noble and Apple (AAPL) - Get Apple Inc. Report, Amazon is thought to have expanded its share of the e-book market considerably by offering e-books at steep discounts. Barnes & Noble, in particular, saw revenue fall and losses mount at its Nook e-book division.
"Our books will be competitively priced against the market," Oyster CEO Eric Stromberg said in an interview.
This wasn't a boast that other e-book retail startups could make over the past few years, like the failed, publisher-backed effort Bookish.
According to Stromberg, Oyster plans on competing with its user experience, which it built specifically for mobile reading; its ability to help readers discover new books; and by having the largest library of books users can borrow if they sign up for its $9.95 service. Amazon has such a service as well, Kindle Unlimited, with 700,000 titles and thousands of audio books, available at $9.99.
While Oyster is just launching its e-book store, it already has paying customers. The company won't say how many, but last month 100 million pages were read through the subscription service, up from eight million a year ago.
Another reason Amazon is vulnerable is book publishers are becoming desperate to find a way out from under the company's control. Many have been aggressively seeking ways to reach readers without the increasingly necessary aid of Amazon, which is thought to control nearly half of all U.S. book sales.
HarperCollins, in particular, has been preparing for a fight with the retailer and is rumored to be refusing to sign a new contract with Amazon at the same terms as its competitors. HarperCollins is the second-largest publisher in the world and if its contract with Amazon is allowed to lapse, as some observers think it will, it could mean an explosive battle that bleeds into the public conscience, like what Amazon faced with Hachette last year.
For Oyster, this e-book store launch is part of its larger plan to go from small start-up to powerful player in the competitive e-book business.
It's a big market and Oyster -- and its investors -- want a bite. Founded in 2012, the company has taken $17 million in investment in two rounds led by venture capital firms Founders Fund and Highland Capital Partners. According to the CEO Stromberg, plans for an initial public offering for the 30-person company isn't on the horizon.
"Our goal is to build the business as a large, independent company," Stromberg said. "We're very focused on that."