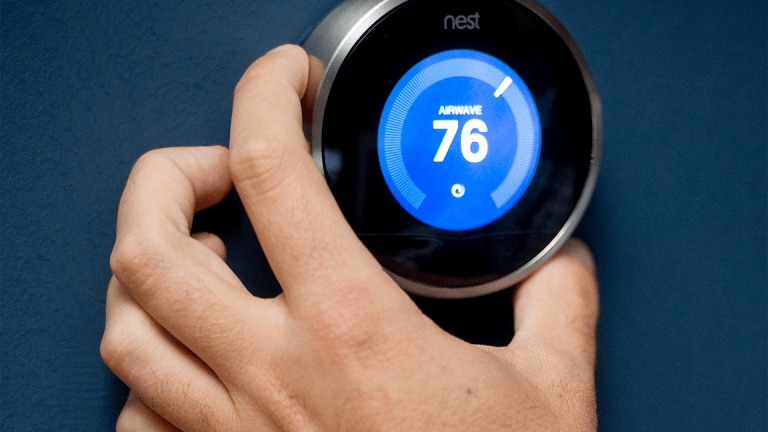 Amazon's Battle With Google Over the Smart Home Heats Up
Amazon will reportedly stop selling Google's Nest smart home products as it develops its own devices and services.
The battle between Amazon.com (AMZN) - Get Free Report and Alphabet Inc.-owned (GOOGL) - Get Free Report Nest for control of the smart home is getting a little hotter. 
Amazon.com reportedly told Nest at the end of last year that it would no longer be selling its newer products on Amazon, prompting a decision by Nest to withdraw all of its products, according to a recent report from Business Insider. Once the existing inventory of Nest products on Amazon sells out, no more Nests will be available, according to the report.  
This revelation comes on the heels of Amazon's acquisition of the smart-doorbell maker company Ring, which an analyst said will help Amazon's play for the smart home market, which is built around its smart voice assistant Alexa and its line of Echo hardware devices.
Nest, acquired by Alphabet's Google for $3.2 billion in 2014, offers thermostats, cameras, doorbells and alarm systems that can connect to the Google Home voice-activated speaker, one of Amazon Alexa's main competitors.
Needham analyst Kerry Rice said that tech behemoths such as Amazon and Google tend to have skirmishes like these on the fringes of their respective core markets, such as the smart home space.
However, Rice said that the decision likely won't do much harm to Nest, as Alphabet can shift its resources to other channels such as its Google Home website or distributors like Best Buy (BBY) - Get Free Report .
"It may be somewhat detrimental for Nest in the short term, but it's not going to lead to a precipitous decline," Rice said.
"I think this news confirms Amazon's aggressive, 'winner take all' approach to the market, and this is why we made it a priority to add Amazon to the portfolio recently," said Jeff Marks, senior portfolio analyst for Jim Cramer's Action Alerts PLUS Charitable Trust Portfolio, which owns both Amazon and Alphabet.
Amazon declined to comment for this story, while Alphabet did not immediately return a request for comment.
Nest has had other problems since Alphabet acquired the company, including the departure of co-founder and former CEO Tony Fadell in June 2016.
Amazon and Alphabet have also clashed in the past. In September 2017, Amazon announced that its Echo Show device would stop playing videos from Google's YouTube because Google had stopped supporting the device. The two companies subsequently negotiated a way to return YouTube to the Echo Show, however.
Amazon stock rose 1.2% to $1,518.40 Monday afternoon, while Alphabet shares were up 0.9% to $1,094.