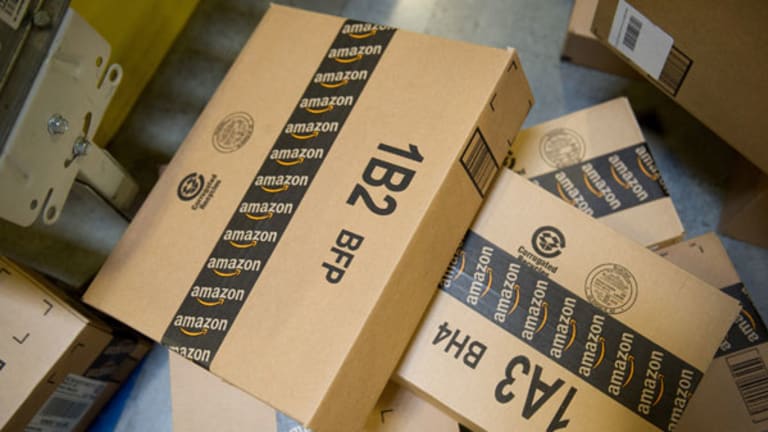 Amazon Surges on Huge Revenue Growth
Amazon's third-quarter revenue results beat Wall Street expectations.
NEW YORK (
) --
Amazon
(AMZN)
shares surged 6.4% to $352.99 after the Seattle-based online retailer reported results that beat Wall Street estimates.
Amazon reported a loss of 9 cents per share on $17.09 billion in revenue, delivering 24% year-over-year growth. Analysts surveyed by
Thomson Reuters
expected Amazon to lose 9 cents per share on $16.76 billion in revenue.
"It's been a busy few months -- we launched a new Paperwhite and new Kindle Fires to positive reviews and surprised people with the revolutionary Mayday button -- average Mayday response times are just 11 seconds!" said Jeff Bezos, founder and CEO of Amazon.com. "And that's not all. In the last 90 days, our AWS team got back to work on a big government contract, we brought 8 million square feet of fulfillment center capacity online, deployed 1,382 Kiva robots in three FCs, provided a new venue for artists to reach customers, signed up millions of new Prime members, announced Kindle MatchBook, Login & Pay, and nine new original TV pilots, joined the Code.org coalition, acquired TenMarks -- a company that helps kids with math, scored a win for customers who want to use Kindles on airplanes even during takeoff and landing (also, a big hat tip to Nick Bilton on that one), began hiring and training 70,000 new U.S. FC employees to help serve customers this holiday season, and saw the Kindle Million Club grow to include 14 KDP authors."
The company noted its operating loss was $25 million for the third-quarter, compared to an operating loss of $28 million in third-quarter 2012. Foreign exchange impacts caused $7 million of the loss.
For the fourth quarter, the company is expecting revenue to be between $23.5 billion and $26.5 billion. Wall Street estimates are expecting Amazon to generate $25.9 billion in sales.
The company notes it's expecting operating income to be between a loss of $500 million and a $500 million gain for the quarter, compared to a gain of $405 million in the fourth quarter of 2012.
Shares of Amazon closed the regular session higher, gaining 1.5% to finish at $331.80.
--
Written by Chris Ciaccia in New York
>Contact by
.