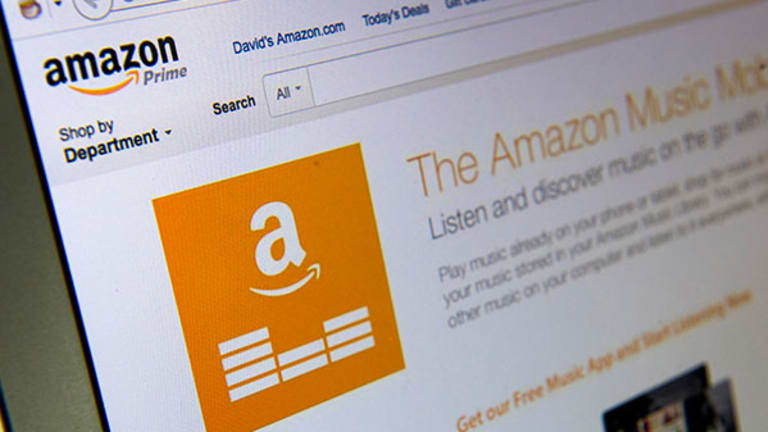 Amazon Spikes on Earnings Beat, Broadcom Rises on Quarterly Performance: Tech Winners & Losers
Amazon soars by double digits, after posting stronger than expected earnings on the strength of its cloud business. Broadcom also rose, following its fourth-quarter earnings beat.
SAN FRANCISCO (TheStreet) – Amazon (AMZN) - Get Amazon.com, Inc. Report spiked by double digits Friday after the e-commerce giant beat analysts fourth-quarter earnings estimates on the strength of its cloud services Amazon Web Services (AWS). Broadcomundefined also got a lift from its earnings beat while Unisys (UIS) - Get Unisys Corporation Report took a hit despite beating estimates.
Amazon soared 13.7% to close at $354.53.
The e-commerce giant, which reported its earnings after the market's close Thursday, soundly beat analysts' expectations, posting net income of 45 cents a share compared with Wall Street's estimates of 17 cents a share.
Amazon got a boost from its cloud business AWS, which as part of Amazon's overall category of "Other" rose 43% year over year, noted a report in Fortune. And while AWS has previously been part of that larger category, Amazon announced it planned to break out its figures separately when it reports it first quarter results in April. That should provide investors with greater clarity and insight into AWS' growth.
Broadcom rose 2.7% to end the day at $42.44.
The communications semiconductor maker posted adjusted earnings of 90 cents a share on revenue of $2.14 billion. That beat Wall Street's expectations of net profit of 87 cents on revenue of $2.12 billion.
Broadcom reported its results after the markets closed Thursday and told Wall Street that it generated strong sales to makers of high-end smartphones and broadband access devices, noted an Associated Press report.
But some market observers, however, feel it may be time for investors to trim their position in the company. Part of the reasoning is that Broadcom's guidance was less than compelling. 
The company's forecast lacked enthusiasm that it would outperform its rivals, even though its current trailing price-to-earnings ratio of 56 is substantially higher than Intel (INTC) - Get Intel Corporation (INTC) Report , Qualcomm (QCOM) - Get QUALCOMM Incorporated Report and Texas Instruments (TXN) - Get Texas Instruments Incorporated Report P/E ratios of 14, 14 and 23, respectively.
Unisys plunged 13.3% to $21.93.
The information technology service provider, which reported its results after the markets closed Thursday, took a beating after it noted its revenue dropped and its fourth-quarter profit was sliced by roughly 50%.
During the quarter, Unisys' revenue fell to $905.8 million in the quarter, down from $995.9 million a year ago. Its net profit fell to $61.8 million in the quarter, versus $117.4 million during the same time last year. 
Perhaps the only encouraging portion of Unisys' earnings report was that it beat estimates. Its adjusted net profit of $1.60 a share beat Wall Street's expectations of $1.27 a share, as did its revenue that outperformed anaysts' estimates of $1.27 a share.
This article is commentary by an independent contributor. At the time of publication, the author held no positions in the stocks mentioned.