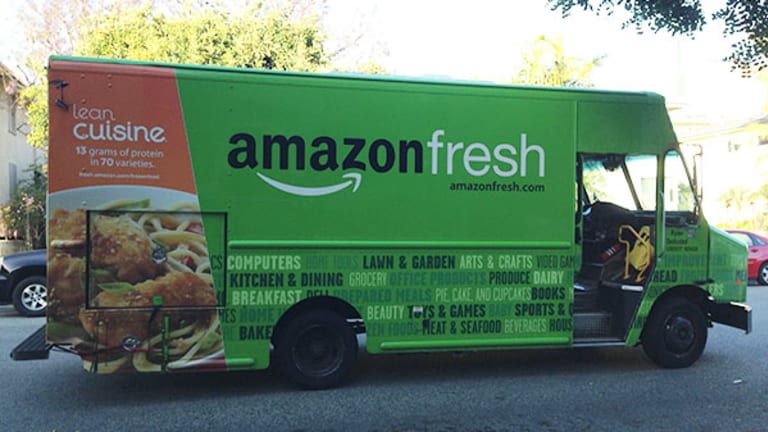 Amazon's Tie-Up With Big UK Supermarket Signals Stronger Push Into Groceries
It's clear that Amazon is serious about expanding its quick fPrime Now globally.
Amazon (AMZN) today announced a new deal with British supermarket Morrisons, showing that the company is getting more serious about Prime Now and food delivery around the world.
The deal will allow Amazon to deliver fresh and frozen goods to Prime members in the UK and better compete against some of the online grocery players already in the region, including Tesco and Ocado.
Morrisons is the fourth-biggest supermarket chain in Britain, which will help Amazon expand within the UK more quickly.
Amazon's share price finished down 0.5% Monday after rising higher earlier in the day.
The deal follows a survey that Amazon sent UK customers last week asking them about their use of restaurant delivery services. It asked them how often they ordered food from delivery companies like Just Eat and Hungry House, and how the experience could be improved.
With Morrisons as a partner, Amazon can now get more serious about its food delivery efforts in the UK, both from grocery stores and restaurants, and expand on its strategy in the U.S.
Since Amazon first launched Prime Now in 2014, it has become increasingly clear that the service was an important one for the e-commerce giant.
It has continuously added locations, stores, and restaurants as it pushes deeper into instant food delivery.
At the end of the day, Amazon is looking to make Prime membership more attractive to consumers, whether they're in the U.S. or the UK. It's all about "building the Prime brand and Prime membership base," Morningstar analyst RJ Hottovy said. Prime members pay $99 a year for the service and spend $1,000 more a year on average on the site compared to non-Prime members, by one estimate.
Prime Now highlights the creative ways in which Amazon is doing that. It already has the warehouses, logistics, customer base and digital platforms in place for speedy delivery, so now it's just building off of that to provide more value for consumers.
"Prime Now overall has the potential to be more profitable than regular Prime," said RSR Research analyst Paula Rosenblum. "I am quite convinced of that. The reason is that the assortment is narrower, and shipping is done in bags, not boxes, because it's being driven from warehouse to home, not flown."
And in turn, Amazon secures more valuable customers.
By hooking customers into the Prime ecosystem, Amazon ensures that those customers spend more money more frequently on Amazon.com as opposed to on other retailers' sites. Prime members generated 57% of Amazon's North American revenue, according to ITG analyst Steve Weinstein.
Prime members are also spending more the longer they are Prime members.
Weinstein estimated that Prime members increase their spending by around 12% every year, which means that Amazon's investment in the membership program should continue to pay off for years to come.