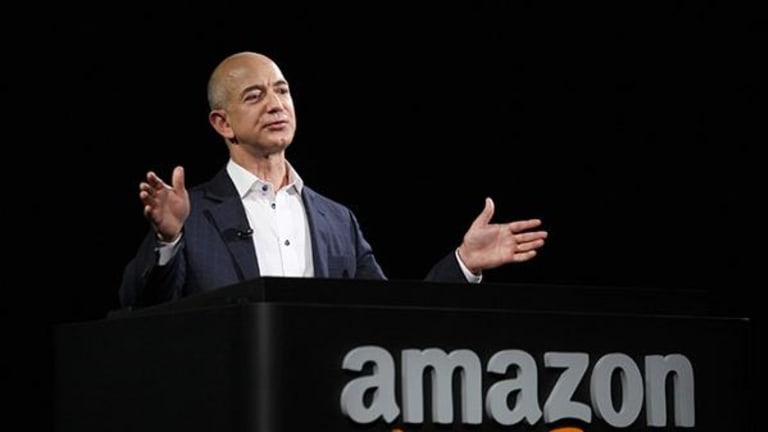 Amazon's Photo-Printing Business Is Here -- Tech Roundup
Amazon has quietly entered the photo-printing business, causing concerns for Shutterfly's investors.
Amazon has quietly entered the photo-printing business, causing concerns for Shutterfly's investors.
Amazon's (AMZN) - Get Report getting into the photo-printing business, something that seems like a long time coming.
Quietly, without announcement, the e-commerce giant launched a photo-printing service that allows customers to upload and print pictures for a very low price. This could pinch companies like Walmart (WMT) - Get Report , which has a photo center, but more directly, impact a company like Shutterfly (SFLY) - Get Report .
Shutterfly allows customers to upload pictures to their account, select the sizes and pay for the prints, and receive them in the mail. Now Amazon's coming to town.
The move sent shares of Shutterfly spiraling lower and despite the 2% bounce on Thursday, the stock is still down more than 10% from Wednesday morning (the Amazon Print news hit in the afternoon).
For Amazon, it's yet another service that it is providing for its customers, helping to make the platform "stickier" and more of a common use. For Shutterfly, though, this may not be the end.
When Amazon got into the arts and crafts market -- Amazon calls its business Handmade -- it did not kill off Etsy (ETSY) - Get Report the way some people expected. Perhaps this will have the same result.
Shares of Amazon hit new 52-week highs in Thursday's session.
A few years ago, it was mostly tech players looking to capitalize on the self-driving car trends. Then the automakers started pushing the envelope as well. But who would have suspected that ride-hailing services like Uber or Lyft would be the ones forging forward now?
It makes sense when you think about it. Now that Uber has spread its operations all throughout the world, it has to rely on two things: Customers hailing rides and drivers responding to those requests. Without the drivers, Uber can be more dependable and always be around for those in need of a lift. It'll also save money doing so.
That's why the company is opening up a facility in Detroit, to better collaborate with the automakers. It's also why the company launched its self-driving tests in Pittsburgh not long ago and purchased Otto, a self-driving truck start-up, for $680 million.
The company is serious about its self-driving ambitions and now there are reports that self-driving Uber vehicles have been spotted in downtown San Francisco.
There are currently 14 such vehicles operating in Pittsburgh, although it's unclear how many are in San Francisco. It seems as though autonomous driving will be here sooner than most of us think.
Mark Zuckerberg, the CEO of Facebook (FB) - Get Report , is quite the philanthropist. The young Zuck, just 32 years old, boasts a net worth in excess of $50 billion. Phew! That's a lot of money.
But he doesn't plan to take over the world with his fortunes; instead, he plans to distribute it. Zuckerberg and his wife, Dr. Priscilla Chan, plan to "spend at least $3 billion over the next 10 years 'to cure, prevent or manage all disease within our children's lifetime.'"
While it's true that other organizations spend far more than this each year to combat disease, I find it hard to discredit the duo for trying. It would be easy to sit back and count your money -- that would actually be quite hard in this case -- rather than stepping up to help. But Zuck will have done more than that. In fact, he has pledged to give away 99% of his Facebook stock. So, essentially all of it. He wants to not only boost health care and treat diseases, but also help in education and building communities.
Zuckerberg points to four types of diseases that cause the majority of deaths: Cancer, heart disease, infectious diseases and neurological diseases. Progress can be made in each, he reasons.
He sounds like a much younger version of Microsoft's (MSFT) - Get Report Bill Gates.
Speaking of Microsoft, the company recently pledged that it too is working on health solutions, attempting to solve cancer in the next 10 years. It's fitting to see tech in the world of health care.
Assuming they make progress in these areas and self-driving cars do make our roads safer, we could be in good shape over the next 30 to 50 years.
Facebook is a holding in Jim Cramer'sAction Alerts PLUS Charitable Trust Portfolio. Want to be alerted before Cramer buys or sells FB? Learn more now.
This article is commentary by an independent contributor. At the time of publication, the author held no positions in the stocks mentioned.