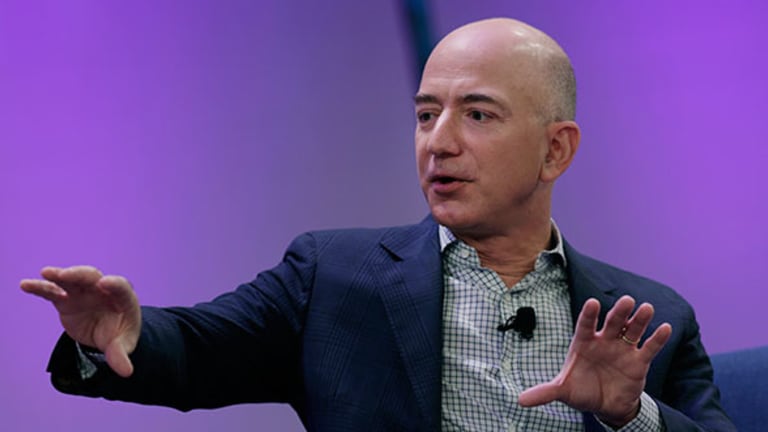 Updated from Feb. 22 with details about Amazon's new fashion show.

It's starting to become clear that apparel is a big priority for Amazon (AMZN) - Get Amazon.com, Inc. Report , and that focus could start to pay off as soon as 2017, according to a new report from KeyBanc Capital Markets.
Next year, Amazon's apparel business could add at least $0.25 in earnings per share, according to KeyBanc analyst Edward Yruma.
Yruma dug into Amazon's apparel efforts and found seven different private-label brands that Amazon has already trademarked, including Lark & Ro and James & Erin. There are about 1,800 products from these lines on Amazon.com, according to Yruma. 
By selling its own private-label brands, Amazon is able to work directly with vendors and cut out a middleman, resulting in significantly higher margins, similar to what apparel startup Everlane does.
"Everlane does very small product runs," Yruma wrote in a note on Monday. "We believe that Amazon should be able to take significantly more margin with greater volume, particularly related to transport and material cost savings. We think this dynamic makes an Amazon private-label apparel business particularly attractive at scale."
Some of the obstacles that Amazon will have to overcome to become a top clothing retailer include the challenge of curation and resistance from brands who might be afraid that Amazon will eventually lower prices, like it does with other products. But Yruma thinks these obstacles will be easy to overcome.
"Apparel is a large category that remains highly fragmented," he said. "We think the low barriers to entry, size and significant competitive set make this an attractive category for Amazon."
Yruma's high expectations for Amazon's apparel business go hand-in-hand with Cowen and Company analyst John Blackledge's estimates. Blackledge expects that Amazon will replace Macy's (M) - Get Macy's Inc Report as the number one apparel retailer in the U.S. by 2017.
In the past few years, Amazon has been making significant pushes into the clothing business, specifically the fashion industry. The company sponsored New York's first men's Fashion Week in 2015, and it hired Vogue editor Caroline Palmer earlier that year to be the new director of editorial and social.
But the strategy goes back even earlier to 2009 when Amazon hired Cathy Beaudoin from Gap's e-commerce site Piperlime to run Amazon's fashion initiatives. In 2012, Amazon officially created Amazon Fashion and put Beaudoin at the helm, and it seems as though Amazon's foray into private-label clothing could be headed towards luxury fashion at some point in the future.
In a 2012 interview with The New York Times, Amazon CEO Jeff Bezos explained the company's potential move to luxury as simple economics: "gross profit dollars per unit will be much higher on a fashion item."
Now, though, the efforts seem to be picking up steam. Amazon is ramping up hiring for the fashion business, as Women's Wear Daily first noticed. Amazon is looking to hire a head of marketing and senior brand manager, senior sourcing manager and senior merchandiser for the Amazon Fashion Private Label business.
Amazon has also been tying its fashion plans into its content strategy, with its show The Fashion Fund, the third season of which it purchased from Conde Nast Entertainment. The reality show, which debuted on Amazon on Feb. 26, follows fashion designers competing for the grand prize of $400,000. Amazon is selling some of the clothing from previous seasons' designers at amazon.com/FashionFundShop. The show is available for free to anyone who visits Amazon.com, and will feature advertisements, a first for an Amazon-produced series.
"We think Amazon's recent suggestion that it could launch a private-label apparel collection could provide the company with a full collection that it could aggressively market and, eventually, build a fashion franchise," Yruma said.
Amazon could also boost its fashion business through partnerships with smaller niche brands who would be interested in gaining the wide audience Amazon offers, he added.
"We believe Amazon could focus on developing these designers into a compelling fashion offering," Yruma said. "While these efforts take time, we think Amazon has both patience and necessary funding."