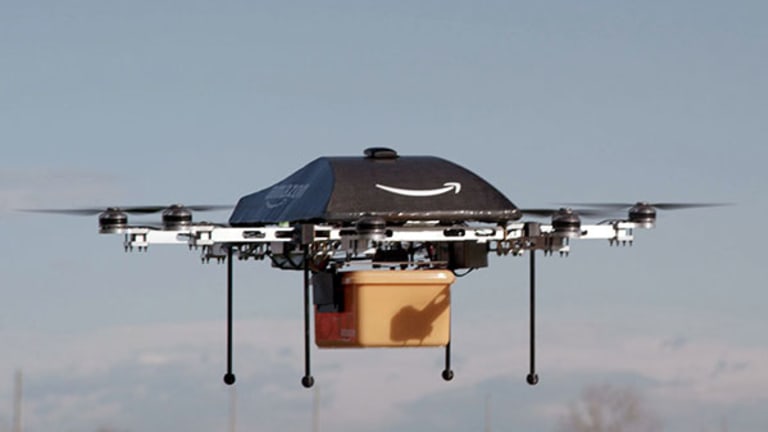 Amazon Resorts to Testing Drones in Canada, Thanks to an Unhelpful FAA
Amazon has gotten tired of the Federal Aviation Administration slow movement on its drone testing requests, so the online retailer has moved its experiments to Canada.
Updated from March 30 to include comments from Walker Sands director of retail technology, Dave Parro, and a new Amazon hire.
NEW YORK (TheStreet) -- Amazon (AMZN) - Get Amazon.com, Inc. Report has been experimenting with delivering packages via drones, but due to pushback from the Federal Aviation Administration, the e-commerce giant finds itself fighting an uphill battle.
The FAA recently awarded Amazon a special "experimental airworthiness certificate" giving it permission to experiment with drones under certain limitations; however, Amazon quickly came out with a statement that the FAA certificate was obsolete, as it granted permission only for the company to test an outdated drone model that Amazon was no longer working with. The FAA had taken more than six months to respond to Amazon's request to test drones.
Now, Amazon is moving its drone experimentation out of the U.S. The company has reportedly been testing drones in a secret location in Canada for the past few months, according to The Guardian. Unlike the U.S. government, the Canadian government seems to be perfectly fine with Amazon's drones, and Amazon warned theU.S. could suffer as a result.
Last Tuesday, Amazon's vice president for global public policy, Paul Misener, told a Senate committee that the the FAA was holding the company back from innovating as quickly as possible.
"This low level of government attention and slow pace are inadequate, especially compared to the regulatory efforts in other countries," Misener said.
While Washington takes its time evaluating the new technology, consumers seem ready and willing to embrace drone delivery.
According to a report from communications firm Walker Sands, almost 80% of U.S. consumers say they are willing to pay for drone delivery, with 48% saying they would pay at least $5 for it. On top of that, four out of five shoppers say drone delivery within the hour would make them more likely to order online from a retailer.
And despite the slow-moving FAA, consumers seem to believe that drones are nearly here. Two-thirds of consumers expect to receive their first drone-delivered package in the next five years, according to the report.
To make drone delivery a reality in that time frame, though, the FAA will have to be more willing to cooperate with companies like Amazon.
One of the key issues with the FAA's recent certificate was that it requires the drone has to be in view of a human pilot at all times, which would prevent scaling the technology commercially. Amazon filed a new request to the FAA on Friday for updated permissions.
"We are rapidly experimenting and iterating on Amazon Prime Air, working to make it a reality; this includes controlled flight testing in multiple international locations, including outdoors at a rural test site in Canada," Kristen Kish, an Amazon spokesperson, said in an email. "We're excited about this technology and one day using it to deliver packages to customers in 30 minutes or less."
To help get to that reality, Amazon yesterday confirmed to The Wall Street Journal that it had hired an executive from the Air Line Pilots Association--Sean Cassidy, an Alaska Air Group Inc. pilot and former member of a Transportation Security Administration aviation-security advisory committee. At Amazon, Cassidy will oversee partner relationships for the Prime Air project.
It remains to be seen whether the testing going on in Canada will have more permanent repercussions for the U.S. 
"The potential of the introduction first to Canada may not only open doors in terms of approval in the US, but also further consumer comfort in the meantime," said Walker Sands director of retail technology, Dave Parro.