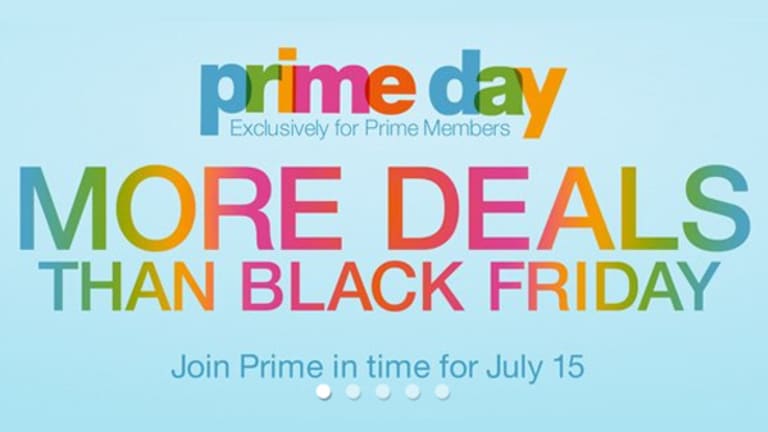 Publish date:
Amazon Prime Day Raked In Millions of Dollars of Free Advertising
The real success of Amazon's Prime Day may have been as a marketing device. News coverage of the event provided the online retailer with an enormous amount of free advertising.
The real success of Amazon's Prime Day may have been as a marketing device. News coverage of the event provided the online retailer with an enormous amount of free advertising.
NEW YORK (TheStreet) -- Amazon's (AMZN) - Get ReportPrime Day was a huge success for the online retailer -- and we're not just talking about sales revenue.
Prime Day, touted by Amazon as a sales event rival to Black Friday, was a July 15 marketing stunt intended to attract more customers to site's subscription service, Amazon Prime. The retailer's stock price climbed sharply in the week leading up to Prime Day, reaching $469.18 on the eve of the event and then climbing further to $487.10 on Tuesday.
The one-day sale might not have been so successful had Amazon not been so adept at generating free publicity.
Top media outlets published hundreds of articles about it in the days leading up to and including the event. Time, USA Today, the Washington Post and even The Street were among those to offer shopping guides and other coverage of the sale. Not only were news publications providing Amazon free publicity, many even linked directly to sale items.
Scott Severson, president of content marketing agency Brandpoint, said the media campaign was a successful public relations move for Amazon.
"Typically, the major shopping events have been really holiday-based or a bit more thematic," Severson said. "They're creating this event in the middle of the summer, that maybe isn't a peak shopping season, and they're successfully using PR to create an event around something that wouldn't normally be one."
Severson's company produces and distributes sponsored articles for its clients, which include Microsoft (MSFT) - Get Report, McDonald's (MCD) - Get Report and Ford (F) - Get Report. He said the value and cost of an article varies based on the publication, but can be worth up to thousands of dollars.
For example, The Huffington Post typically charges $40,000 for a single sponsored article, while Business Insider typically charges about $5,000, according to research by Relevance, an online publication focused on content marketing.
(For those keeping score, The Huffington Post had five articles on Prime Day published as of press time, while Business Insider had nine, adding up to $245,000 worth of content from those two websites alone.)
Chad Pollitt, co-founder and vice president of audience at Relevance, said he and his team reached out to over 1,000 publications as part of a comprehensive study, "The Media Buyer's Guide to Sponsored Editorial Content," which they published at the end of last year. Based on their results, Pollitt said they were able to come up with a formula for how much an article is worth, based on variables including metrics like the number of Facebook fans an outlet has.
"In theory, you can take these formulas and take every earned media that Amazon got for Prime Day and run it through the formula and come up with a figure," Pollitt said.
Pollitt's conservative estimate, based on the 1,100 results turned up by a Google News search for "Amazon Prime Day," is that the media coverage of the event was worth, at minimum, $20 million in advertising dollars.
If the goal of Amazon in hosting Prime Day was stir up publicity for Amazon Prime, the retailer definitely succeeded. As to whether the new customers attracted by the sale will be willing to pay the $99 annual subscription fee -- well, we'll get back to you in a month after their free trials end.
This article is commentary by an independent contributor. At the time of publication, the author held no positions in the stocks mentioned.