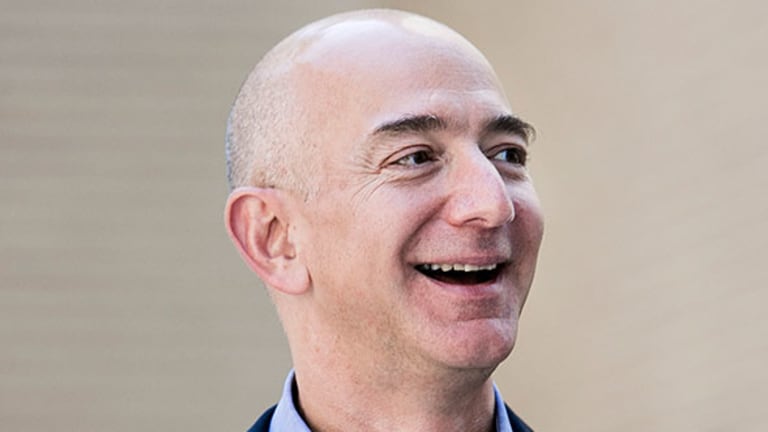 Amazon Prime Actually Works -- Here's Proof
New data from Millward Brown suggests that Prime members are forgoing traditional retailers and purchasing more frequently on Amazon.
New data from Millward Brown suggests that Prime members are forgoing traditional retailers and purchasing more frequently on Amazon.
NEW YORK (TheStreet) -- Amazon (AMZN) - Get Report launched its Prime program ten years ago under the premise of faster shipping for its customers. Yet, as new data shows, the program has evolved into a much larger venture for the e-commerce giant -- one that's paying off significantly.
Traffic on Amazon.com from Prime members has increased 300% in the last year, according to research firm Millward Brown Digital. This traffic is bringing in big revenue, with 63% of Amazon Prime members converting on the site in the same shopping session, almost five times the conversion rate of non-Prime members.
With almost $89 billion in annual revenue in 2014, Amazon is the top online retailer in the world, according to Internet Retailer. The Prime program, which costs $99 a year, allows Amazon to grab an even larger share of the e-commerce market, which in the U.S. alone is estimated to be about $305 billion, per the U.S. Commerce Department.
The strategy behind Prime is that it will draw in consumers who will grow accustomed to purchasing on Amazon and become loyal and frequent buyers. And to make Prime more attractive for consumers, Amazon has been expanding beyond the core of two-day shipping, adding movies and TV shows through Instant Video and cloud storage, to name two benefits.
All of these efforts are essentially in place to win over more Prime members, who in turn are likely to give Amazon a nice boost in sales.
This boost is coming from other e-commerce retailers, as the Millward Brown Digital report shows.
Less than 1% of Prime members are likely to consider other online retailers during the same session. For example, a non-Prime member is eight times more likely than a Prime member to cross-shop between Amazon and Target (TGT) - Get Report in the same session.
Another significant finding in the report is that 8% of Walmart.com (WMT) - Get Report shoppers are Prime members, up from 2% last year. Toys R' Us, Target, Lowes (LOW) - Get Report and Home Depot (HD) - Get Report all see similar numbers.
"Much attention has been placed on driving more awareness/traffic to retail.com sites," the report concludes. "The reality is that retailers need to do a better job removing purchase barriers and driving improved conversion rates. Amazon Prime might just be one of the few programs that has fearlessly removed purchase barriers in favor of creating a great customer experience."
These numbers shouldn't come at much of a surprise, with analysts long estimating that Prime members are incredibly valuable to Amazon.
ITG analyst Steve Weinstein estimated that Prime members spend $1,000 more a year on average compared to non-Prime members. Though Amazon has never disclosed exact numbers (in 2013, it said it had tens of millions of Prime users), Weinstein estimated that there are about 35 million Prime members in the U.S., which is up 20% year-over-year.
"As far as moving customers into more frequent purchasing categories I think [Prime has] been a huge success for them," Weinstein said. "[Prime] customers spend substantially more than non-Prime customers, and they continue to increase spending each year helping Amazon move into new categories, so it seems to be a really powerful product offering."