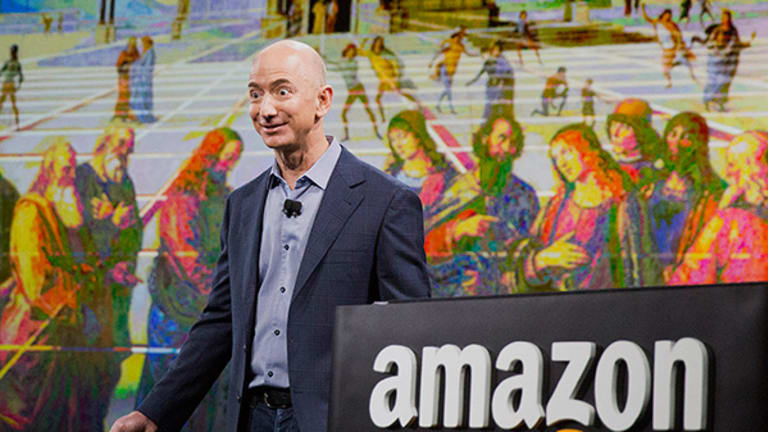 Amazon Plunges: What Wall Street's Saying
Most analysts remain bullish on Amazon.com despite disappointing second-quarter earnings.
NEW YORK (TheStreet) –– Amazon (AMZN) - Get Amazon.com, Inc. Report shares were plunging 11.8% to $316.22 this morning after the online retail giant reported its second-quarter earnings last night, with much higher losses than Wall Street had expected.
The Seattle-based company reported that its revenues increased 23% year-over-year to $19.34 billion this quarter, which matched expectations, according to analysts polled by Thomson Reuters. However, Amazon lost 27 cents per share, much worse than the consensus estimate of 15 cents. The net loss of $126 million was also significantly higher than last year's net loss of $7 million.
Amazon Fire Phone Review: That's All Ya Got?
Third-quarter revenue guidance was in line with analyst expectations, but operating loss guidance was set at $810 million to $410 million, well above expectations of $25 million. The news sent the stock plunging as much as 12% in after-hours trading.
Here's what several analysts on Wall Street had to say:
Amazon.com Shares Plunge On Weak Earnings
Bank of America Merrill Lynch analyst Justin Pope (Buy, $400 PT)
"The 3Q outlook was disappointing and with growth not accelerating Amazon could become a show-me stock. Positive core items in 2Q that suggest investments may be working include higher gross margins, N. America EGM acceleration, and a growing base of Prime subs., and we think AWS remains an attractive business based on 90% usage growth. We are lowering our PO to $400 (from $420) based 1.7x 2015E sales due to a lower medium-term margin profile. Despite the expected controversy about Amazon's investment posture, we continue to think Amazon is well positioned to capitalize on the secular growth of eCommerce, cloud computing, and mCommerce."
Deutsche Bank analyst Ross Sandler (Buy, $375 PT)
"Price competition and service levels are much higher today (esp for programs like Prime) and the space is just simply tougher. Amazon's scale should eventually allow the company to return to those profit levels, but the current stage isn't just a "investment cycle" it's a paradigm shift with retail carrying lower margins while AWS, other investments are permanent, and ROI on content and hardware investments uncertain. We continue to view Amazon as best positioned in the western world to win, and are once again reducing estimates and maintaining our Buy rating, which admittedly sounds like a broken record."
JPMorgan analyst Doug Anmuth (Neutral, $340 PT)
"We believe the company's investments in AWS prices and international expansion of the retail business should drive greater revenue growth over the next several years, but we expect CSOI growth to remain dampened through the rest of 2014, and we expect shares to trade down in the near term."
William Blair analyst Mark Miller (Outperform)
"Second-quarter results were strong—in line with or better than expectations in almost every respect. The shock and awe for investors relates to Amazon's anticipated third-quarter loss. The two fundamental questions are: 1) whether Amazon's investments in AWS, digital content, and devices will achieve the same, better, or worse return relative to historical investments in e-commerce retailing; and 2) assuming one believes the stepped-up investments will yield compelling returns, over what time frame should that manifest itself in the financials? While there is some debate about whether growth should be accelerating faster in this investment cycle, we estimate the underlying metrics are improving."
Pacific Crest analyst Chad Bartley (Outperform, PT $460)
"Amazon.com is the largest online retailer and a disruptive technology company. We believe that continued share gains at retail and roughly 20% growth in total revenue are sustainable. Amazon's expanding mobile ecosystem of devices, content and services, as well as Prime memberships and faster delivery, are key drivers. And, over the long term, we expect Amazon to continue to be disruptive and aggressively enter new markets to expand the company's addressable market and growth opportunities, for example, expanding into new retail categories, such as grocery, and more aggressively addressing the higher-margin advertising market."
How Amazon Drones Will Become 'Normal as Seeing Mail Trucks'
--Written by Laura Berman in New York
>Contact by Email.