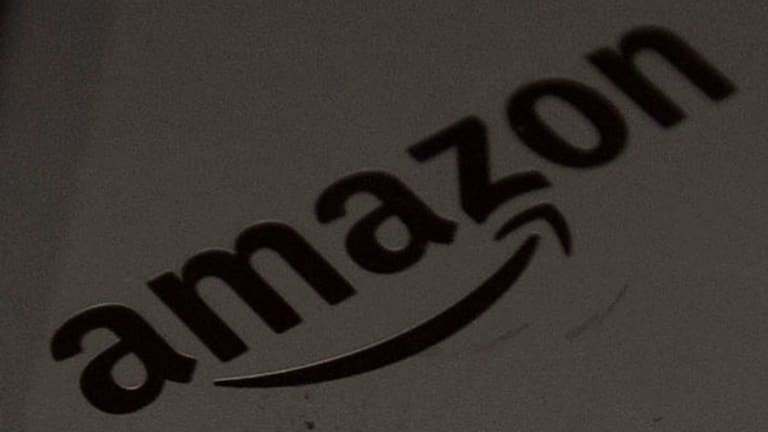 Amazon Is Plunging: What Wall Street's Saying
Amazon's first-quarter results were aided by an equity investment, as the e-commerce giant posted revenue that was better than expected. But concerns about the investment mode are starting to weigh on investors' minds, and their wallets.
Updated from 12:28 p.m. to include thoughts from Citigroup analyst.
NEW YORK (TheStreet) -- Amazon's (AMZN) - Get Free Report first-quarter results were aided by an equity investment, as the e-commerce giant posted revenue that was better-than-expected, but concerns about the investment mode are starting to weigh on investors' minds, and their wallets.
For the first-quarter, Amazon earned 23 cents a share on $19.74 billion in revenue, as net sales increased 23% year-over-year. The company noted a $10 million favorable impact from foreign currency throughout the quarter. On the conference call, CFO Tom Szkutak noted Amazon received $60 million in equity income as Living Social, a daily deals site Amazon has an investment in, sold its South Korean business.
Operating income decreased 19% to $146 million in the first-quarter, compared with $181 million in first quarter 2013, as the company continues to invest in its businesses. On the conference call, Amazon noted unit growth rose 23% versus 25% last quarter, while third-party (3P) unit growth was 23%, compared to 25% last quarter.
Analysts surveyed by Thomson Reuters were expecting Amazon to earn 23 cents a share on $19.4 billion in revenue for the quarter. Analysts surveyed by Estimize were expecting Amazon to earn 25 cents a share on $19.63 billion in sales.
Shares of Amazon were sharply lower in Friday trading, off 9.1% to $306.50.
After the recent price increase on Amazon Prime, Amazon said it was encouraged by what it's seen so far on Prime, noting that subscribers were growing week-over-week, after the price increase, but that it was still very early. Amazon raised the price of Prime in mid-March to $99 a year, up from $79 a year.
Amazon declined to comment about recent rumors that it was working on its own delivery network, potentially disrupting the relationship it has with
UPS
(UPS) - Get Free Report
and to a lesser extent,
FedEx
(FDX) - Get Free Report
. However the company said it was continuing to work to get closer and closer to customers.
For the second-quarter, Amazon said it expects net sales to be between $18.1 billion and $19.8 billion, up between 15% and 26% year over year. It expects an operating loss between $55 million and $455 million, compared to $79 million profit for the second quarter 2013.
Following the quarter, analysts were mostly positive on the quarter, though some had concerns about deceleration in unit growth. Here's what a few of them had to say.
Cantor Fitzgerald analyst Youssef Squali (Buy, $425 PT)
"Amazon reported strong 1Q:14 revenue growth with sustained momentum in North America (NA) and acceleration in international, suggesting that business is starting to see improvement in key markets outside the United States. While unit growth continues to decelerate, this is more than offset by strength in AWS and a growing average revenue per active account. The company's focus on growth investments/content are is likely to pressure profitability and margins near-term, but we expect these investments to result in outsized growth and further market share gains, yielding higher margins when growth starts to normalize. We're maintaining a BUY rating on AMZN while adjusting our estimates and increasing our PT to $425 from $415."
Jefferies analyst Brian Pitz (Buy, $450 PT)
"Amazon reported a good quarter with slightly better than expected Revenue / EPS and a bit soft margins. Guidance came in largely below Street expectations on continuing investments which remain driven by strong growth rather than competitive pressures. Amazon remains our top large cap eCommerce pick and we reiterate our Buy rating and $450 PT."
Canaccord Genuity analyst Michael Graham (Hold, $365 PT)
"Amazon reported solid Q1 results marked by strong North American growth and margins, while International Media sales growth decelerated to 4% and International margins dipped back below zero. We still see no International margin expansion in sight, due to a long list of investment priorities including fulfillment in places like Spain and China, and "early market" inefficiencies in everything from product sourcing to warehouse operations. Based on this view, and with consensus estimates implying  margin expansion, we believe we will be in "EPS push-out" mode for at least another year."
UBS analyst Eric Sheridan (Neutral, $365 PT)
"In our view, Amazon's Q1 revenue acceleration (22.8% YoY vs. 20.3% YoY in Q4 2013) will be well received by some investors. However, the company's Q2 margin guidance implies another leg of the investment cycle to maintain/promote revenue growth - fulfillment (capacity, last-mile initiatives), advertising (support for Fire TV, Prime, Kindle hardware), & content (exclusive licensing deals, original production). We continue to believe that Amazon can sustain 20%+ top line growth. However, we see little potential for EBITDA margin expansion in the medium term (as high investment is needed to support revenue growth). Thus, we remain on the sidelines as the game of "tug of war" with AMZN shares remains in play."
Pacific Crest Securities analyst Chad Bartley (Buy, $460 PT)
"Buy AMZN. General merchandise sales were better than expected and drove a slight acceleration in overall growth. This should ease growth concerns. We remain bullish on Amazon's ability to gain share, enter new markets and sustain high growth."
Deutsche Bank analyst Ross Sandler (Buy, $400 PT)
"The Key Take-Away. Amazon reported in-line revenue and exceeded our EBITDA by 8% in 1Q. The company "went 2-for-3" with gross profit and revenue growth re-accelerating, but unit growth decelerating. Most of the gross profit upside was from Other re-acceleration following the 4Q one-timers, and estimated Retail GP growth lagged, approx. 100bps below 4Q and consistent with the unit growth deceleration. We have largely maintained our 2015 revenue and EBITDA estimates, and continue to view the risk/reward as attractive. Buy."
BMO Capital Markets analyst Edward Williams (Market Perform, $400 PT)
"Amazon posted 1Q14 revenues and gross margins that were higher than expectations, while CSOI was ahead of our estimate. Relative to our expectations, the revenue upside and a 224 bp improvement in gross margin was partially offset by higher-than-expected operating expenses - particularly fulfillment expenses. Guidance for the June quarter was mixed - in line with revenue expectations, but below consensus estimates for operating income/CSOI."
Citigroup analyst Mark May (Buy, $414 PT)
"Amazon reported 1Q14 sales results that came in slightly ahead of our forecasts and issued 2Q14 sales guidance a bit below our estimate at the midpoint. Though sales growth was better than we expected, continued investments in growth-related initiatives like the build out of its Fulfillment Center distribution network in the U.S. and abroad, in infrastructure and competitive pricing at AWS, and in premium video content for Prime caused 1Q14 earnings results and 2Q14 earnings guidance to come in below our forecasts. While we continue to view these as attractive investments for driving long-term growth and competitiveness, we are tweaking our near-term estimates accordingly. Nonetheless, our 12-month price target of $414 still implies 23% upside and, as such, we maintain our Buy rating."
--Written by Chris Ciaccia in New York
>Contact by Email.