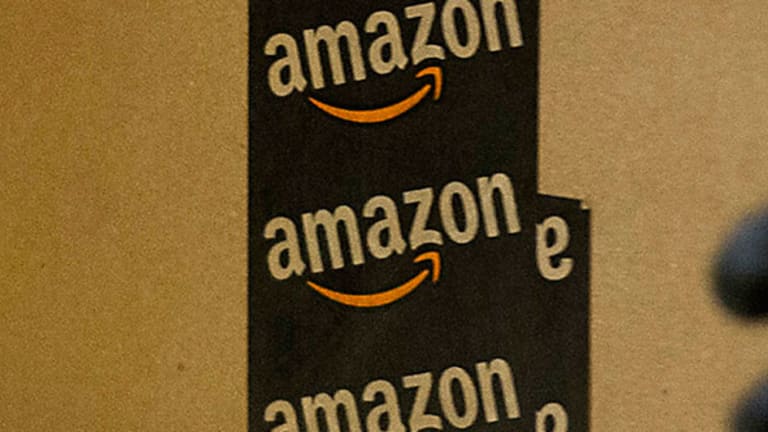 Amazon Plunges: What Wall Street's Saying (Update 1)
Shares sunk more than 9% on Friday morning following the big e-retailer's disappointing earnings report last night. Here's what Wall Street analysts are saying on Friday.
This story has been updated from 11:09 am EST to include a JPMorgan analyst's comments and refresh Amazon's stock price.
NEW YORK (TheStreet) - Amazon (AMZN) - Get Amazon.com, Inc. Report shares sunk 9.5% to $364.53 on Friday following the big e-retailer's disappointing earnings report last night.
The Seattle-based company said after the bell on Thursday that for the fourth quarter it earned a profit of $239 million, or 51 cents a share, up from $97 million, or 21 cents a share, in the year-earlier quarter. However consensus estimates were calling for earnings of 66 cents a share.
Net sales also came in shy of analysts' expectations, increasing 20% year-over-year to $25.59 billion. Wall Street was expecting sales to rise 23% to $26.06 billion, according to Thomson Reuters. Amazon said that excluding a $258 million impact from foreign exchange rates throughout the quarter, net sales grew 22% compared with fourth quarter 2012.

WATCH: Jim Cramer on Amazon: No Reason to Panic, Buyers Will Come Back
Wall Street got spooked last night not only from the earnings miss, but also because Amazon expects first-quarter net sales to range between $18.2 billion and $19.9 billion, or to grow between 13% and 24%, compared with the first quarter of 2013, below consensus expectations.
Investors are worried that Amazon may be foretelling its future, which given the large investments it has been making in everything from the cloud to warehouses to becoming an online grocery, doesn't sit well with them.
The other big piece of news from last night's earnings call is that Amazon is considering, for the first time, to raise prices for Amazon Prime, its popular two-day shipping service that it charges customers $79 per year. CFO Thomas Szkutak said on the conference call that given the combination of customers are using the service more and rising shipping and fuel costs, Amazon is considering upping the price between $20-$40 in the U.S.
Here's what Wall Street analysts are saying today about Amazon's earnings:
Eric J. Sheridan, UBS (Buy: $450 PT)
"In our view, Amazon's Q4 deceleration in revenue growth pushes us to lower the revenue re-acceleration curve in forward quarters. However, solid gross/operating margins support better trends in CSOI (consolidated segment operating income). The net of the two impacts is a slight reduction in our outlook and price target for Amazon - which was more than reflected in the ~5% stock drop in the after-market. Longer term, we believe the 20%+ revenue growth trajectory can be supported by growth areas such as AWS, Advertising, International markets, grocery/CPG, etc."
Brian Pitz, Jefferies (Buy; $450 PT)
"Margin trends better than expectedas fulfillment center (FC) build-out starts to moderate. Amazon opened only 7 net new FCs in 2013 (down from 20 in 2012 and 17 in 2011) but these were bigger-square-footage facilities and it consolidated several small FCs. Gross margin of 26.5% came in higher than Street's 25.7% and in-line with our 26.4%."
"On the heels of a recent increase in minimum order value for Super Saver / free shipping in the US (from $25 to $35), management considers increasing the Prime subscription fee by $20-40 in the US. These moves (along with the launch of Kiva systems in more FCs) should help further reduce margin pressure as fulfillment costs as % of revenue begin to leverage."
"Paid units growth decelerated in Q4but remains at a healthy level and some products, like AWS, don't have 'units' so that weighs on the metric. We expect it would accelerate as Amazon optimizes its fulfillment capacity and same-day delivery takes off. We also believe that revenue growth should accelerate on: 1) continuing strong Prime subscriber growth and very good member retention, 2) expanding selection in key categories, 3) solid traction with AWS, and 4) the addition of new categories and products."
Matt Nemer, Wells Fargo Securities, (Outperform; $417.00 to $440.00 PT)
"All eyes were on Amazon's Q4 print given the disappointing holiday season, and we think results were strong, all things considered. In fact we estimate AMZN was responsible for nearly 25% of the dollar growth in U.S. holiday sales this season. Despite a Q4 sales miss, gross profit dollars (the more important metric, in our view) came in almost exactly in-line with our estimate, and grew 32% y/y. We estimate AMZN's GMV grew 5pts higher than sales (25% vs. 20%) generating an incremental $10.5B y/y. We also think GMV growth would have easily surpassed 30% yr/yr ex- the challenge of 6 fewer selling days, weather-related shipping issues and lost sales from a pull back on Prime marketing."
"In our view, the big news from the call was that Amazon announced they plan to implement a Prime price increase in the range of $20-40 per year. This announcement along with comments on limiting new Prime membership signups during peak periods in Q4 sends a 'scarcity' message around the membership program that could be amplified by the media in the coming days (i.e. 'get it now, while you can!'). Not to mention the higher price could generate hundreds of millions in high flow through operating profit and possibly signals a profit 'check in.' We are lowering our '14E EPS to $1.23 from $1.34 and issuing our '15E EPS of $2.96. Our valuation range is now $417-440 (from $349-380), as we are rolling over our target to our '15 estimates."
Mark May, Citigroup (Buy; $454 PT)
"All told, given the run-up into the print and the positive data points for Amazon during the holiday period, the short-term bulls may have expected more than the roughly in-line 4Q13 results they got and an operating income guide for 1Q14 that was below forecasts. That said, we see the long-term thesis still intact, with above-average topline growth (~20%) on a large base (>$75bn in sales), stabilizing margins (CSOI margin flat in CY13 after 3 yrs of declines) with the potential/likelihood for expansion beginning this year, and significant optionality (e.g., Prime price increase could add >$300mn/yr in incremental CSOI, new geographies, groceries, etc.). We continue to view AMZN as our top pick in ecommerce and maintain our Buy rating, with a $454 price target."
Doug Anmuth, JPMorgan (Neutral; $365)
"In December, Amazon noted it has tens of millions of Prime members worldwide - we think ~20M+ - and the company witnessed more than a million new Prime subscribers in the third week of December alone."
"While the increase in Prime pricing appears to be a positive for margin in the near term, we believe Amazon is likely to re-invest some of the additional shipping revenue to increase capacity. It's unclear what impact a 25-50% price increase is likely to have on Prime subscriber net adds going forward. We think rising shipping costs rather than video/eBook content spend was the primary driver of Amazon's decision to raise the price of Prime membership. We view Amazon's Prime price increase as a marginal positive for Netflix though we don't believe Prime Instant Video has had a meaningful impact on Netflix subscriber growth to date."
--Written by Laurie Kulikowski in New York.
Disclosure: TheStreet's editorial policy prohibits staff editors, reporters and analysts from holding positions in any individual stocks.