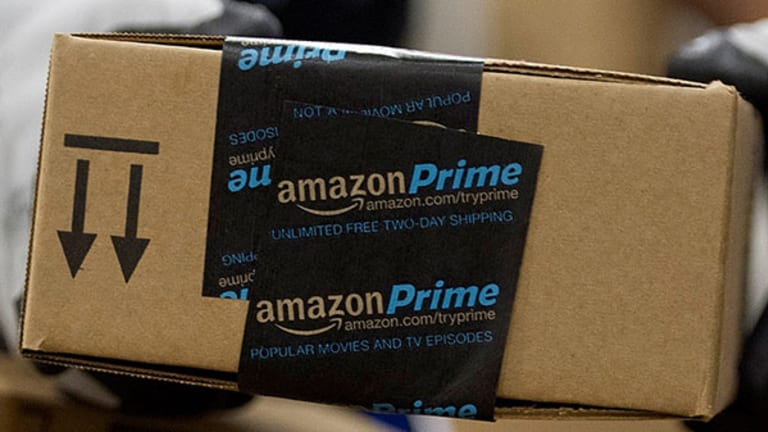 Amazon Plunges on Earnings Miss (Update 1)
Amazon shares plunged more than 10% in after-hours trading after the giant e-retailer missed Wall Street 4Q earnings estimates, but snapped back after the e-retailer said it was considering upping the price for Amazon Prime.
This story has been updated from 4:30 pm EST to include comments from the conference call about Amazon Prime.
NEW YORK (TheStreet) - Amazon (AMZN) - Get Amazon.com, Inc. Report shares plunged more 10% in after-hours trading after the giant e-retailer missed Wall Street estimates on profit and revenue for the final quarter of 2013. However, shares snapped back sharply after it said on its conference call it was considering upping the price for its two-day shipping service, Amazon Prime.
At last check, the stock was down 4.4% to $385.12, making the stock swing roughly $30 after the markets closed.
The Seattle-based company said it earned a profit of $239 million, or 51 cents a share, in the fourth quarter, up from $97 million, or 21 cents a share, in the year-earlier quarter. However consensus estimates were calling for earnings of 66 cents a share.
WATCH: Google Gets Pass on Earnings Miss, Amazon Gets Punished
Net sales increased 20% to $25.59 billion. Wall Street was expecting sales to rise 23% to $26.06 billion, according to Thomson Reuters. Excluding the $258 million unfavorable impact from year-over-year changes in foreign exchange rates throughout the quarter, net sales grew 22% compared with fourth quarter 2012, the company said.
Operating income rose 26% to $510 million in the fourth quarter, compared with $405 million in fourth quarter of 2012.
Shares were falling 9.7% in post-markets trading to $363.78. The stock closed on Thursday up 4.9% to $403.01.
Amazon issued first-quarter net sales range between $18.2 billion and $19.9 billion, or to grow between 13% and 24%, compared with first quarter 2013.
It expects to report operating income ranging from a loss of $200 million to a profit of $200 million, compared to $181 million in first quarter 2013.
Amazon said on Dec. 26 that it had a record setting holiday season for Prime, with more than 1 million customers signing up for the service in the third week of December. It said Thursday that it had a "record-setting" holiday season for Amazon Prime, "with tens of millions of members worldwide."
It said that in December, Prime was so popular that "Amazon limited new Prime membership signups during peak periods."
During the company's conference call, the big news was Amazon's announcement that it was considering a price increase to Amazon Prime.  Amazon launched Prime nine years ago in the North America, but has kept the $79 price steady even as fuel and transportation costs have increased over the years. CFO Thomas Szkutak said on the conference call that given customers are using the service more, Amazon is considering upping the price between $20-$40 in the U.S.
Szkutak did not give a time frame for when that price increase would occur.
"It's a good time to be an Amazon customer. You can now read your Kindle gate-to-gate, get instant on-device tech support via our revolutionary Mayday button, and have packages delivered to your door even on Sundays," said Jeff Bezos, founder and CEO of Amazon.com. "In just the last weeks, Forrester, YouGov, and ForeSee have all ranked Amazon #1 - and we believe we're just scratching the surface of what world-class customer service can be."
--Written by Laurie Kulikowski in New York.
Disclosure: TheStreet's editorial policy prohibits staff editors, reporters and analysts from holding positions in any individual stocks.