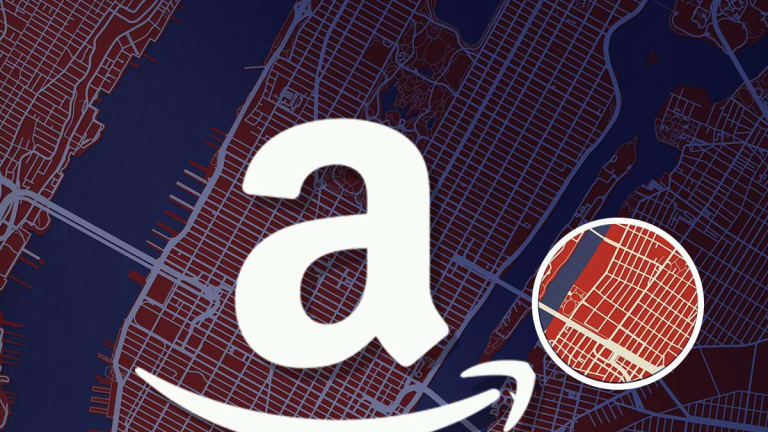 Amazon Confirms New Headquarters Will Be in Northern Virginia and NYC
Amazon said that its HQ2 will open in Arlington, Virginia and Long Island City after a closely-watched competition among North American cities to be the site of its new headquarters outside of Seattle.
Amazon (AMZN) is putting down roots in Arlington, Virginia and Long Island City, New York. 
Concluding a closely-watched competition that began in Sept. 2017, Amazon said Tuesday that it will build its second headquarters outside of Seattle in those two cities. In addition, it announced that will be building a new operations center in Nashville, Tennessee that will generate more than 5,000 new jobs there. 
"We are excited to build new headquarters in New York City and Northern Virginia," said Jeff Bezos, founder and CEO of Amazon in a press release. "These two locations will allow us to attract world-class talent that will help us to continue inventing for customers for years to come. The team did a great job selecting these sites, and we look forward to becoming an even bigger part of these communities."
Amazon noted in its release that "economic incentives were one factor in our decision, but attracting top talent was the leading driver."
More than 230 locations originally submitted bids to host Amazon's new headquarters. Amazon estimated that the new facility will generate more than 25,000 new full-time jobs in each city, plus a capital expenditure of $2.5 billion in each city. 
"The two strategic locations should provide Amazon with access to top-tier professional talent on the East Coast, allowing them to stay ahead of the curve in several innovative fields," said Jeff Marks, senior portfolio analyst for Jim Cramer's Action Alerts Plus portfolio, which owns Amazon.
According to Compass Real Estate's John Eric, "Arlington is the most educated community in the U.S. and coupled with quality housing, public transportation, the region's best school district and exceptional lifestyle offerings in culture, fitness, shopping and restaurants, Arlington was the region's best pick for the new headquarters."
Amazon will receive performance-based direct incentives of $1.525 billion based on the company creating 25,000 jobs in Long Island City, including a refundable tax credit tied to the salaries of workers it hires over the next 10 years, and a cash grant of $325 million based on the square footage of buildings occupied over that same time period, according to the company's press release.
For its headquarters in Virginia, Amazon will receive performance-based incentives of $573 million based on the company creating 25,000 jobs with an average wage of over $150,000 in Arlington. The state will also invest $195 million in infrastructure in the neighborhood.
"With an average salary of $150,000 per year for the tens of thousands of new jobs Amazon is creating in Queens, economic opportunity and investment will flourish for the entire region," said Governor Andrew M. Cuomo of New York. 
Governor Ralph Northam of Virginia noted that "Virginia put together a proposal for Amazon that we believe represents a new model of economic development for the 21st century, and I'm excited to say that our innovative approach was successful."
Amazon's new headquarters in Arlington will be located in National Landing, while the location in New York City will be in Long Island City in Queens. The new "Operations Center of Excellence" will be located downtown Nashville as part of a new development site just north of the Gulch. Amazon said it will begin hiring for all three new locations in 2019. The center in Nashville will serve as the Eastern U.S. regional hub for the tech and management functions of Amazon's e-commerce operations.
Amazon unveiled a list of 20 HQ2 finalists in January 2018, and many observers had speculated that the company might favor an east coast location with the ability to attract or host thousands of new tech workers. 
In early November, reports suggested that Amazon was in advanced talks to put its new headquarters in Queens, New York and Arlington, Virginia, as well as Dallas, Texas. Citing concerns with transportation gridlock and the ability to attract sufficient technical talent to fill the jobs, a split headquarters was ultimately deemed the best move by Amazon. 
Amazon's stock was down 0.4% to $1,630.15 on Tuesday afternoon. Shares are up almost 40% this year. 
Amazon is a holding in Jim Cramer's Action Alerts PLUS member club. Want to be alerted before Jim Cramer buys or sells AMZN? Learn more now.