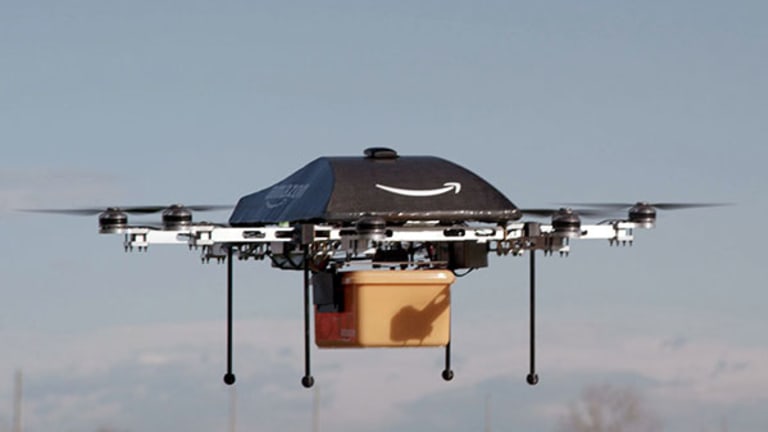 Amazon Moves One Step Closer to Drone Delivery
The Federal Aviation Administration today awarded Amazon with a special certificate that will allow it to experiment with drone delivery in the U.S.
NEW YORK (TheStreet) -- Amazon (AMZN) - Get Amazon.com, Inc. Report today has moved one step closer to delivering products via drones with a special "experimental airworthiness certificate" from the Federal Aviation Administration.
Amazon has been testing delivery by drones for a while now, but thanks to backlash from the FAA, it has been forced to keep its experimentation outside of the U.S. This new certificate, while still only for experimentation, allows Amazon to move its testing to the U.S., and also hints that the FAA may be more amenable to Amazon incorporating drones into commercial use in the future.
Amazon has been steadily improving its delivery services, offering two-day delivery and even two-hour delivery in some cities through Prime Now. One of the methods it's been testing to improve delivery time is drones, but the FAA was not having it.
Last month, the FAA published a proposal for new rules related to commercial drone use, but those rules did not make it any easier for Amazon. And even this new certificate isn't quite there yet.
It still requires that the drones remain within the line of sight of a pilot, who "must have at least a private pilot's certificate and current medical certification." Requirements that would make it hard for Amazon to truly scale this to the size it's hoping for.
However, it is a start and brings the science fiction notion of drone delivery that much closer to reality.