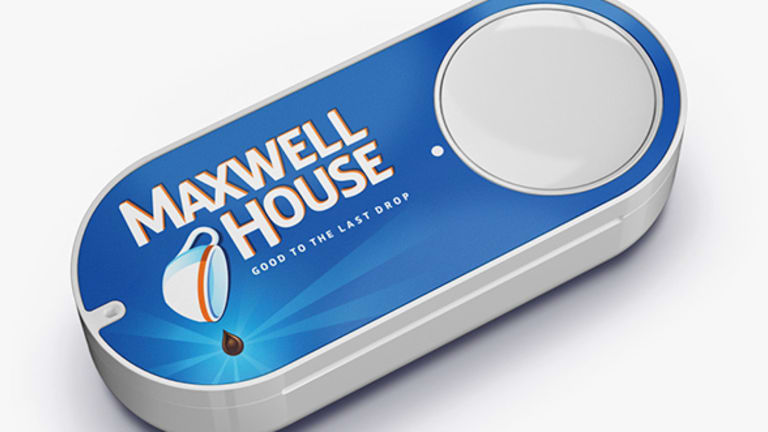 Publish date:
Amazon May Have Just Transformed How Consumers Order Products
Amazon is launching a new button called "dash" that lets you immediately order products such as laundry detergent and coffee pods.
Amazon is launching a new button called "dash" that lets you immediately order products such as laundry detergent and coffee pods.
NEW YORK ( TheStreet) -- With its delivery by drones initiative and launch of new products such as the Kindle and the Fire Phone, Amazon  (AMZN) - Get Amazon.com, Inc. Report has continually sought to push the envelope in services and products. Its latest initiative extends its e-commerce tentacles into the physical world.
Amazon on Tuesday announced a new device called the dash button, which will let you simply press a physical button in your home to immediately order products such as detergent, toilet paper and coffee pods. Customers can get individual buttons for different brands such as Tide or Huggies and place the buttons in logical places like next to the washing machine or the changing station. That way the second you realize you're running low on diapers you can immediately place a new order.
"It's a technology innovation that's more aligned with its core e-commerce business--compared to something like the Fire Phone--and that it gives Prime members less reason to go outside the Amazon ecosystem for purchases," Morningstar analyst RJ Hottovy said.
With almost $89 billion in global annual sales, Amazon is the top online retailer in the world, according to Internet Retailer. The new order buttons are yet another tactic to get shoppers to use its site to order goods rather than rivals such as warehouse clubs and upstarts such as Jet.com.  
Amazon did not immediately respond to press inquiries.
As of now, the dash button is only available for select Prime members who receive an invitation. Prime members have seven days to accept the invitation, and they can get up to three buttons while supplies last.
The button is connected to a mobile app that allows consumers to select the exact product they want to re-order through dash.
There are also checks in place to ensure your child doesn't get button-happy and order thousands of dollars worth of products. Each time you press the button, a notification is sent to your phone allowing you to cancel the order, if it was done accidentally. Additionally, the default setting is that Amazon won't let you place a second order until the first order has been delivered to your house.
You can also turn the button off entirely from your phone if you desire.
"Amazon's new Dash Buttons are clearly designed to appeal to the convenience-oriented consumer," ChannelAdvisor CEO Scot Wingo said. "This will definitely appeal to the estimated 50 million Amazon Prime subscribers who already have shown they have an orientation towards convenience. I think these will definitely be popular with that segment."
There are currently 254 products available via the dash button. Among the partnering brands are Kimberly Clark's (KMB) - Get Kimberly-Clark Corporation (KMB) Report Huggies and Cottonelle, Clorox (CLX) - Get Clorox Company Report and its subsidiary Glad, Kraft (KRFT) , and Procter & Gamble's (PG) - Get Procter & Gamble Company Report Olay.
"The line-up of consumer packaged companies that have partnered with Amazon on this program is impressive, as it shows how vital Amazon is to them as a distribution channel," Hottovy said.
There is still some doubt as to the practicality of the button, with some even suggesting that the button is actually an April Fool's Day prank.
Andreessen Horowitz's Benedict Evans turned to Twitter to admit that the button is "clever," though he said he wasn't sure it would work.