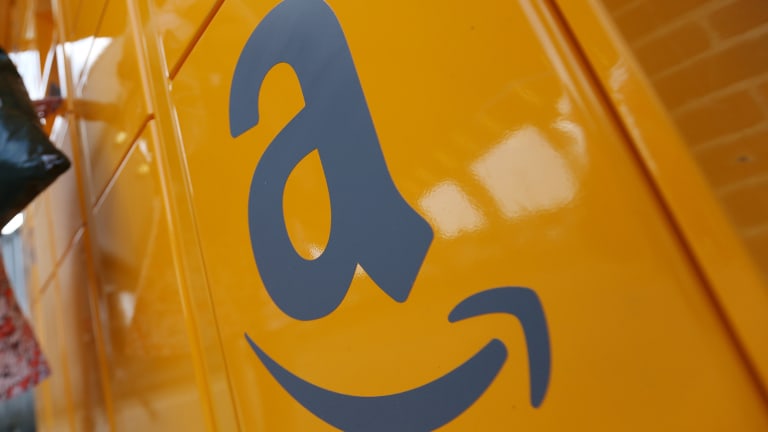 Amazon May Actually Benefit by Going to the Movies
In the wake of its Prime Video efforts, Amazon dips its toe into the cutthroat movie-making industry. And analysts say it just might make a go of it.
NEW YORK (TheStreet) -- The 1970 meeting between Elvis Presley and President Richard Nixon remains one most unintentionally funny events in U.S. presidential history.
That unlikely occurrence, in which the King of Rock 'n Roll asked the leader of the free world to make him a special federal drug agent, sounds tailor made to be a motion picture. And it's about to become one, thanks to Amazon (AMZN) - Get Amazon.com, Inc. Report. Elvis & Nixon will star Kevin Spacey as Nixon.
Amazon's Amazon Studios is using Elvis & Nixon as its first venture into the film business, with the company reportedly paying close to $4 million for the rights. The movie is expected to debut in theaters later this year before appearing on Amazon's Prime Instant Video service.
Seattle-based Amazon isn't getting into the movie business on a lark. The company hired independent film executive Ted Hope earlier this year to run Amazon Studios, and Amazon is said to have set aside $200 million to finance films.
An Amazon spokesperson said the company wouldn't comment for this story.
Amazon has been able to harness the power of its e-commerce customer base to build a streaming video service for its Prime subscription service and create its own original TV content. But movie production is a different form of entertainment. Anyone who has seen box-office receipt reports knows that a movie with the best of intentions and promotion can turn into a flop in just one weekend, then disappear entirely from movie theaters within a month if the crowds don't show up.
But Amazon has never been shy about getting into businesses that at first glance have little to do with the company's flagship e-commerce operations. In addition to Prime Video, Amazon has gone into the tablet market with Kindle Fire, reached into the living room set-top box market with the Fire TV and Fire TV Stick streaming devices, and has taken on the likes of Oracle (ORCL) - Get Oracle Corporation Report, IBM (IBM) - Get International Business Machines (IBM) Report and Hewlett-Packard (HPQ) - Get HP Inc. (HPQ) Report with its Amazon Web Services business for enterprise. Each of those moves were in areas where margins are tight and competition fierce.
"Amazon Studios could make money, although it's a tough business," said Kerry Rice, an analyst with Needham. "I believe, initially, Amazon Studios will be a drag on Amazon's earnings, but over time it could realize a profit."
Investors waiting for Amazon to report on the profit of Amazon Studios may not want to hold their breath.
The company has never disclosed matters such as the exact number of Prime subscribers (though recent estimates put the number around 40 million), nor sales figures for its Kindle devices. It many never say if Amazon Studios is profitable.
Overall earnings remain erratic, as well.
When Amazon reported its 2014 fourth-quarter results in January, it turned in a profit of $214 million, or 45 cents a share. However, during the first quarter of 2015, Amazon posted a net loss of $57 million, or 12 cents a share. The company didn't give a total earnings forecast for its fiscal second quarter, but said it expects its lose as much as $500 million, or earn up to $50 million on an operational basis. Amazon is scheduled to deliver its second-quarter results on July 23.
Rice said there are two keys for Amazon as it steps into the movie industry. The first is veteran executive Ted Hope. The second is growing the customer base of its Prime video-streaming service. Subscribers currently pay $99 a year for Prime, which in addition to giving access to Amazon's Prime streaming offerings also buys two-day delivery on most products that Amazon sells.
"With the addition of Ted Hope, I believe Amazon is looking to make this a real business and ramp up original programming." Rice said. "And the company does not need to look for distribution outlets given its platform, so it can run shows that are not smash hits, which should smooth costs out somewhat."
Tim Bajarin, president of tech research firm Creative Strategies, agreed with Rice. Bajarin said that Amazon sees original content, including movies, as a way to bring more subscribers to its online service -- subscribers who will end up purchasing goods in addition to paying their annual Prime membership fees.
"I don't see it [Amazon Studios] as a drag on their bottom line because it is used to add more Prime subscribers who are major buyers of products through Amazon,"Bajarin said. "It is now part of their cost of doing business since they launched their streaming video service."
This article is commentary by an independent contributor. At the time of publication, the author held no position in the stocks mentioned.