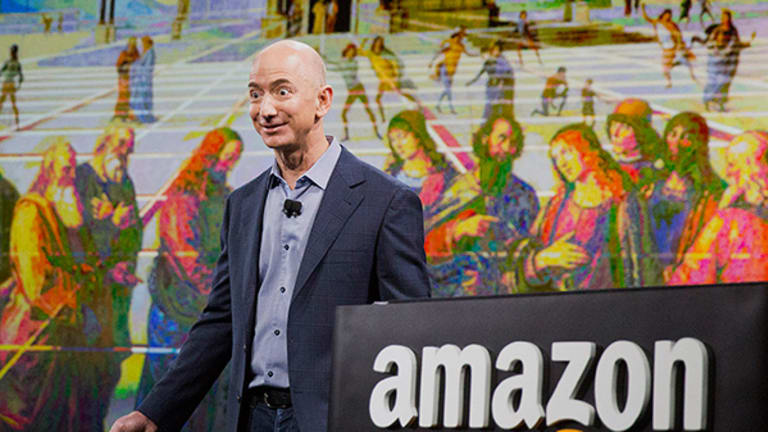 Amazon Home Services Isn't Blowing Away Consumers, Merchants
Amazon has left consumers and merchants underwhelmed by local services added to its online marketplace in November.
Updated from Jan. 27 to reflect Amazon's expansion of the program.
NEW YORK (TheStreet) -- In late November, Amazon (AMZN) - Get Amazon.com, Inc. Report quietly launched a new program called Amazon Local Services that would provide consumers contact information when they needed to get something repaired or installed at their home or workplace. Today Amazon has rebranded publicly announced the program as Home Services. 
The idea was borne from the notion that a customer who bough a new television on Amazon would want to locate someone to install that TV.
Now that the program has been operating for a couple of months, we decided to check in on it, and so far, the response from users appears to be mixed.
Amazon Home Services was originally available only in select areas as part of a beta test, but it has now been expanded to more locations and services.
Alex Lima of New York-based FireIce Data, an IT services provider, says he signed up to be listed as one of the local services but has yet to reap any benefit.
"Well the experience is no experience at all," Lima said. "I will not recommended; there is no business."
On the other hand, Gary Shapochnik of Brooklyn, N.Y.-based IGTech, another tech services company, says he has received 30-40 new clients from Amazon Home Services since it launched.
"I'm more than happy that we're involved with them on this," he said in an interview. "It's local customers -- they trust Amazon, and they feel comfortable that they process it with Amazon and can get their money back if something goes wrong, and next time they need a service they know about us."
Amazon guarantees "happiness" with every service and says it vets the vendors and only charges customers once the service has been completed in a satisfactory manner.
Shapochnik said that he lists his company on a number of different sites, and he was surprised by the absence of problems with Amazon even though the program is in its early stages.
Braulio Rodriguez of New York-based PrimoTV Installation said that he has been getting two or three new clients from Amazon Home Services every week and that he'd recommend the program to any business owner.
Customers' responses have been mixed as well.
One customer, Anne Ivanhoe, posted a review of Primo TV, saying that its service was "fabulous" and that she was "delighted" with it. However, another customer, Noel Selegzi, said he wasn't as thrilled with his PrimoTV experience.
Selegzi said he was charged $150 extra, and PrimoTV said it was Amazon's fault for giving an incorrect quote. Selegzi said he then went through a lengthy back and forth with Amazon before Amazon "righted the wrong."
Selegzi wrote in a review, "Very pleased with the service, just wish we could have avoided haggling over the price."
Amazon appears well equipped to deal with the challenges of this new business. After all, it has years of online retailing experience and has earned the trust of many consumers. With the Home Services business, customers likely will feel confident that Amazon will find a solution or give them a refund if they're not happy with the service.
"I think its a unique place because they've got so much trust with their customers," Piper Jaffray analyst Gene Munster said in an interview. "People have a difficult time trusting local services providers -- are they actually going to show up, return my calls?"
Amazon declined to comment for this article.
But given the goodwill Amazon has amassed with consumers, the company is likely to have an impact on the local services marketplace in a short time, Munster said.
Amazon Home Services seems like a logical extension of its core e-commerce business, which offers a wide variety of products to consumers.
"We think the smart investments Amazon is making are continuing to take more and more of your wallet," Munster said. "They've obviously dominated books and electronic, and now they're inching into grocery and local services and potentially travel in the future. I think it's a golden opportunity for Amazon to be impactful in an area they're not in today."
With its popularity among consumers, Amazon gives valuable visibility to local service providers who may not have big marketing budgets, bringing them new clients who otherwise would never have been introduced to the company.
"It used to be you would look for a place of high foot traffic, but if you want to do it on the Web you'll look for places with high Web traffic," Gartner's Gene Alvarez said in an interview.
The benefit for consumers is that they can easily find local service providers without worrying so much about whether they're reliable or responsible. Amazon does the vetting and is responsible for the service going as planned.
"Amazon now becomes the friend who recommended you something," Alvarez said. "Amazon vets their marketplace for physical goods; they'll do the same vetting for services."
As Amazon continues to grow -- it is expected to report revenue of $29.7 billion for the fourth-quarter of 2014, up from $25.6 billion for the quarter from the previous year -- it expands its mission to be the place that consumers go for anything and everything. Amazon Home Services was an obvious move.
"They're more a supermall online than they are just a retailer," Alvarez said. "If you go looking for services, why not have Amazon find them for you because the idea here is any want or need you have could be found through Amazon."
-- Written by Rebecca Borison in New York
>Contact by Email.