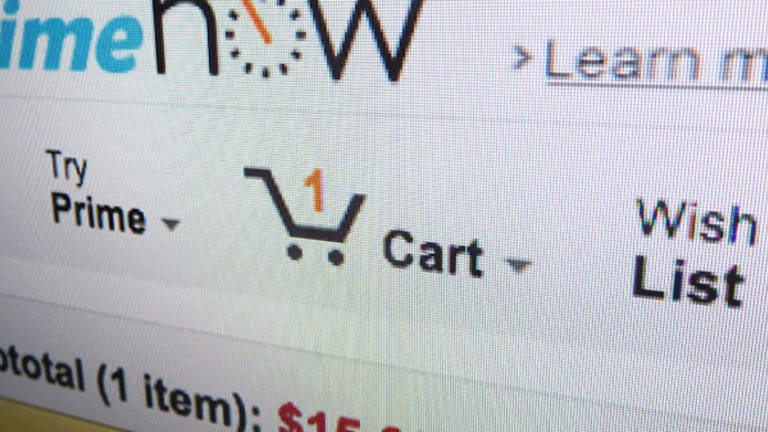 NEW YORK (TheStreet) -- When Amazon (AMZN) - Get Amazon.com, Inc. Report first announced in 2014 that it was going to get into one-hour delivery, most of us likely laughed out loud at the absurdity of having a product arrive on your doorstep that quickly. Now nearly one year later, Amazon Prime Now may be having the last laugh.
The delivery service is slowly but surely expanding into more zip codes and more categories as Amazon gets more and more creative about logistics.
While Prime Now started out as faster delivery for select products that are sold on Amazon.com, it has grown into a much larger endeavor. Just this week, Amazon announced that it was testing restaurant delivery in Seattle. Last month, Amazon announced it was testing alcohol delivery in Seattle. In May, Amazon announced it was delivering groceries (including perishables) from certain local stores in Manhattan.
Each of these small experiments adds up to one large push towards instant delivery, and taken one step further, each of these small experiments adds up to one large push towards Amazon's Prime program.
"We are constantly looking for ways to add value to Prime for our customers," said Gus Lopez, general manager of Amazon Restaurants, when asked why Amazon was getting into restaurant delivery.
At the end of the day, Amazon is looking to make Prime more attractive to consumers. It's all about "building the Prime brand and Prime membership base," said Morningstar analyst RJ Hottovy. Prime members pay $99 a year for the service and spend $1,000 more a year on average on the site compared to non-Prime members, by one estimate.
Prime Now highlights the creative ways in which Amazon is doing that. It already has the warehouses, logistics, customer base and digital platforms in place for speedy delivery, so now it's just building off of that to provide more value for consumers. They're "getting maximum use out of their infrastructure assets," Hottovy said. They had to hire more human beings to actually bring the products to your door, but the products are already being stored in a nearby warehouse.
Any startup trying to get into delivery -- think Postmates and Instacart -- has to build a system from the bottom up. Amazon can swoop in and easily make some changes to its existing assets to create a new service.  
However, even though Amazon may have a head start, that doesn't necessarily mean that it can achieve complete scalability, said Sucharita Mulpuru-Kodali, vice president and principal analyst at Forrester. A lot of these new endeavors -- whether they involve restaurant delivery or alcohol delivery -- will be tough to scale.
"It's just not feasible to have every single item within an hour for every person in America," Mulpuru-Kodali said.
Not only is scale an issue, but demand may be a challenge as well. How many people are going to need alcohol within the hour on a regular basis, Mulpuru-Kodali asked. Most will go to a bar with friends, or if they are ordering online, will often be willing to wait a day or two to get the alcohol.
Sure, these services may be of value to certain people in certain situations, but for Mulpuru-Kodali, many of the Prime Now services are just experiments. She has a hard time believing they will ever be substantial parts of the overall Amazon business.
Nonetheless, as long as Amazon isn't investing too much money into these experiments (the company doesn't share exact numbers), the outcome can only really be positive for the company. Either it's making a profit off of the actual service, or it's turning a consumer into a more loyal Prime member. That's a win either way for Amazon. 
"If you drive enough Prime memberships and keep margins up, then it's something you continue and expand in other markets and it makes sense," Hottovy said.