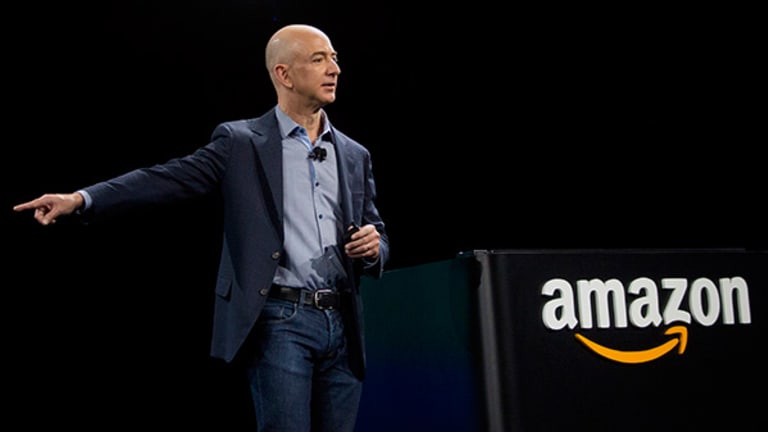 Updated from Sept. 22 to include more details about the launch and its timing.
NEW YORK (TheStreet) -- Amazon (AMZN) - Get Amazon.com, Inc. Report may be your first stop if you're looking to buy toilet paper online, but if you're looking for a quirky, handcrafted necklace for Grandma, chances are you'll give Etsy (ETSY) - Get Etsy, Inc. Reporta closer look.
While this may well represent the present state of e-commerce, the distinction could soon be a thing of the past.
Earlier this summer reports surfaced that Amazon was working on a marketplace for handcrafted goods. Soon after, Amazon quietly launched a landing page for Handmade at Amazon, which explained how merchants could apply to sell on the soon-to-be-launched platform.
Now it seems that an official launch could be near. Amazon has published some product and seller pages for Handmade, such as this one from a jewelry maker named Mailed It and this one from a wood crafter named CarvedByHeart. Amazon spokesperson Erik Farleigh declined to comment on when an official launch may happen, and simply said "Stay tuned."
An email sent to sellers hinted that the launch could be coming as soon as October 1. This email, received on Sept. 24 told sellers to complete their "Artisan Profile" and list their items in the next seven days.
It also seems that Amazon has shared some more details about the pricing of Handmade. The platform will charge 12% commission fee and no listing fee at the start, according to Nicola Smith, who helps crafters market their products through her company A Handcrafted Business. Etsy charges a 3.5% commission fee and a 20 cent listing fee. Smith said that Amazon is planning to institute a fee of $40 a month per shop, though, which would make Handmade cost a lot more than Etsy.
Nonetheless sellers are still excited to try it out, said Smith, who has many clients already creating their Handmade pages. "Most seem really excited by the opportunities and the fact that they have so much traffic and buyers already," she said. Though she noted that many UK and European sellers, who were invited to join Handmade, were upset that the original launch will be for U.S. buyers only, which would mean heavy shipping and logistics costs.
For now, you can't actually purchase anything from the Handmade pages, but they lend a preview to Amazon's grand plans in handcrafted goods.
"Amazon seems to be taking this very seriously and is taking their time to do this right," said M. Turner, one seller who has already set up her shop PhoenixFire Designs on Handmade. Turner, who has sold her wire pendants on Etsy since 2006, said that Amazon has been much more responsive to her inquiries compared to Etsy.
The company has also been very detailed in verifying sellers before accepting them to the program, which Turner sees as a positive sign that the company is committed to working only with "true handcrafted makers." Etsy has been under some criticism for starting to allow sellers to manufacture goods, which worries sellers like Turner.
"This kind of negative publicity hurts truly handcrafted artisan makers like myself and makes people hesitant to shop on Etsy as much," Turner said. "Who wants to pay handcrafted prices for what is really just pretty pictures of Made In China products? It's my hope that Amazon will help bring renewed confidence to buyers wanting truly handcrafted items. Amazon has been doing it right so far and has really vetted sellers to ensure they are legitimately makers and not merely marketers."

While Amazon may be doing a good job vetting sellers' authenticity, that hasn't convinced all merchants that it will be a superior alternative to Etsy. Some are unhappy with Amazon's strict terms of use, which allow Amazon to reproduce designs, require photos be taken on a neutral background, ban any branding on packaging, and require a credit card to apply.
Plus, the process for listing products on Handmade requires more details and is more time consuming than Etsy, according to Turner.
Nonetheless, there is no denying the fact that Amazon can bring an invaluable volume of buyers to these small merchants. Just compare Etsy's 21 million active buyers to Amazon's 278 million active customers. Even with some of the minor concerns sellers may have signing onto Handmade, the payoff is likely worth it.
On top of pure numbers, a number of Etsy sellers have been getting more disgruntled recently, said Smith, and Handmade offers them a new alternative. "There's big concerns over at Etsy and the direction they're going with manufacturing and Etsy Wholesale," she said. "Sellers are ready to have someone new, so Amazon's timing is perfect...for Amazon. Maybe not for Etsy."
If Amazon plays its cards right here, it could add a significant volume of sales to its business, said Wedbush analyst Gil Luria. 
"Since Amazon has all the advantages over Etsy -- ten times more customers, Amazon Prime, and a purely handmade platform -- I would expect Handmade at Amazon to eventually take much of Etsy's business away," he said. "For Amazon this would be another $300 million to $400 million in revenue, which won't in itself make a big difference on revenue growth, but considering its marketplace profitability is likely 40-50%, the addition of [Handmade] will add significantly to Amazon's famously low profits."