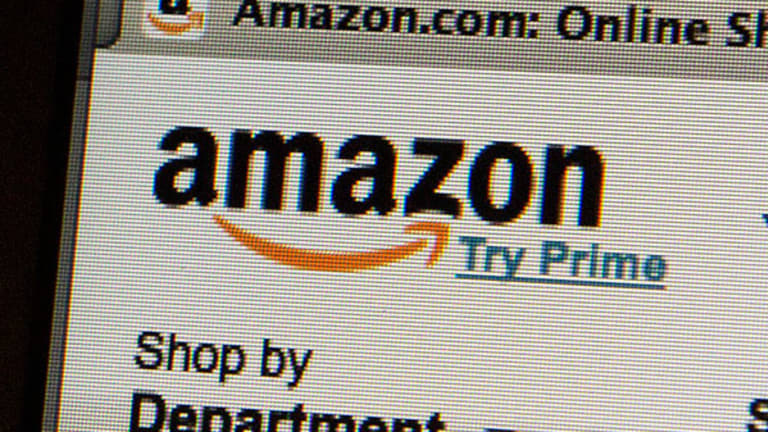 Publish date:
Amazon Is Facing 'The Law of Large Numbers'
Shares of Amazon were dropping 2.5% to $352.74 on Wednesday after UBS downgraded the stock to "neutral" from a "buy" rating.
Shares of Amazon were dropping 2.5% to $352.74 on Wednesday after UBS downgraded the stock to "neutral" from a "buy" rating.
NEW YORK (TheStreet) - Shares of Amazon (AMZN) - Get Amazon.com, Inc. Report were dropping 2.5% to $352.74 on Wednesday after UBS downgraded shares to "neutral" from a "buy."
Analyst Eric Sheridan dropped his rating and cut his 12-month price target by $75 to $375 over concerns of the e-retailing giant's disappointing fourth-quarter results, specifically a "surprise deceleration in revenue and paid unit growth" as well as a proprietary survey the company had commenced over the potential price raise for Amazon Prime in which consumers overwhelmingly said they would cut the cord with Prime if the price was hiked.
Sheridan cut his quarterly and full-year earnings estimates to "reflect a lowering of expected margin improvements in 2014/2015" as a result of "increased spending to add value and/or promote Prime membership," he wrote in a research note to clients.
"We are concerned that Amazon is facing the law of large numbers issue with its revenue base," Sheridan wrote. "So while many of our revenue re-acceleration trends did play out, we are concerned that their impact might not be as pronounced goring forward given the large base of revenues."
The analyst had upgraded the stock to a "buy" on Oct. 18, 2013, based on expectations that the company would see revenue "re-acceleration." However the most recently quarterly results in which Amazon missed revenue estimates now calls that into question, he stated.
Amazon reported on Jan. 30 a profit of 51 cents a share. Consensus estimates were calling for earnings of 66 cents a share. Net sales increased 20% from the year ago quarter to $25.59 billion, however Wall Street was expecting sales to rise 23% to $26.06 billion, according to Thomson Reuters.
The downgrade was also in part to a survey commenced by UBS and conducted by Consumer Intelligence Research Partners to poll Amazon customers in the U.S. regarding their thoughts on an Amazon Prime price raise. CIRP surveyed respondents for a three-day period starting Feb. 4, 2014.
"The key finding of the survey was that while 94% of Amazon Prime customers surveyed indicated a likelihood of renewing ('definitely will renew' or 'probably will renew') at the current $79 annual fee, these percentages dropped precipitously when price increases of $20 and $40 were introduced (to 58% and 24%, respectively)," the note said.
"Our survey results call into question our prior views about the value that a broad set of consumers are applying to the current iteration of Amazon Prime," Sheridan wrote. "If Amazon were to raise Prime fees, such a fee increase might need to be accompanied by either a) a higher level of value in the service offering (additional media content, streaming music and/or Fresh (supermarket) offerings) and/or b) an increased level of marketing around the perceived value of Prime to the general public."
The survey found that raising the price by $20 to $99 for the service might be the highest customers are willing to pay.
Aside from the ratings downgrade, Amazon said Wednesday it's hiring 2,500 full-time workers for its growing fulfillment centers in the U.S., whose job responsibilities would include picking, packing and shipping customer orders.
Amazon was sure to point out that the median pay inside the fulfillment centers is 30% higher than traditional retail jobs. Employees also receive comprehensive benefits as early as their first day on the job, bonuses and stock awards.
"Last year, we hired more than 20,000 people into full-time jobs across our U.S. fulfillment centers - with more than half starting as seasonal employees," said Mike Roth, Amazon's vice president of North America operations. "Today, we're excited to announce 2,500 full-time jobs, bringing new employment opportunities to local communities across the country."
--Written by Laurie Kulikowski in New York.
Disclosure: TheStreet's editorial policy prohibits staff editors, reporters and analysts from holding positions in any individual stocks.