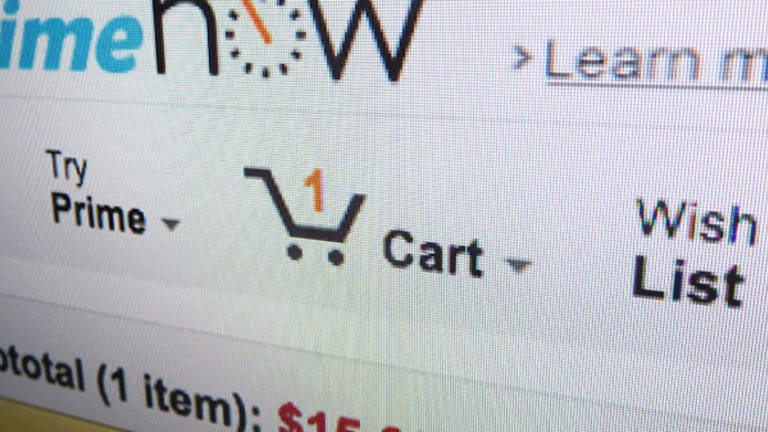 Amazon Is Being Sued by Ex-Delivery Workers Who Claim They Weren't Contractors
Amazon is the latest company to be hit with a lawsuit regarding its classifications of its contractors.
Amazon's (AMZN) - Get Amazon.com Inc. Report forté is speedy delivery. It can get you a product in as little as an hour with its Prime Now service. But behind each speedy delivery is a delivery person making sure that product gets to the right place.
Like many other delivery services and on-demand companies, Prime Now classifies its delivery people as contractors. The idea is that these workers get the flexibility of choosing when to work and as such they don't receive the benefits of a full employee.
A new lawsuit, though, challenges that notion and asks Amazon to reconsider the way it classifies its delivery people.
Four former Prime Now delivery drivers in Orange County, CA, claim they should have been classified as employees and that they are due benefits such as overtime pay and workers compensation coverage. The drivers were hired by a courier service called Scoobeez, which is owned by ABT Holdings, and assigned to work for Prime Now.
The lawsuit, which is seeking class-action status, was filed on Tuesday against Amazon, Scoobeez and ABT Holdings.
Amazon spokesperson Kelly Cheeseman said that Amazon does not comment on pending litigation.
In the suit, the drivers explain that they worked regular hours, wearing Amazon uniforms and were paid hourly, and yet "despite these and other clear indicia that plaintiffs are and were defendants' employees, defendants have classified them as 'independent contractors' and, in so doing, have denied them the benefits and protections of California employment law."
Amazon is certainly not the only company that's come under scrutiny for its classification of independent contractors. Uber, for instance, has been hit with a few different lawsuits from drivers seeking to be classified as employees.
The definition of independent contractors vs. employees has long been contentious, according to Steven Gal, an entrepreneur and visiting associate professor at Cornell University's Johnson Graduate School of Management, who remembers discussing the case in law school in the '90s. Back then the question was around different industries such as real estate agents; now there are simply more industries that straddle the line between contractor and employee.
"There is no clear answer to this," Gal said earlier this year. "It'll definitely take years of litigation before you'll get to any solution."