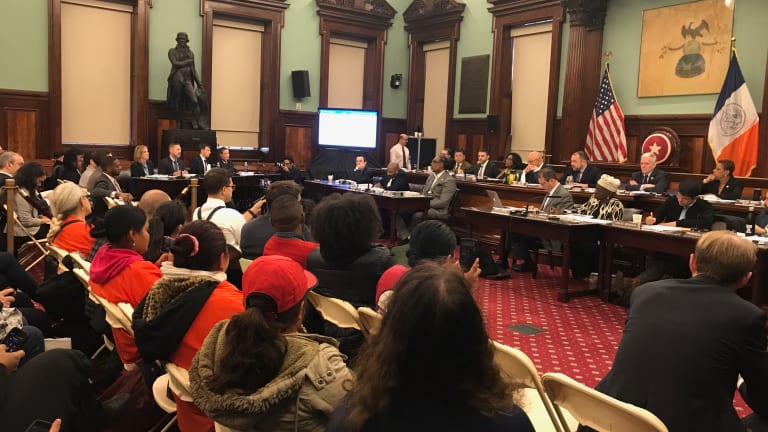 Amazon Protesters in New York Take to City Hall to Oppose Company's HQ2
The New York City Council is holding its first hearing on the proposed plan to hand billions of dollars in tax breaks to Amazon in exchange for the company moving its second headquarters to Queens.
New Yorkers upset at the city for handing billions of dollars in tax incentives to Amazon.com Inc. (AMZN) - Get Report in exchange for the company moving its HQ2 to Long Island City in Queens were protesting at City Hall on Wednesday. 
The City Council is holding its first public hearing on the plan with some members of the council expressing anger over the deal signed by New York Gov. Andrew Cuomo despite of a lack of public debate on the issue. 
Protesters were also active on social media with the hashtags #HQ2scam and #NoAmazonNYC trending on Twitter. 
In New York, the incentive package to lure Amazon to the area offered more than $1.5 billion of incentives, which included $1.2 billion in "performance incentives" for creating jobs as well as a cash grant of $325 million. Those incentives were offered by New York state plus hundreds of millions more from New York City, the New York Times reported.
Meanwhile, Virginia officials offered $573 million in direct subsidies, and Nashville, Tenn. -- a surprise third site in which Amazon will build a sizable facility -- offered $102 million in incentives.
Some of the more colorful details of the deal probably haven't helped matters -- for instance, New York officials reportedly offered to allow Amazon CEO Jeff Bezos, the world's richest person thanks to Amazon stock, a helipad at the Queens site to sweeten the deal. In return for the subsidies, Amazon said in a press release that community benefits will include a donated space on Amazon's campus for a tech and arts incubator, donated space for a new public school, and unspecified investments in improvements to infrastructure and new green space