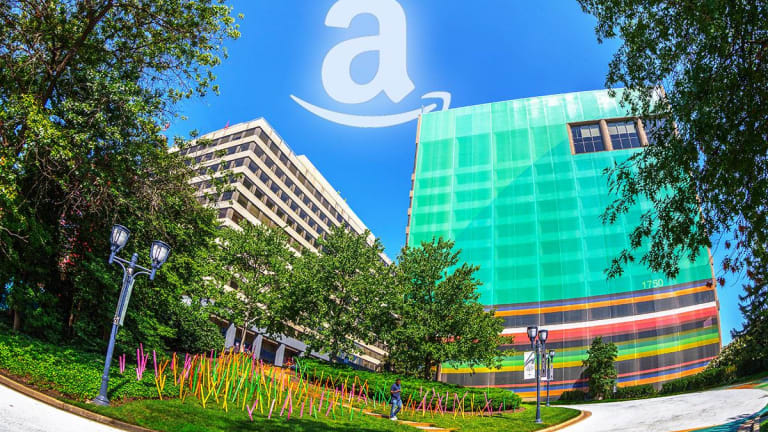 Publish date:
Amazon Faces Growing Public Backlash Over HQ2 Tax Breaks
Amazon is receiving billions in tax incentives as part of its HQ2 expansion, sparking anger from a host of civic and community leader who criticized the use of tax money and the secrecy of the negotiations. Meanwhile, Amazon's power could face growing political scrutiny at the federal level.
Amazon is receiving billions in tax incentives as part of its HQ2 expansion, sparking anger from a host of civic and community leader who criticized the use of tax money and the secrecy of the negotiations. Meanwhile, Amazon's power could face growing political scrutiny at the federal level.
Cities across North America spent more than a year jockeying to host Amazon's (AMZN) - Get Report new headquarters. Now a public backlash is growing around the results. 
The winners -- or losers, depending on your point of view -- are Crystal City, Va. and Long Island City, Ny., both neighborhoods within range of major population centers and their own unique sets of pros and cons.
But as details of the deals leaked out, some civic and community leaders reacted with outrage to what they view as unfair taxpayer subsidies that won't work out well for constituents. In New York, the incentive package to lure Amazon to the area offered more than $1.5 billion of incentives, which included $1.2 billion in "performance incentives" for creating jobs as well as a cash grant of $325 million. Those incentives were offered by New York State plus hundreds of millions more from New York City, the New York Times reported.
Meanwhile, Virginia officials offered $573 million in direct subsidies, and Nashville, Tennessee -- a surprise third site in which Amazon will build a sizable facility -- offered $102 million in incentives. 
Some of the more colorful details of the deal probably haven't helped matters -- for instance, New York officials reportedly offered to allow Amazon CEO Jeff Bezos, the world's richest person thanks to Amazon stock, a helipad at the Queens site to sweeten the deal. In return for the subsidies, Amazon said in a press release that community benefits will include a donated space on Amazon's campus for a tech and arts incubator, donated space for a new public school, and unspecified investments in improvements to infrastructure and new green space.
The size of the incentive package, and what many leaders have described as the secretive nature of the negotiations, have sparked anger from a host of local community and political leaders.
Much of the backlash was centered in New York, which accounted for more than half of the total subsidies offered to Amazon among the three sites. The community group Queens Neighborhoods United articulated many of the broadly expressed concerns in a statement posted to Facebook (FB) - Get Report , asking: "How did the city suddenly come up with a plan to give such significant tax breaks and incentives to a corporation led by the richest man in the world?"
The group cited neglected infrastructure and homelessness among the community issues that tax revenues would be better directed towards rather than corporate tax incentives.
Details are still forthcoming on how exactly the HQ2 deals came together, and who precisely was involved in the negotiations, but a clear split amongst New York political leaders is emerging on how to move forward.
New York Gov. Andrew Cuomo and New York City Mayor Bill DeBlasio are among the politicians who have spoken glowingly of the deal's potential economic benefits, including an influx of new high-paying tech jobs: "New Yorkers will get tens of thousands of new, good-paying jobs, and Amazon will get the best talent anywhere in the world," said DeBlasio in a statement. "We're going to use this opportunity to open up good careers in tech to thousands of people looking for their foothold in the new economy."
Meanwhile, however, New York City Councilman Jimmy Van Bramer, New York State Sen. Michael Gianaris, and other community leaders appeared at a press conference on Wednesday decrying the clandestine nature of the deal and the size of the subsidy offered to Amazon. Rep. Carolyn Maloney, who represents Queens, didn't respond to a request for comment.
Van Bramer said at a press conference that he and Gianaris were exploring ways to block or change the terms of the deal, though they didn't announce any specific action. Meanwhile, New York Assemblyman Ron Kim said he was proposing a bill to block the Amazon subsidy and use the funds instead for student debt relief. That bill will be officially unveiled next week, he said. 
"There's no correlation between healthy, sustainable job creation and corporate giveaways," Kim said. "If we used this money to cancel distressed student debt instead, there would be immediate positive GDP growth, job creation, and impactful social-economic returns."
It may be too soon to say how much traction any legislative efforts to block the New York subsidy will get, or how Amazon would respond to any such efforts. Amazon did not immediately respond to a request for comment on opposition to the subsidies. 
However, the scrutiny of the deal also comes at a delicate time for Amazon, with legislators taking a closer look at the size of not just Amazon, but other tech giants including Alphabet (GOOGL) - Get Report and Facebook. 
At the federal level, there's growing bipartisan chatter about the monopolistic influence of big tech companies, and antitrust action is one avenue that legislators or agencies may pursue to rein in the power of tech companies like Amazon. Democrats in the House of Representatives, for example, convened an antitrust caucus late last year, an effort that could gain new traction with Democrats now representing a majority in the House. 
"Shoring up antitrust and giving increased scrutiny to these companies is definitely on the Democrats' agenda," Gigi Sohn, an antitrust expert and fellow at the Georgetown Law Institute for Technology & Policy, told TheStreet in an interview this month. 
Facebook, Amazon and Alphabet are holdings in Jim Cramer's Action Alerts PLUS member club. Want to be alerted before Jim Cramer buys or sells these stocks? Learn more now.
Make Money on Closed-End Mutual Funds. TheStreet's Robert Powell recently hosted an all-star panel of experts who explained everything you need to know on closed-end mutual funds, an often-overlooked investment class. Click here to register and watch for free.