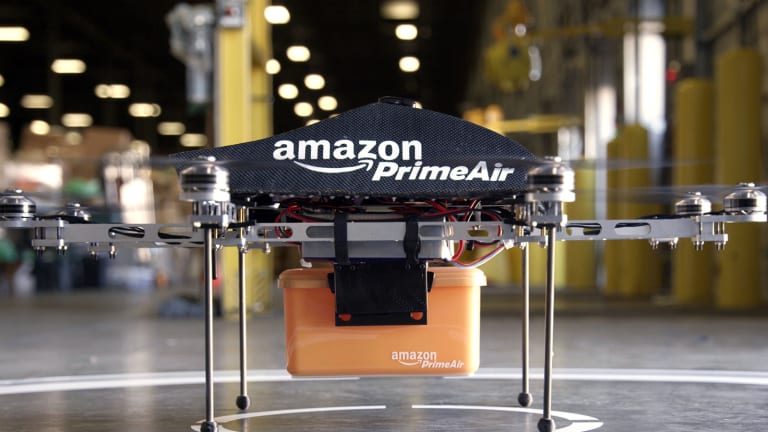 Amazon, Google Drones Unlikely to Deliver Major Revenue Right Now
Drones may be the buzz of the retail industry, but these unmanned delivery systems are unlikely to generate additional revenue for Google or Amazon.
NEW YORK (TheStreet) -- The Federal Aviation Administration's approval of industry partnerships that will evaluate drones operated beyond the pilot's line of sight won't create much of a bottom-line benefit for retailers, including Amazon (AMZN) , anytime soon.
According to analysts, even with the FAA showing an inclination toward approving drones for commercial use, there's unlikely to be a substantial impact for Amazon, Google (GOOGL)  or any retailer because of the likely huge initial cash outlay to construct the needed infrastructure.
"This additional fulfillment method is unlikely to drive sales overall," said Leslie Hand, vice president at IDC Retail Insights. "Will consumers want to try it out? Yes. The consumers that will be excited to choose drone delivery are probably the same consumers that wait in line for the next best electronic gadget."
Amazon may be the most visible proponent of using drones having actually developed and publicized a test vehicle and program dubbed Prime Air. Amazon declined to comment for this article but the company has said the concept is not science fiction, and that with regulatory approvals it will attempt to implement drone delivery at some point in the future.
Google, which declined to comment, has its Project Wing that first took flight last year.
Some industry watchers said certain segments of the economy could benefit by using drones depending upon how they are implemented.
Yory Wurmser, retail analyst at eMarketer, is pessimistic drones will have a major impact although he noted it could boost the revenue for any early testers and give them the additional exposure as being a market leader.
"I think any major positive impact from drone delivery is several years away, if it comes at all," Wurmser said. "Drone delivery still seems very gimmicky. I can see some small-scale trials, but any mass adoption has a range of business and regulatory hurdles to overcome."
The financial side of the puzzle is another major obstacle. Not only do the drones have to be perfected, but retailers would have to install a huge support system.
"I don't think drones dramatically change the retail landscape, with the exception that if the financial cost of doing a drone delivery is dramatically less than current fulfillment methods then the benefit is in cost reduction. We have not done that math yet, however. There are reports that a short-range delivery would cost less than $1," Hand said.
Wurmser added it'll be hard for a retailer to make back any investment in drone technology directly from drone-related sales, but a drone's true value may lie in another area. "It might make back the money as a marketing tool, however," he said.
Because of the investment needed, drones are not likely to be utilized by a local pizza place to handle deliveries and only a few of the biggest retail chains are expected to attempt to use them. "Retailers with Innovation Labs are the most likely candidates -- retailers including Wal-Mart (WMT) , Amazon, Lowe's (LOW) , Best Buy (BBY) and perhaps grocers like Kroger (KR) ," Hand said.
Wurmser thinks drone usage could find a home a bit further down the retail food chain with companies that target specific consumers. "I still think it's mostly a branding play at this point, so companies targeting Millennials or Gen Z are good candidates. I could also see tech retailers trying them, companies such as Best Buy, P.C. Richards, or even pure plays such as Newegg in select markets."
This article is commentary by an independent contributor. At the time of publication, the author held no positions in the stocks mentioned.