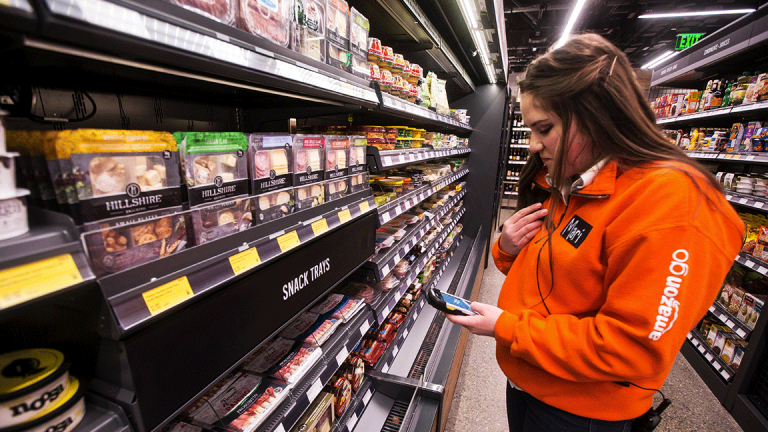 Amazon Has Big Ambitions in Cashierless Retail, but Can They Be Profitable?
Amazon is reportedly testing Amazon Go, its cashierless convenience stores, in bigger locations. But just how costly -- and profitable -- could the model be for Amazon?
Amazon Go is poised to grow.
Amazon's cashierless convenience stores can be found in three cities in the U.S., but the commerce giant is testing a much larger version of the concept, according to the Wall Street Journal.
Using a location in Seattle as a test bed, Amazon (AMZN) - Get Report is testing how the cashierless model -- a system that requires an extensive network of cameras, sensors and software -- would work in larger stores with more inventory and more challenging attributes such as high ceilings.
Just how big are Amazon's ambitions in cashierless shops? One report from September suggested that Amazon is aiming to open 3,000 Amazon Go stores by 2021 -- a dramatic increase over the seven Amazon Go locations currently open in Seattle, Chicago and San Francisco.
For Amazon, a lot needs to happen before a mass expansion of the cashierless concept would be possible, eMarketer analyst Andrew Lipsman told TheStreet.
"It's still an open question of how and when they could scale Amazon Go; before talking about scaling they'd need to see the proof of concept in the market," said Lipsman. The shops now sell a standardized selection of convenience store fare, such as pre-packaged food and basic pharmacy items.
Amazon's potential expansion of Amazon Go has stirred speculation that it might want to apply the cashierless model to Whole Foods stores. But non-standardized inventory and layouts could make installing the tech in existing stores more difficult than spinning up new stores around the cashierless mode, Lipsman added. 
"I think it's more likely in some ways that it would be larger versions of Amazon Go stores -- moving from a small size, to a mid-size," he said. "The biggest value proposition [at Whole Foods] is produce, high-quality meats, the bakery, the cheese counter -- all of those items, because they're at the request of the customer and different sizes and shapes, that doesn't seem to scale well."
For Amazon, building up the technology to function in larger format stores is one challenge in an Amazon Go expansion. Another question is how costly an expansion would be -- and how much it could eventually pay off for Amazon investors.
"I think it is just another example of how investments in automation and machine learnings are once again proving themselves, as this will allow Amazon to compete in brick-and-mortar at lower operating cost," added Zev Fima, an analyst with Jim Cramer's Action Alerts Plus portfolio, which invests in Amazon.
Amazon's profitable lines of business -- namely, Amazon Web Services and its growing advertising segment -- mean that it has some room to experiment with Amazon Go. In its most recent earnings report for example, Amazon reported an operating margin of 31% in AWS, as compared with a margin of 25.5% one year ago, and appears to be gradually gaining on Alphabet (GOOGL) - Get Report and Facebook (FB) - Get Report in the lucrative digital advertising market.
"They've got room to make these investments, and it's a justified investment," Lipsman added. "You take it step by step."
Shares of Amazon were up 4.4% on Monday late afternoon and have risen 51% this year.
Amazon, Facebook and Alphabet are holdings in Jim Cramer's Action Alerts Plus charitable trust portfolio.