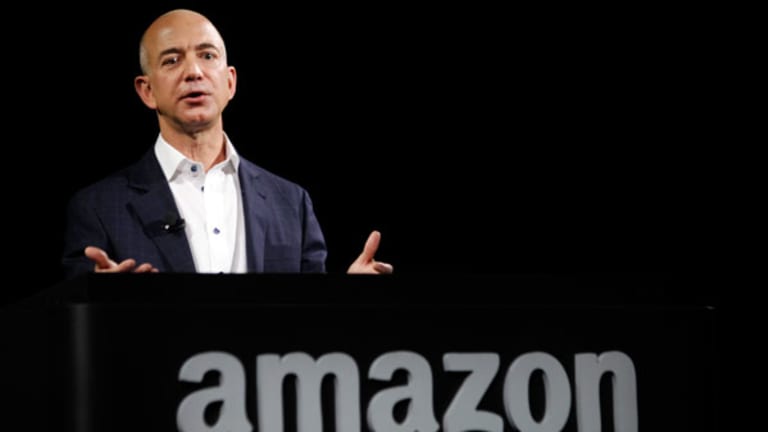 Amazon Gets an A+ From Baird for Growing Its Product Selection
A recent survey from Baird shows product selection on Amazon is continuing to increase.
NEW YORK (TheStreet) -- Amazon (AMZN) - Get Amazon.com, Inc. Report received a nice price target boost Wednesday from Baird Equity Research, following a solid performance in the research firm's quarterly Amazon Inventory Survey.
Finding that Amazon has had another quarter of solid growth in product selection, Baird raised its price target for Amazon to $475 from $465 and maintained its "outperform" rating of the company. Amazon's overall product selection grew 29.3% over the first quarter and about 40% year over year.
"Based on our survey, we note that Amazon continues to add product selection at a fairly rapid clip, which we view as one of the fundamental drivers of the company's unit sales growth," Baird analyst Colin Sebastian wrote in a research note Wednesday morning.
One of the other positive increases was in third-party products. Baird estimates that third-party products could account for 45% of Amazon's total selection by the end of the year, up from 40% in the first quarter in 2014. Since third-party products implicitly come with higher margins, this growth is especially good for profit.
The most important growth numbers for Amazon pertain to Prime-eligible product selection. Amazon Prime is Amazon's premium delivery subscription service, which speeds product delivery and adds perks like streaming video. Prime members have been proven to be much more valuable to Amazon than the average consumer -- they spend more on Amazon's site and go to other retailers less frequently. So the more products Amazon can offer them the better.
According to Baird, more than 34 million products are now Prime-eligible on Amazon, a 30% increase year over year. Amazon's first-party products only grew 14%. This implies a large growth of third-party sellers using Fulfillment by Amazon, since using FBA is a requirement for third-party sellers to be Prime-eligible.
FBA "allows Amazon to better manage the customer experience and increase the range of products eligible for Amazon Prime," which in turn creates "a virtuous cycle of increasing Prime subscriptions, further category expansion and greater unit velocity," Sebastian said.
The survey also found that the categories with the most units were cell phones and accessories, books, home and kitchen, MP3 music, and electronics. Cell phones and accessories, video games, and grocery and gourmet foods were the categories that have been adopting FBA at the highest rate. Beauty, arts and crafts, books, and video games were the categories that showed the largest yearly increase in the percentage of Prime-eligible units.