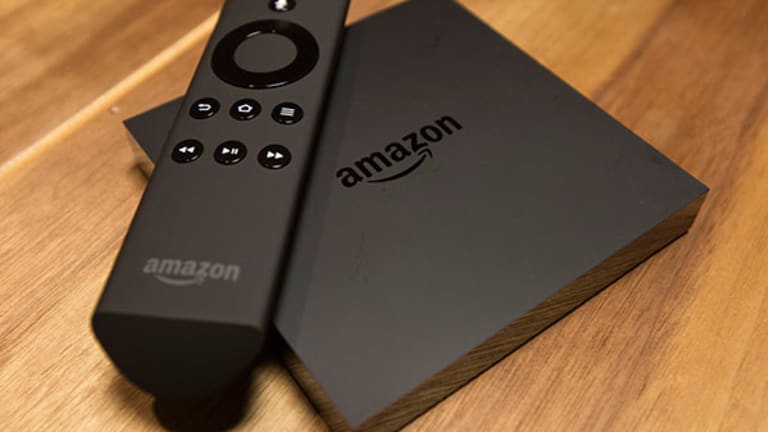 Publish date:
Amazon Fire TV Review
Amazon's new $99 Fire TV box leads the pack of a growing number of small streaming video devices.
Amazon's new $99 Fire TV box leads the pack of a growing number of small streaming video devices.
NEW YORK (TheStreet) -- Amazon's (AMZN) - Get Amazon.com, Inc. Report Fire TV is much more than a streaming video box. Amazon wants you to use it as your home entertainment hub, hopefully in combination with other Amazon products. The Fire TV can be used to watch movies, TV shows, special programming currently under development and even play video games.
The Fire TV device is powerful, slick and a joy to use. Forget the feature comparison chart on the Amazon Website . What you need to know is the Fire TV is a strong contender for best streaming device when compared to the Roku 3, Apple (AAPL) - Get Apple Inc. (AAPL) Report TV or Google (GOOG) - Get Alphabet Inc. Class C Report Chromecast. Add the possibility/probability that Amazon may, at some point, allow customers to shop its site and you begin to understand just how important this $99 mini-computer really is.
Physically, Fire TV a small, thin, unassuming wafer of a box - just tall enough to fit an HDMI port, optical audio out, Ethernet connection, USB port and AC adapter connection. It's easy to disguise and even easier to miss unless you're actually searching for it.
Inside is a quad-core Qualcomm (QCOM) - Get QUALCOMM Incorporated Report Snapdragon 600 processor along with 2 GB of RAM. Compare that to the competition: Roku 3 ($99) has a dual-core processor and 512 MB of RAM. The current Apple TV (also $99) and Google Chromecast ($35) have single-core processors and the same 512 MB of memory. Fire TV is a much more powerful device, capable of great things.
Set-up is a breeze. When you purchase a Fire TV it arrives fully programmed, except for your Wi-Fi network information, and it's already linked to your Amazon account. Put the two batteries (included) into the remote control, attach an HDMI TV/monitor (cable also included) and plug it in. You can be watching a movie in less than 5 minutes.
As for programming, Fire TV comes loaded right out of the box. Competitive with the Roku 3, the Fire TV allows viewing of many of the same popular streaming video services (although there's no TheStreet TV, Time Warner (TWC) or any other cable app available like on the Roku 3). At this point, the Roku 3 has the edge if you want one small device do it all. Going forward, I'm guessing Amazon will be quite competitive.
Fire TV's big advantage over the Roku 3 is access to Amazon's online warehouse of movies and TV shows. If you like what you see, just press the button and the programming is charged to your account. If you subscribe to Amazon Prime ($99/year), your programming choices widen and free access to movies and TV shows rise accordingly.
There is a voice search function utilizing the special microphone button on the Fire TV remote control. Press it, and say what you're searching for, be it the name of a movie, or a director, or your favorite actor. Fire TV uses Amazon-owned IMDB.com to provide you with the available choices. It worked perfectly the first time and every time after that. It is Fire TV's killer feature. None of the competition has anything like it, currently.
Starting next month, Amazon will offer another new feature called "FreeTime." It is a Fire TV system designed for children which allows parents to set and control viewing limits for each child.
The Fire TV is also a gaming console. Some games can be played using the included remote control. But expect more titles to use the optional $40 controller as time goes on. The Roku 3 remote can be turned sideways and used as a game controller as well but there's no serious controller option available for that platform. With the quad-core processor and 2 GB of RAM, Fire TV is capable of some pretty amazing gaming. Amazon boasts there are more than 100 game titles available now and "thousands more coming soon."
If you choose a Fire TV over the competition Amazon assumes you're probably well invested in the Amazon ecosystem. As such, Amazon is adding added value to those people with its X-Ray feature.
X-Ray turns your Amazon Fire HDX tablet into a second screen for the Fire TV, providing users with additional information, photos, etc. about the programming they're viewing. There's also an on-screen tablet button which allows you to put the content on the second screen, and move it to your big screen, using the tablet for other things.
Also See: Amazon Kindle Fire HDX review
So far, the time spent with Amazon's Fire TV has been terrific. I've been able to browse though the program choices available through my Prime account and begin watching movies within 5 second of pressing the "Play" button.
The voice search feature gives the Fire TV device the largest advantage over the competition. No one has anything that comes close - yet. I don't expect Roku to sit still for long, and an Apple TV refresh is overdue. While Chromecast is a great $35 device, we know that Google is quite adept at including voice functions in other products, particularly with Google Now. Users can expect to see that kind of technology in future TV streaming devices - such as the rumored Android TV.
At this moment, Amazon's Fire TV is the streaming video device for the others to beat.
--Written by Gary Krakow in New York.
To submit a news tip, send an email to tips@thestreet.com.
Gary Krakow is TheStreet's Senior Technology Correspondent.