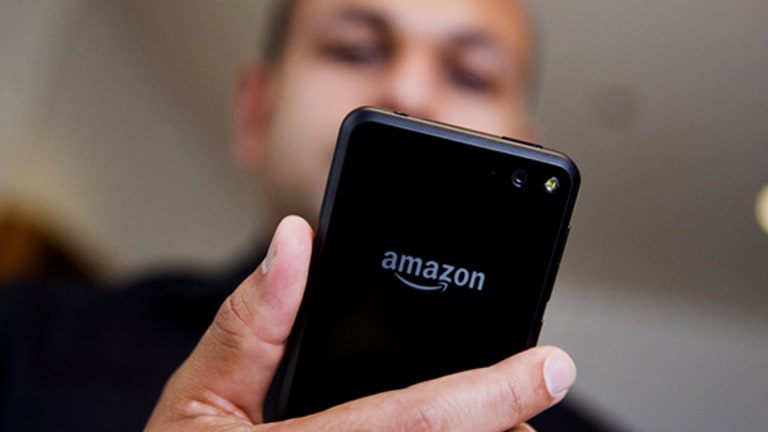 Updated from 9:12 a.m. to include information on Amazon Coins.
NEW YORK (TheStreet) –– Amazon's (AMZN) - Get Amazon.com, Inc. Report Fire phone is not going to replace your Apple (AAPL) - Get Apple Inc. (AAPL) Report iPhone 5s. Nor will it replace any of the other high-end Google (GOOG) - Get Alphabet Inc. Class C Report Android phones on the market, like the HTC One or the Samsung (SSNLF) Galaxy S5, so let's get that out of the way right now.
The Fire phone is an OK-at-best attempt at Amazon's entry into the smartphone market, and consumers should wait until the second or third generation to consider purchasing the phone.
I've been testing the device for a few days -- and if it wasn't clear before that Amazon is selling this device to have you buy more products, it becomes very obvious upon turning the device on. The Fire phone almost instantaneously brings you to the Amazon homepage.
Here's What It Looks Like Inside Tesla's Massive Factory
Amazon Kindle Fire HDX Review: Size Matters
Like iOS and Android, the Fire phone asks you to connect to social networks, like Facebook (FB) - Get Facebook, Inc. Class A Report and Twitter (TWTR) - Get Twitter, Inc. Report. It's a pretty standard OS, even if it is a forked version of Android.
Amazon has made it clear that it has two big selling points for the 4.7-inch device. The first is its Dynamic Perspective, which allows users to tilt the phone or their head and look at icons and pictures to give them a 3-D-ish aspect. The second selling point is the Fire phone's six cameras. Some of these cameras go toward giving the images a real-world feel, along with special sensors embedded in the phone
Dynamic Perspective is a nice addition for games, and the game that comes pre-installed on the phone, Monkey Buddy, does a good job of showing it off. If you're looking at clothing or sneakers or something that you would wear on Amazon's site, it's helpful, but not overly. Unfortunately, Amazon (and every other smartphone maker) hasn't figured out a way to let me try the clothes on without leaving my house. Maybe next time.
Amazon also allows you to swipe left or right from the main screen to give you more information. The left has a list of stuff, the right has added information. For example, if you're on Amazon's Silk Browser (which is much improved), if you swipe left, it brings up things like Bookmarks, Saved Pages, History and the like. If you swipe right, it brings up Site Links. Or, if you're shopping on Amazon, swiping left brings up Your Account, Home, Shop by Department, and swiping right brings up Inspired By Your History.
This is a nice feature, but occasionally the images look a little blurry when tilted. It's not something I would consider a must-have feature for a phone.
The other big feature, -- and perhaps the whole reason Amazon built the phone in the first place -- is Firefly.
Firefly is an app on the home page (or you can just hold the camera button on the left of the phone), which uses the phone's 13 megapixel camera to identify real-world products (books, soda, cereal and the like), as well as TV shows and movies. Then, if you want it, it's pretty simple to buy the product on Amazon.
However, Firefly is pretty temperamental. Depending on the angle, it might recognize the item or it might not. It recognized a book on my desk when it was right next to me, but at two feet away, it had a problem. It also had problems recognizing things like a highlighter, my work computer and countless other objects. I found myself getting frustrated, and constantly saying, "Firefly fails again."
As for the actual phone itself, I found myself disliking the keyboard, as I do not like the vibration upon hitting the keys. Perhaps I am too used to the iPhone (my personal phone), but this didn't do it for me. There is the option to swipe on the keyboard, though, which reduces the vibration to none.
Battery life is perhaps the one area where Amazon shines over Apple. In a two-day test of the battery, I did not have to charge it once with moderate-to-heavy usage (watching movies, TV shows, web browsing, texting and apps), whereas I would have had to charge my iPhone.
The camera is another area where the Fire phone stands out. The 13 megapixel images come out crystal clear. Considering that Amazon is giving you limitless cloud storage for photos, this should be a selling point ahead of Dynamic Perspective and Firefly, at least for now, while Amazon works out the kinks.
I found the Fire phone to be comfortable using one hand, though it does feel a bit heavier compared to the iPhone. Granted, the Fire phone is 4.7 inches while the iPhone 5s is 4 inches, so that likely accounts for some of the weight difference. But it is noticeable.
As far as voice quality is concerned, people sounded "tinny" when I spoke to them, not as crisp and clear as on the iPhone. The Fire phone has two speakers, which should help reduce that, but at the moment it doesn't help.
For some reason, the Amazon Music app randomly started playing not once, but twice, despite the fact I hadn't touched the phone and it was just sitting next to me. I'm not sure if this has been experienced by other reviewers, but it happened to me.
Right now, the Fire phone is exclusive on AT&T's (T) - Get AT&T Inc. Report network, which is not the greatest, especially in New York City. I live in Hoboken, and had problems with voice quality and connection on the phone in places where I normally do not on Verizon (VZ) - Get Verizon Communications Inc. Report with my iPhone. I'm not sure if that's the phone or the network itself, but it is something to keep in mind when making a purchasing decision.
Amazon priced the phone to compete with the iPhone and the Samsung Galaxy -- it's $199 for the 32GB model with a two-year contract, and $299 for the 64GB model. However, Amazon is adding value to it, giving those who buy it a year of free Amazon Prime. That is an important perk, especially if Amazon is using this as another platform to get you to buy goods, both physical and digital. Fire phone also comes with 1,000 Amazon Coins (a $10 value) to allows to either buy apps or make in-app purchases.
Apple and Google both dominate when it comes to apps, with both of them having around 1 million dedicated apps. Amazon has only around 200,000. In my experience, there are a few that are worth having, like YouTube, but with the addition of Netflix (NFLX) - Get Netflix, Inc. (NFLX) Report and Time Warner's (TWX) HBO Go, Amazon is working hard to get up to speed in this area.
Recommendation
I do think Amazon should be commended for entering the high-end smartphone market. This is an adequate try. However, like Amazon's previous hardware attempts with its Kindle Fire tablets -- and ironically, I find myself using my Fire HDX tablet lately more and more -- I just can't recommend consumers buy this, even if you're embedded in the Amazon ecosystem.
Final Grade: 6/10
--Written by Chris Ciaccia in New York
Contact by Email.