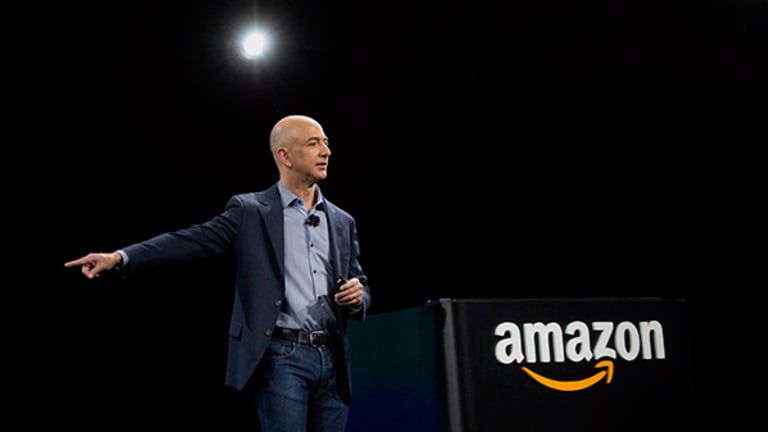 Publish date:
Amazon Fire HDX 8.9 Review: The More Things Change, the More They Stay the Same
Amazon is working hard to get its tablet lineup up to par with Apple, and it has in some aspects, except the key one -- apps.
Amazon is working hard to get its tablet lineup up to par with Apple, and it has in some aspects, except the key one -- apps.
NEW YORK (TheStreet) –– Amazon (AMZN) - Get Amazon.com, Inc. Report is working hard to get its tablet lineup up to par with Apple (AAPL) - Get Apple Inc. (AAPL) Report and its iPads, and the Fire HDX. 8.9 is a great alternative to the iPad. However, it just can't quite meet or exceed Apple in perhaps the most key area: the ecosystem.
Amazon was kind enough to send me the 4th generation Wi-Fi Fire HDX 8.9 to review (there is also a 4G tablet available), and the tablet itself continues to improve, with Amazon finally getting close to or exceeding some of the iPad Air's key features. For starters, it's only $379 for a 16GB version of the Fire HDX, compared to $499 for a 16GB version for the iPad Air 2.
Must Read:
Amazon Kindle Fire HDX Review: Size Matters
Amazon's Fire HDX 8.9 (which has a 8.9-inch screen) is plenty fast, using Qualcomm's (QCOM) - Get QUALCOMM Incorporated Report Snapdragon 805 quad-core processor, making it 70% faster than the previous version. You'll really notice this when playing games or watching movies, as I did watching the second season of Amazon's comedy series, Alpha House.
Watch the video below for a look at how Amazon became an online retail giant:
The new Fire HDX 8.9 has also bumped up other specs, with over 4 million pixels (339 pixels per inch) on the screen and 100% perfect color accuracy, showing lifelike images on the screen. By contrast, the iPad Air 2 only has 264 ppi, so the Fire HDX 8.9 continues to outshine its Apple competitor in this area. Battery life is also pretty solid, with Amazon claiming 12 hours of mixed use. I found it came in a little higher than 11 hours between watching TV shows, movies, Web browsing, playing games and composing emails, so Amazon's claim is a little off, but not drastically so.
It's also exceptionally light, weighing in at just 13.2 ounces, having been constructed with a blend of glass and machined magnesium, compared to the aluminum body for the iPad. I actually don't have a preference for either, but you can see where some people would like the aluminum body on the iPad Air 2, making it feel like a sturdier device. For me, a lighter device made of magnesium is just fine.
The button situation is a little awkward occasionally, as I'm used to the placement of the Apple Home/TouchID button and the power off button on the iPhone and iPad. Amazon has the power on/off button on the left and the volume control on the right, but users should be able to get used to it with just a few tries.
The camera situation is a major improvement over last year's tablet. The HDX 8.9 has an 8MP rear-facing camera and a 720p front facing camera and Amazon has worked hard to give you the most bang for your buck, providing free unlimited cloud storage so you'll never have to worry about deleting photos again. I still noticed a bit of grain on the images taken with the rear camera, more than I would like, but I don't really use tablets to take pictures. This is one area where the iPad Air 2 outshines the 4th-generation HDX 8.9, though.
As was the case last year, the Fire HDX has exceptional sound, this time with Dolby (DLB) - Get Dolby Laboratories, Inc. Class A Report Atmos, an upgrade over last's year Digital Plus audio and 5.1 multi-channel surround sound. Whether watching a loud action movie or heartbreaking drama, having an excellent sound experience is of the utmost importance. 
Fire OS 4 is the latest Amazon operating system. As it has been in past years, this is a forked version of Google's (GOOGL) - Get Alphabet Inc. Class A Report Android, this time Android 4.4. You'd never know it was an Android OS, as Amazon has worked hard to distinguish itself and it shows. At the top are menus like Shop, Games, Apps, Books, Music, Videos and more, showing Amazon's true intention with the device: it wants you to buy things from Amazon, so making it easy for you to do so is in its best interest. Buying an app (Amazon gives you 1,000 coins for in-app purchases) or a movie or TV show is a breeze and with Amazon's inclusion of a free month of Amazon Prime, Amazon is really working hard to deliver a great value to its customers. 
As Amazon works harder to integrate its ecosystem with its other hardware devices, the company has decided to bring what it thought was a key feature of the Amazon Fire Phone to the new Fire HDX 8.9, Firefly. Firefly is used to scan a real world or digital object, say a speaker system or a TV show, recognize it, and then give you the option to buy it on Amazon. As was the case with the Fire Phone, I found it very finicky. I scanned the charger that the Fire HDX came with and it recognized that, but not a Fitbit Flex wireless band, still in the box. Amazon needs a LOT of work for Firefly to be considered a positive at this point, and not a detriment.
Though Amazon is trying hard to get its devices to work with one another, this is one area where Apple has a clear lead over Amazon and its other competitors, most notably in the app ecosystem.
Apple has over 650,000 apps dedicated just for the iPad, while Amazon has around 240,000 apps on the Amazon Appstore, as of June. This number is a little misleading though, since some apps that have worked on previous Amazon devices don't work on the Fire HDX 8.9.
For apps such as HBO Go, Simpsons Tapped Out, WWE Network and others that were available on the previous version of the Kindle Fire, their unavailability is extremely disappointing. "We are making sure every app on Fire tablets provides a great customer experience," an Amazon spokeswoman said via email, when asked why these apps were not available on this version of the tablet. "For Simpsons Untapped and HBO Go specifically, the team is actively working on compatibility."
Other apps such as FX Now that have come out in recent months to much hype (the ability to stream every Simpsons episode ever is a big draw for FX Now) is also incredibly disappointing.
The major social networks are there, such as Facebook (FB) - Get Facebook, Inc. Class A Report , Pinterest, Twitter (TWTR) - Get Twitter, Inc. Report and LinkedIn (LNKD) , but for some reason, still no official Instagram app. There is a Vine app, but no Instagram. Given the focus Amazon clearly put on improving the cameras for the Fire HDX 8.9, again, this seems like a missed opportunity. As has been the case in previous years, there's still no official YouTube app, but there are workarounds. Netflix (NFLX) - Get Netflix, Inc. (NFLX) Report is there, so that's a nice feature, given it wasn't initially available on last year's tablets.
This version of the Fire HDX is a major improvement over last year's version save for one key area: apps. Amazon needs to work hard to get its app ecosystem up to par with Apple and Google for it to be a real competitive threat in hardware. With a price that's $120 less than the iPad Air 2 and continued improvements all the time, I suspect that the Fire HDX will sell better than previous versions of Amazon's tablets, and would make a great holiday gift for the tablet lover in your life.
Final Grade: 8.5/10
--Written by Chris Ciaccia in New York
>Contact by Email.