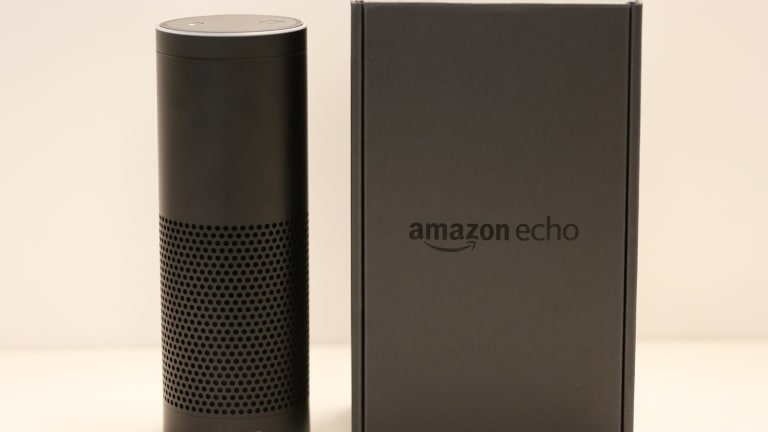 Amazon Echo Review -- Is This the Future of Computing?
Amazon's voice-activated speaker and digital assistant is designed to make life easier, but it does more than that -- it makes life more enjoyable.
I have seen the future of computing.
It is the Amazon (AMZN) - Get Free Report  Echo.
Amazon's voice-activated speaker and digital assistant is designed to make life easier, but it does more than that -- it makes life more enjoyable.
Inside the sleek, easy-to-open box (Amazon appears to be taking packaging cues from Apple (AAPL) - Get Free Report ) is a tip sheet on what Amazon Echo can do, a wall charger (which unfortunately the Amazon Echo needs), and instructions for pairing it to your wireless network and downloading the app to pair it your phone.
Once it's set up, you can activate it with a simple voice command that turns the ring on the device from an orange color to blue. After speaking to Echo, the color ring on top of the speaker spins and part of it turns a lighter shade of blue, pointing in your direction as it recognizes where you are in the room, thanks to the seven built-in microphones.
Shop Now - Introducing Amazon Echo
Following set-up to the Internet, you're off and running with Echo, which responds to the name Alexa. Echo can tell you a wide variety of things, from the weather to names of company CEOs, set an alarm clock, play music and much more. If you have a Fire HDX tablet or a Fire phone, Alexa can send the weather or a Wikipedia page straight to your mobile device. This is where Alexa starts to show that she is the control of the future.
You can sync Echo up to a number of music accounts, including Amazon Music, Pandora, iHeartRadio and a host of others. If you want to listen to some music while you're getting ready in the morning, just say "Alexa, play me Wheel In the Sky," and out comes Journey's hit single from Echo's speaker.
For $180, Amazon has given you an attractive speaker that while not the greatest in terms of audio quality is more than passable. If you're looking for a portable speaker -- such as a JawboneJambox or a BoseSoundlink mini -- you'll get greater sound quality. But they're just speakers. Echo is so much more.
Alexa even has a bit of a sense of humor, and can tell a few jokes. Ask Alexa to tell you a joke and you may get something like, "Why did the bike go to sleep? Because it was two-tired."
The real genius of the Amazon Echo isn't simply what it can do now, but what it might lead to.
Amazon recently introduced the ability to control your lights and switches at home with the Echo. I can foresee a time when the Echo is the key to your home, allowing you to control everything with your voice. It's incredible to think of the possibilities, and I for one can't wait to see what Amazon has in store for us.
It can even buy things for you, but here, it gets a little tricky.
If you haven't bought an item, say paper towels, from your Amazon Prime account, it will give you Amazon's preferred paper towel option, but you need to have one-touch shopping set up on your account. If you do, buying something is a breeze on Amazon Echo, thanks to Alexa.
It will add anything you want to your shopping list, and can even help you make food by adding ingredients with a simple voice command.
There are certain things the Amazon Echo doesn't recognize, like stocks, and every now and then it had trouble answering a question it had answered before. I had asked Echo who wrote Jurassic Park, and it answered correctly, but then I asked it again and it didn't recognize what I had said. This was a minor kink though, as it worked out the answer once I asked it again.
The great thing about the Echo is it is constantly learning, keeping track of what you've asked it so that it can continuously get better. Amazon recently opened up a software development kit to allow developers to create new voice features for Alexa, and created a $100 million investment fund, known as the Alexa Fund, that will "support developers, manufacturers, and start-ups of all sizes who are passionate about creating new experiences designed around the human voice."
Going into this review, I wasn't entirely sure what to expect of the Amazon Echo, but now, after having spent nearly a week with it, I am incredibly excited not only by what it can do, but by what it will become.
Final Grade: 9/10
This review originally ran on July 14, 2015.