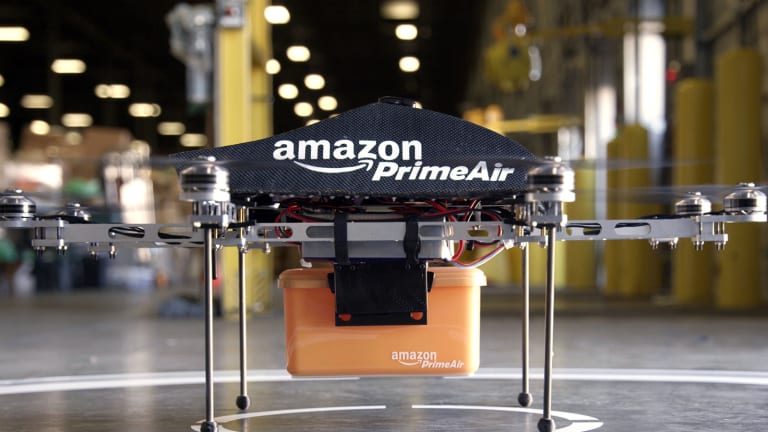 Amazon Drones Could Be Delivering Packages Within the Year
A congressional hearing yesterday concluded that commercial drone use will be approved by June of 2016.
NEW YORK (TheStreet) -- Amazon (AMZN) - Get Amazon.com, Inc. Report has long been an advocate of the commercial power of drones, but it seems like what originally seemed like a futuristic dream may soon be a reality.
On Wednesday, a congressional hearing met to discuss finalizing regulations on mass commercial use of drones. Federal Aviation Administration Deputy Administrator Michael Whitaker told the U.S. House of Representatives Oversight and Government Reform Committee that the agency expects to finalize regulations within the next year.
In 2013, Amazon CEO Jeff Bezos announced on 60 Minutes that the e-commerce giant was looking into delivery via drones, and ever since the company has both been experimenting with the technology, known as Prime Air, on its own as well as working with the FAA to bring about the legalization of commercial drone use.
If Amazon were able to deliver packages via drones, it could not only cut down on delivery time for consumers but it could also significantly cut down Amazon's shipping costs. Amazon delivers an average 3.5 million packages a day, according to SJ Consulting Group, and last year, the company's shipping costs amounted to $8.7 billion, or 9.8% of sales, up from 8.9% the previous year.
There have been a few stumbling blocks along the way -- in February the FAA proposed regulations that would require a drone to remain within an operator's line of sight, which would be problematic for Amazon's grand schemes. In March, the FAA awarded Amazon with a special "experimental airworthiness certificate," but Amazon quickly responded that the certificate was obsolete and only granted permission for an outdated drone model. Amazon therefore decided to move its testing outside the U.S. to Canada to avoid confrontation with the FAA.
But now it seems as though Amazon may be able to bring its drones back to U.S. soil.
Amazon Vice President of Global Policy Paul Misener spoke at the congressional hearing to champion the advancement of drone legalization.
"We'd like to begin delivering to our customers as soon as it's approved," Misener said. "We will have [the technology] in place by the time any regulations are ready. We are working very quickly."
Assuming the FAA can follow through on its promise, Amazon's two-hour delivery may be a thing of the past.