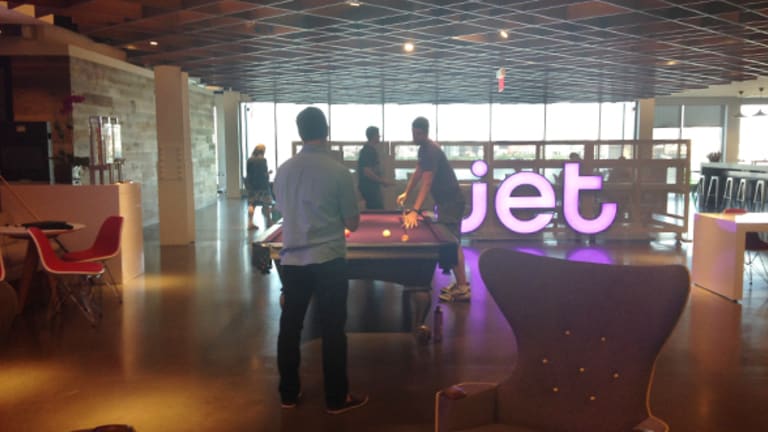 Amazon Definitely Has Jet Beat on One Thing--Website Speed
Jet's homepage takes significantly longer to load than Amazon's.
NEW YORK (TheStreet) -- E-commerce startup Jet claims that it can beat Amazon (AMZN) - Get Free Reportin terms of pricing, but there's at least one initial area where Amazon's got the upper hand--website speeds.
Jet's homepage is 25% slower to load than Amazon's, according to software delivery service Instart Logic. Amazon's homepage takes 895 milliseconds to load, while Jet's takes 1,110 milliseconds. Even Costco's (COST) - Get Free Report homepage loads in just 929 milliseconds, 20% faster than Jet. And though that may not seem like a big difference, it can really impact a customer's experience.
There's nothing more frustrating than staring at a screen twiddling your thumbs as a page loads. It's therefore crucial that every company make its pages load as quickly as possible, especially e-commerce companies whose business depends on customers staying on a site and making purchases.
"Home page load time is the first digital brand experience," said Manav Mital, CEO of Instart Logic. "It's like walking into a store and being greeted promptly by a salesperson. It also improves search rankings, reduces bounce rates, and it's an indicator of overall site performance."
When reached for comment, Lauren Picasso, associate marketing director at Jet, responded, "We monitor site performance very closely, however we do not disclose our site load times."
While site speed is certainly important, if Jet can follow through on its promise to significantly undercut prices, it may be able to convince consumers to overlook any slower load times. Nonetheless, the startup should be aware that when it comes to the Internet, time is often everything.