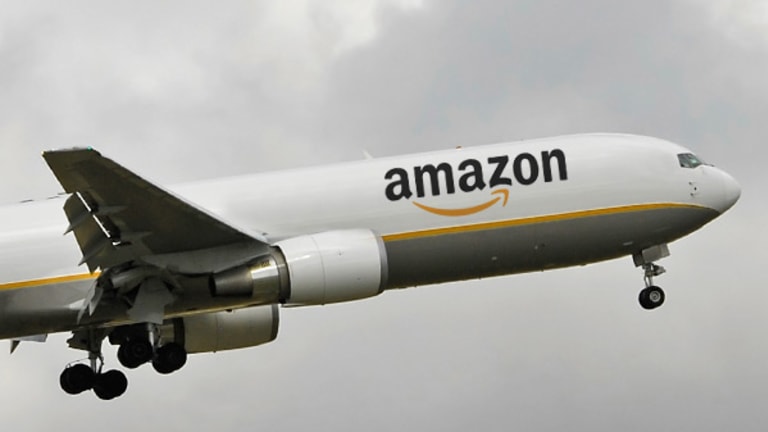 Amazon Could Have Some Really Bold Plans for Its Fleet of Jet Planes
One logistics expert thinks Amazon's move to lease its own jets is the start of a grand global delivery plan.
Last week Amazon (AMZN) - Get Amazon.com, Inc. Reportconfirmed earlier reports that it would be leasing its own jet airplanes for delivery, announcing a deal with Air Transport Services Group (ATSG) - Get Air Transport Services Group, Inc. Report .
As a part of the deal, Amazon will be able to lease 20 Boeing 767 freighter aircraft from ATSG, but what exactly will the e-commerce giant do with these 20 planes?
According to an Amazon spokesperson, "the planes provide critical capacity expansion to support the growth of Prime in the U.S. Planes provide an additional dedicated transportation method connecting Earth's largest selection to customers from coast to coast. At our scale, supporting growth requires adding some of our own logistics capabilities."
But logistics expert Marc Wulfraat, founder and president of MWPVL, a supply chain logistics consultant, is reading between the lines and thinks that these planes are a step towards Amazon's larger strategy for delivery -- and not surprisingly, it's a bold one.
During a conference call with SunTrust Robinson Humphrey, Wulfraat explained how the planes will allow Amazon to create a "hub-and-spoke" model for delivery in which it can fly inventory from fulfillment centers to one central location and have the planes transport products to other fulfillment centers from the central location. So for example, if a customer in Los Angeles orders a book from Cleveland, the book will be flown from Cleveland to Wilmington and then from Wilmington to Los Angeles, along with everything else Los Angeles customers ordered from fulfillment centers around the country.
Eventually, this could lead to the possibility of two-day delivery for every product Amazon sells regardless of where it's stocked, according to Wulfraat. And there are international implications as well.
"Amazon very likely now has enough volume to replace UPS and FedEx with its own hub-and-spoke network," Wulfraat said, noting that he doesn't believe Amazon will use the planes to compete against UPS and FedEx beyond fulfilling its own deliveries.
While Amazon promotes itself as the "Everything Store," it's impossible to store literally "everything" in every fulfillment center it operates. A hub-and-spoke system would mean that each fulfillment center could easily tap into the central hub to quickly get products it's not already housing.
Currently, Amazon leverages UPS (UPS) - Get United Parcel Service, Inc. Class B Report and FedEx (FDX) - Get FedEx Corporation Report to solve this problem, but by leasing its own planes, Amazon can take care of this on its own.
According to Wulfraat, right now Amazon is testing the planes from a hub in Wilmington, Ohio, delivering products to four fulfillment centers: Tampa, FL, Oakland, CA, Ontario, CA, and Allentown, PA. But Wulfraat sees this test expanding across Amazon's entire fulfillment center network and eventually, throughout the rest of the world.
"Currently, Amazon USA, Canada, UK, France, Germany, Spain, Italy, China, Japan, India, Brazil, Mexico, Australia are all disconnected," Wulfraat said. "There is a tremendous upside to integrating these business units in terms of upside sales revenue potential. Customers could order anything from Amazon from any country in that Amazon services."
With its own planes, Amazon could make it easy for a customer in the U.S. to order something from India, China, or Japan. "This helps the world become a smaller place and enables Amazon to connect its different business units that are geographically apart," Wulfraat said. 
Now this will certainly take time and large initial financial investments, but at the end of the day, Amazon will be replacing the continuous cost of using FedEx and UPS with a set upfront price that continues to pay off for a long period of time. SunTrust estimates that the annual cost of Amazon leasing and operating planes would be around $500-600 million.
"While we estimate the investments could be substantial in the early years, we note that the net impact to per unit economics and overall margins is difficult to predict," SunTrust analyst Robert Peck wrote in response to Wulfraat's presentation. "The speed and scale at which Amazon is moving ahead is a proof point to us that Amazon believes the ultimate, long-run impact (higher fixed and fulfillment costs vs. lower variable shipping) will be positive."