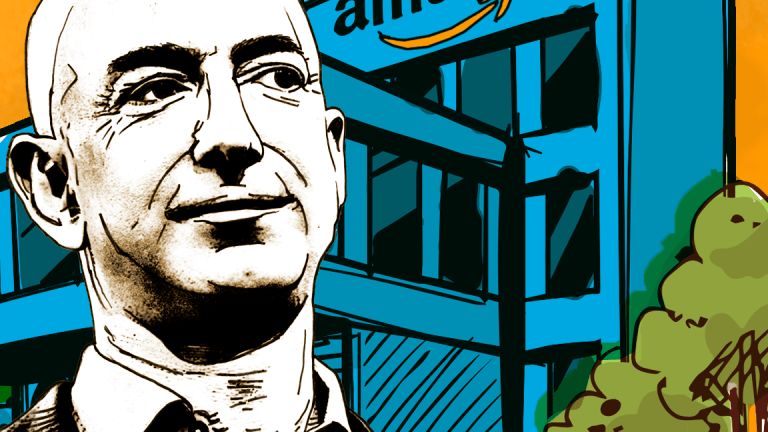 In 255 Words, Amazon CEO Jeff Bezos Just Explained Why He Can't Be Stopped
Amazon CEO's Jeff Bezos annual letter to shareholders is always a great read. This year, he reminded his rivals that they really have no shot at thwarting Amazon's charge.
The only person that may be able to stop Amazon's (AMZN) - Get Amazon.com Inc. Report dominance is President Trump (maybe). 
Despite rivals such as Walmart (WMT) - Get Walmart Inc. Report prettying up its website and Target (TGT) - Get Target Corporation Report pushing into same-day delivery, Amazon sounds like a company still on a mission to crush competitors. At least that's the sense from Amazon CEO Jeff Bezos' annual shareholder letter released on Wednesday evening. Bezos disclosed in his letter that Amazon now has more than 100 million Prime members.  
Here are the 255 words that reinforce why Amazon will be a force to be reckoned with in retail for the foreseeable future. Game on, bricks-and-mortar retail.
"One thing I love about customers is that they are divinely discontent. Their expectations are never static - they go up. It's human nature. We didn't ascend from our hunter-gatherer days by being satisfied. People have a voracious appetite for a better way, and yesterday's 'wow' quickly becomes today's 'ordinary'. I see that cycle of improvement happening at a faster rate than ever before. It may be because customers have such easy access to more information than ever before - in only a few seconds and with a couple taps on their phones, customers can read reviews, compare prices from multiple retailers, see whether something's in stock, find out how fast it will ship or be available for pick-up, and more. These examples are from retail, but I sense that the same customer empowerment phenomenon is happening broadly across everything we do at Amazon and most other industries as well. You cannot rest on your laurels in this world. Customers won't have it.
How do you stay ahead of ever-rising customer expectations? There's no single way to do it - it's a combination of many things. But high standards (widely deployed and at all levels of detail) are certainly a big part of it. We've had some successes over the years in our quest to meet the high expectations of customers. We've also had billions of dollars' worth of failures along the way. With those experiences as backdrop, I'd like to share with you the essentials of what we've learned (so far) about high standards inside an organization."
Amazon is a holding in Jim Cramer's Action Alerts PLUS.